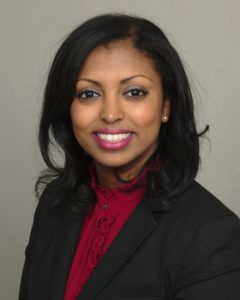 Across the country, women account for just 14 percent of orthopaedic surgery residents — making it the medical specialty with the smallest proportion of female residents.
But when Linda Suleiman, MD, '17 GME, entered an orthopaedic surgery residency at Northwestern, she found she was one of four women out of a class of nine.
"This was completely unheard of, because women represent such a small population of orthopaedic residents in the country," said Suleiman, now an assistant professor of Orthopaedic Surgery. "The fact that 50 percent of our class were women — that's beyond unusual."
As they approached their fifth and final year of residency, Suleiman and her fellow female residents began to reflect on their unique experience at Northwestern and the impact it had made on their training.
"We had such a rich environment because we had each other's support," Suleiman said. "So we started thinking, how many women are actually going into orthopaedics? Why aren't we going into academic surgery? And when we are in academics, are we actually growing within the field?"
Suleiman and her former fellow residents recently answered these questions and more in a study published in the Journal of Bone and Joint Surgery. The paper provides an updated look at the current representation of women in orthopaedic surgery residencies, academic positions and specialty societies.
Caitlin Chambers, MD, '17 GME, Stephanie Ihnow, MD, '17 GME, and Emily Monroe, MD, '17 GME — all graduates of Northwestern's orthopaedic surgery residency who are now practicing at other institutions — were also co-authors of the paper.
For the study, the investigators analyzed data from the Association of American Medical Colleges, the Accreditation Council for Graduate Medical Education, and subspecialty and research society groups.
They found that orthopaedic surgery remains the specialty with the lowest proportion of female residents, at 14 percent during the 2016-2017 academic year. Female orthopaedic surgery residents represented just 0.92 percent of all female medical residents during that time period.
The investigators also discovered that although the representation of women in orthopaedic surgery has grown over the last decade, this improvement still lags behind other specialties. In fact, while the proportion of female residents in orthopaedic surgery increased 27 percent between the 2005-2006 to 2016-2017 academic years, other male-dominated fields saw much greater advances over the same time period, such as a 56.8 percent increase in neurological surgery and 111.2 percent increase in thoracic surgery.
"The data was initially really disheartening," Suleiman said. "We always talk about how it seems like there's not enough women in orthopaedic surgery, but this study really put it into perspective."
In the academic realm, Suleiman and her co-authors found that women account for just 17.8 percent of full-time orthopaedic surgery faculty — lower than any other medical specialty. Furthermore, just 8.7 percent of professors of orthopaedic surgery were female in the 2015-2016 academic year, and only one woman in the country held the position of department chair.
There were also significant sex disparities in specialty society membership; The investigators noted that the societies with the fewest women were The Knee Society (0.5 percent), The Hip Society (0.6 percent) and the Cervical Spine Research Society (1.5 percent).
In the paper, the authors also discuss possible factors for the slow increase in female representation in residency, and propose solutions to address the discrepancy.
"We have to start early," Suleiman said. "We have to start with our medical students' exposure into orthopaedics and engage them with female mentorship in an effort to really grow the field and attract the nation's top medical graduates into our specialty."
Journey to Orthopaedic Surgery
Suleiman credits mentors throughout her own career for supporting her path to orthopaedic surgery. As a medical student at Howard University, she was encouraged to complete a rotation in orthopaedic surgery at Northwestern. While at the Ann & Robert H. Lurie Children's Hospital of Chicago, she was closely mentored by Erik King, MD, associate professor of Orthopaedic Surgery, and the first African-American pediatric orthopaedic surgeon at Lurie Children's.
"He really inspired me and pushed me along the way," Suleiman said. "I think for women and minorities especially, you need a mentor who is a true sponsor and actively engaged with you, or you don't end up going into those programs."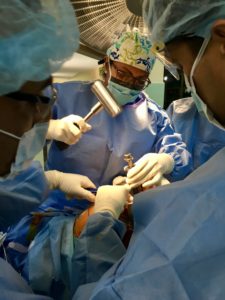 When Suleiman later become an orthopaedic surgery resident at Northwestern, she learned that all four women who matched into her residency class had also previously completed rotations at Northwestern.
"We were able to see the daily environment and how inclusive it was, and I think that's why we had so many women want to match here that year," Suleiman said. "When you interviewed at most other orthopaedic programs you had a sense that it was a boy's club. I can't tell you the number of programs that asked me 'Why aren't you going into pediatrics or OB/GYN?' Northwestern never asked me that. They asked me and the other women in my class, 'What do you hope to accomplish in orthopaedic surgery?' So we had a sense of belonging from the beginning."
After residency at Northwestern, where she served as chief administrative resident, Suleiman completed a fellowship in Adult Hip and Knee Reconstruction and Replacement at Rush University Medical Center. She returned to Northwestern as an associate professor in fall 2018.
As the first African-American woman on faculty in orthopaedics at Northwestern, Suleiman recognizes the role she can play in helping to bring more women into the field — especially as a surgeon who specializes in hip and knee reconstruction, an area considered to be the most male-dominated subspecialty of orthopaedics.
"I reach out to female medical students to come shadow me in clinic and in my operating room," Suleiman. "The job description of hip and knee replacement surgery can be pretty physical, which is why I think women can be discouraged from going into it. But I'm 5'8''. I'm not a large individual. And I want female medical students to see that if I can do the surgery, they can do the surgery, too."
This fall, Suleiman was named director of diversity and inclusion at the McGaw Medical Center of Northwestern University. She is also a health policy fellow of the American Association of Hip and Knee Surgeons, which is actively working to recruit more women to the field through early exposure of medical students and residents.
"What I enjoy about orthopaedics is that we truly make a functional impact on people's day-to-day life — and that functional change impacts the entire body and soul," Suleiman said. "As a medical student, that's what first attracted me to orthopaedics. You get to go home that day and think, I really changed someone's life. And that's what medicine's really all about."