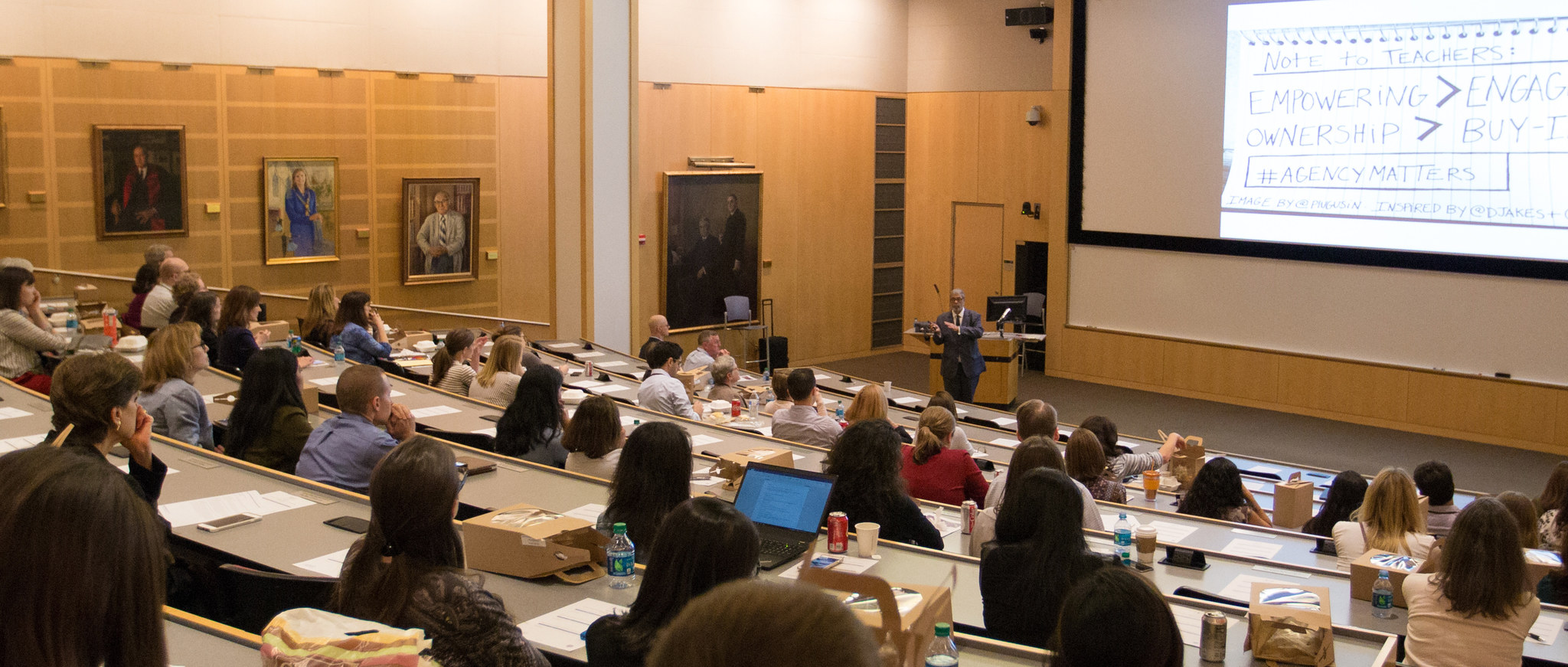 View a photo album from Medical Education Day 2018.
Competency-based medical education is a 60-year movement that is currently taking medicine by storm, declared Richard K. Reznick, MD, MEd, dean of the Faculty of Health Sciences at Queen's University in Canada.
During his keynote address at Feinberg's eighth annual Medical Education Day, Reznick discussed how the educational approach, while not new, is increasingly providing an important framework for medical and residency training.
"In my mind, competency-based medical education is fundamentally about the issue that every training hour is precious, and we need to make the most of it," explained Reznick, also CEO of the Southeastern Ontario Academic Medical Organization. Reznick and other leaders at Queen's University have transformed undergraduate and graduate medical education from a time-based system to a competency-based format.
"It's about empowering our fabulous, extraordinary 20-somethings who have a lifetime of experience and need to take control of their own education," Reznick said. "We believe this will be a new way forward in residency training."
Medical Education Day, held September 21 and presented by the Feinberg Academy of Medical Educators (FAME) in collaboration with the Department of Medical Education, is an annual event dedicated to advancing the state of medical education and recognizing outstanding educators at Feinberg.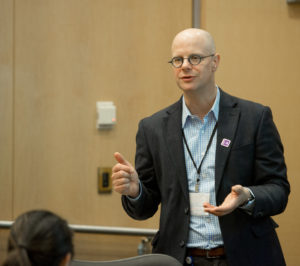 "I'm very excited that so many people participated in the activities of Medical Education Day," said Walter Eppich, MD, MEd, director of FAME. "It is super gratifying to me, as someone who has been here for 13 years, to work at a place where medical education is so highly valued and that provides a venue to help people become better educators and also to help the patients their learners care for in the future. That's one of the things that binds us all together — excellent patient care — whether you're caring for patients, or teaching other people how to care for patients."
The all-day event featured a variety of educational sessions, workshops and didactic lectures, ranging from how to engage learners with iPad teaching, to improving skills in telephone talk, measuring educational outcomes and developing "chalktalks" — brief teaching sessions that use visual aids to cover a topic, with a focus on student participation.
In a morning breakout session on teaching management of microaggressions, small groups of attendees discussed examples of implicit bias and microaggressions in the hospital setting and explored strategies to reduce their occurrence.
The workshop was developed by Aarati Didwania, MD, associate professor of Medicine in the Division of General Internal Medicine and Geriatrics and Medical Education, and led by Mobola Tolulope Campbell-Yesufu, MD, MPH, assistant professor of Medicine in the Division of Hospital Medicine and Brigid Dolan, MD, assistant professor of Medicine in the Division of General Internal Medicine and Geriatrics.
"We will never get rid of it — that's almost impossible — but what we can do is be mindful of implicit bias so we can make sure it doesn't impact our behavior," explained Campbell-Yesufu.
During a series of short presentations in the afternoon, presenters covered a range of topics including clinical skills assessment, supporting transgender and gender non-conforming patient-centered care, and how healthcare consulting can be used as an educational model, led by Noah Weingarten, a fourth-year medical student
Weingarten discussed Second Opinions, a student group that provides pro-bono consulting to local healthcare non-profits.
"The benefits of student healthcare consulting fall into three buckets — the content knowledge that we learn from working on these projects, the new skills that we gain and a unique aspect of service which is rewarding in a way that is different than the other service that medical students have a chance to provide," Weingarten explained. "As a result of the success of Second Opinions, I would encourage the proliferation of student-led healthcare consulting at other schools."
Patricia Vassallo, MD, assistant professor of Medicine in the Division of Cardiology, delivered a presentation on inclusive teaching strategies and navigating differences in learning styles and personality types.
"Inclusivity is just about giving everybody an equal opportunity to reach their potential," Vassallo said.
Meanwhile, Eppich, also an associate professor of Pediatrics in the Division of Emergency Medicine and of Medical Education, discussed how to use telephone conversations between healthcare professionals in teaching and learning. Later in the afternoon, he also led a faculty development workshop on getting promoted as a medical educator.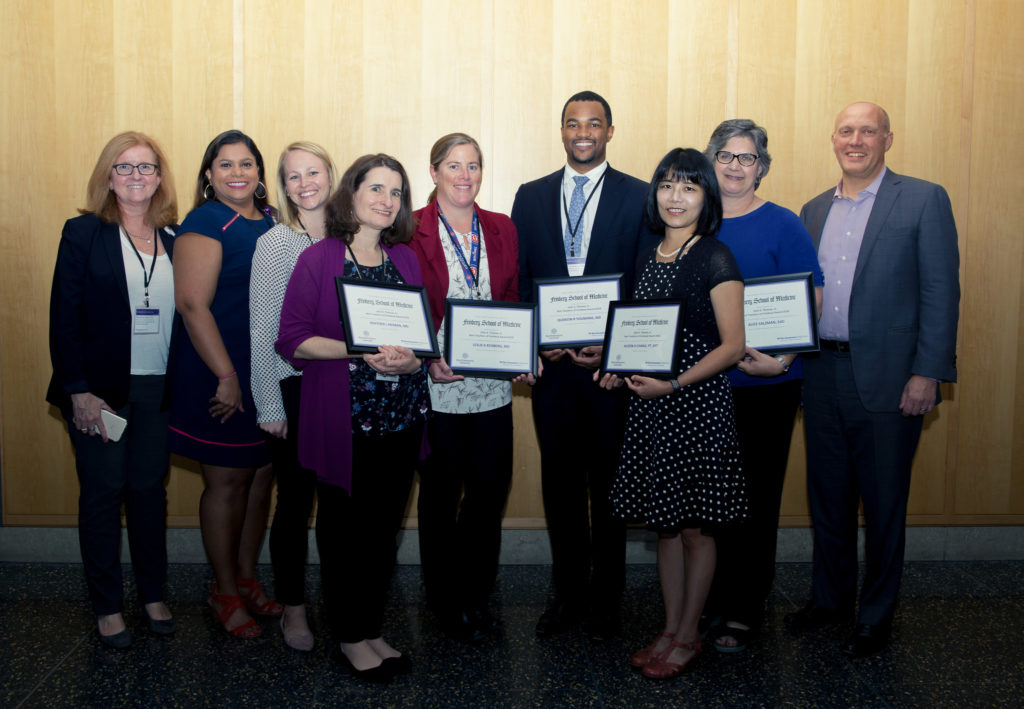 During the closing reception, Eppich and Mary McBride, MD, Med, associate director of FAME, presented the winners of the John X. Thomas, Jr. Best Teachers of Feinberg Award and the FAME Outstanding Teacher Award. They also recognized new members of FAME and the 89 clinician educators at Feinberg who were promoted in 2018.
John X. Thomas, Jr. Best Teachers of Feinberg Award Winners
Health & Society: Karen Sheehan, '89 MD, MPH, '92 GME, professor of Pediatrics in the Division of Emergency Medicine and Preventive Medicine
Phase 1: Heather Heiman, MD, associate professor of Medicinein the Division of General Internal Medicine and Geriatricsand of Medical Education
Phase 2 & 3: Leslie Rydberg, '05 MD, '09 GME, assistant professor of Physical Medicine and Rehabilitation
Physical Therapy Program: Alison Chang, '96 PT, DPT, associate professor of Physical Therapy and Human Movement Sciences and Alice Salzman, PT, EdD, assistant professor of Physical Therapy and Human Movement Sciences
Physician Assistant Program: Denitsa Savakova, '12 PhD, instructor of Medicine Education in the Physician Assistant Program
Professional Development (Strive Program): Quentin Youmans, '15 MD, '19 GME, instructor of Medicine in the Division of General Internal Medicine and Geriatrics
Project-Based Learning: Aneesha Shetty, MBBS, MPH, '15 GME, assistant professor of Medicine in the Division of Nephrology and Hypertension and Surgery in the Division of Organ Transplantation, and Robyn Ann Bockrath, MD, '14 GME, instructor of Pediatrics in the Division of Hospital-Based Medicine
Science & Medicine: Yusra Cheema, MD, '11 GME, assistant professor of Medicine in the Division of Nephrology and Hypertension, and R. Kannan Mutharasan, '03 MD, '05, '07, '10, GME, assistant professor of Medicine in the Division of Cardiology
FAME Outstanding Teacher Award
Jennifer Kahn, '02 DPT, assistant professor of Physical Therapy and Human Movement Science