Designing devices and treatments for movement disorders requires a unique blend of expertise, including neuroscientists, biomechanics experts, biomedical engineers, clinicians and many others.
Recently, students, postdoctoral fellows and tenure-track faculty from centers and schools across Northwestern, and from other institutions across the country, gathered to share their expertise and make plans for future partnerships. The event, the eighth annual Movement and Rehabilitation Sciences (MRS) Training Day, is a spotlight event for that collaborative model of science.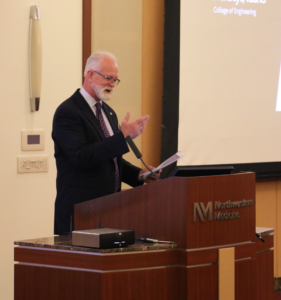 "It provides a unique opportunity for investigators-in-training in the field of movement and rehabilitation sciences to compare research results, quantitative methods and device development," said Julius Dewald, PhD, chair of Physical Therapy and Human Movement Sciences. "Northwestern University is a national and international leader in the field and plays a crucial role in the training of the next generation of investigators in MRS."
MRS Training Day 2018 kicked off with a poster session, where investigators exhibited projects to quantify sensorimotor functions, develop new diagnostic methods and improve rehabilitation.
One project, led by Jacqueline Patterson, a third-year student in the Northwestern University Interdepartmental Neuroscience (NUIN) program, investigated the impact of muscle stretching in individuals who are recovering from stroke. These stretches are used to alleviate heightened motor neuron excitability that can cause movement impairments post-stroke, but Patterson wanted to know if there was a therapeutic window that could be exploited post-stretch.
"It was pretty surprising, but motor neuron excitability snapped right back to where it was before the repeated stretches," said Patterson. "This has a clinical application: The practice of repeated stretches isn't necessarily long-lasting."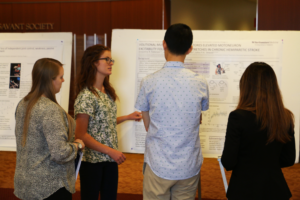 Scientists from the Interdisciplinary Rehabilitation Engineering Career Development Program (IREK12) also delivered presentations detailing recent progress in their area of inquiry. The IREK12 program recruits and trains investigators with engineering backgrounds to become rehabilitation scientists, adapting their quantitative expertise to patient-centered clinical problems.
Jonathan Rivnay, PhD, assistant professor of Biomedical Engineering at the McCormick School of Engineering and K12 scholar, spoke about his work with organic mixed conductors: materials used in biomedical applications to integrate sensing technology with cells and tissue; bridging the gap between biological and electrical systems.
"One of the interests of my group is understanding the materials themselves: How can we design new molecules in order to achieve better electronic interfacing, stability and capacity," said Rivnay, who is also a member of the Simpson Querrey Institute for Bionanotechnology. "For example, we are trying to downscale the size of our electrodes and make a device that's on the scale of the largest axons, about 20 microns."
The event's keynote address was delivered by Lena Ting, PhD, professor of Biomedical Engineering at Emory University and Georgia Institute of Technology, who spoke on her winding academic journey and how it informed her present-day study of muscle coordination. She urged the trainees in the audience to be academic tourists.
"I encourage you to be a traveler: Visit other labs, learn how others see the world, and it might give you perspective on your own," Ting said. "You don't want to be hesitant. You want to leap into another field — ultimately it will become part of the foundation for your own study."
MRS Training Day was sponsored by four National Institutes of Health training programs: the Interdisciplinary Graduate Education in Movement and Rehabilitation Sciences (IGE-MRS) program, the Pathophysiology and Rehabilitation of Neural Dysfunction (PRND) program, the PhD in Neuroscience with specialization in Movement and Rehabilitation Science (NUIN-MRS) program and the IREK12.
Dewald is also a professor of Physical Medicine & Rehabilitation and of Biomedical Engineering at the McCormick School of Engineering.