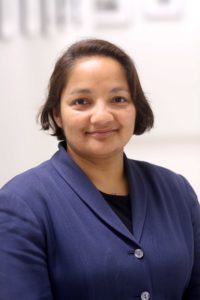 Northwestern Medicine scientists have identified how an RNA sequence called Evf2 regulates genes over an unprecedented distance in the genome, during a key process of embryonic brain development that affects adult seizure susceptibility and other neurological diseases.
The study, published in Molecular Cell, was led by Jhumku Kohtz, PhD, research professor of Pediatrics and a member of the Developmental Biology Program at the Stanley Manne Children's Research Institute at Ann & Robert H. Lurie Children's Hospital of Chicago.
In 2006, Kohtz's laboratory discovered Evf2, a long non-coding RNA that regulates transcription factors critical for the development of interneurons that produce GABA. GABA is the brain's major inhibitory neurotransmitter, and alterations in GABA signaling have been linked to epilepsy, schizophrenia, autism and other neurological disorders.
In previous research published in Nature Neuroscience, Kohtz's team demonstrated that loss of Evf2 during early development results in GABA defects in adult mice, suggesting the significance of the non-coding RNA in neurological disorders.
But mechanisms for how Evf2 regulates gene expression over long distances in the genome remained unclear.
In the current study, the scientists described for the first time the complex process through which Evf2 affects the 3-D chromosomal structure, revealing how Evf2 directs a DNA element to four target genes over an unprecedented distance of 30 million bases. Previously, enhancer and target genes were thought to span a maximum of 1 million bases.
Furthermore, the study demonstrated in a mouse model that the presence of Evf2 reduces seizure susceptibility; adult mice lacking Evf2 were susceptible to more frequent and more severe seizures, due to impaired GABA function.
The findings could help inform the discovery of novel therapeutics.
"Understanding embryonic mechanisms of gene regulation that affect brain function in the adult can lead to the development of novel therapies for early intervention," explained Ivelisse Cajigas, '11 PhD, research assistant professor of Pediatrics and first author of the study.
In an additional finding, the scientists discovered that Evf2 regulates the expression of a serotonin receptor through repression of an enzyme called aldo-keto reductase in developing neurons.
"It's a novel pathway that allows for a whole new avenue of research into neuronal activity, and possibly mood disorder and seizure susceptibility treatment," Kohtz said. "This is going to make scientists look at this pathway in a way they never were before."
The study was supported by National Institute of Mental Health grants R01MH094653 and R01MH111267.