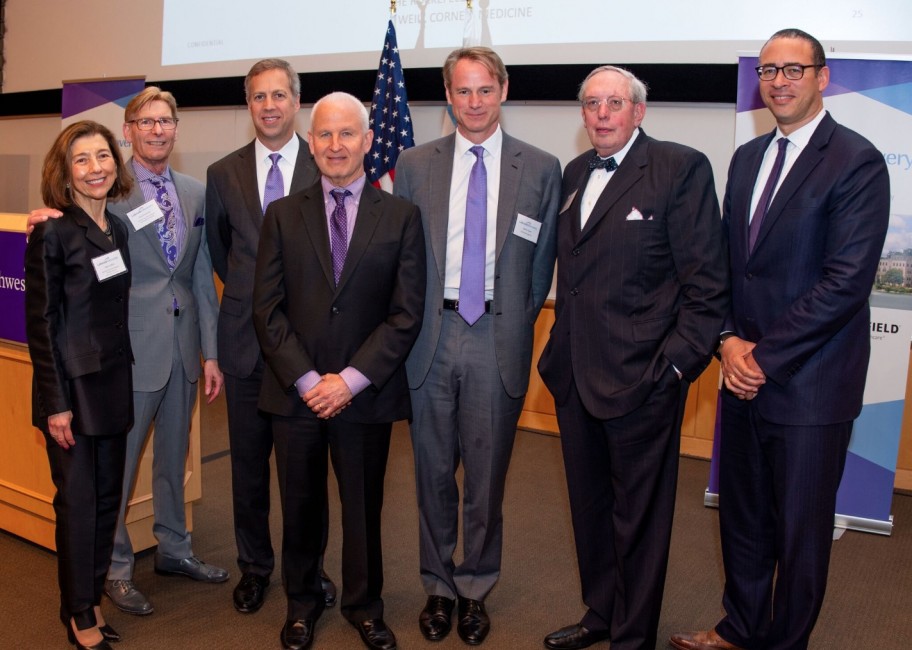 Vowing to advance medical research designed to improve people's lives, Northwestern University and Deerfield Management on Friday launched Lakeside Discovery, LLC, formally announcing the partnership to a capacity crowd at Hughes Auditorium in the Robert H. Lurie Medical Research Center on Northwestern's Chicago Campus.
Deerfield will provide up to $65 million of targeted funding and deep development expertise to advance promising Northwestern research, with a goal of accelerating the translation of transformative biomedical technologies.
Northwestern President Morton Schapiro said the collaboration enables the University and Deerfield to bring breakthrough discoveries to market – and impact people's lives.
"This is a big step forward, it really is. The $65 million is great for us, it's great for Deerfield and it's going to be great for humanity," President Schapiro said. "That, at the end of the day, is what we're after."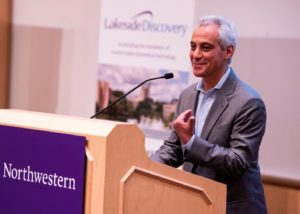 Chicago Mayor Rahm Emanuel called the partnership "an important part of Chicago's future," adding that biomedical research and innovation are an essential part of the city's growing economy.
"This exciting partnership combines two cutting-edge institutions under one roof to serve patients and save lives," Mayor Emanuel said. "As a global hub for health care innovation, Chicago is the perfect home for this new venture, and we look forward to working together as we continue to advance medical care in the 21st century."
Eric G. Neilson, MD, vice president for medical affairs and the Lewis Landsberg Dean of Northwestern University Feinberg School of Medicine, said Lakeside Discovery provides needed funding that can speed up the research process.
"Society is quite impatient for great advances, but biomedical research is not a sprint, it's more like a relay," Neilson said. "It takes an unpredictable amount of time. If society wants to quicken the pace, it has to provide more fuel, and this is where the Deerfield partnership can be a great benefit for our shared goals."
Combined with the 2019 opening of the Louis A. Simpson and Kimberly K. Querrey Biomedical Research Center, Lakeside Discovery will further strengthen Northwestern's position as one of the leading academic medical research centers in the world, said Alicia Löffler, executive director of Northwestern's Innovation and New Ventures Office (INVO).
"Northwestern has a long history in therapeutic innovation that started with the discovery of Lyrica 30 years ago. Lakeside will accelerate the translation of these life-saving innovations," said Löffler, who is also the University's associate provost for innovation and new ventures and associate vice president for research. "Lakeside will highlight Chicago as a preeminent hub for tomorrow's cures, with the best medical researchers and clinicians working to improve the lives of patients. We are excited to partner with Deerfield Management on this transformational new venture."
Lakeside will tackle projects approved by a joint steering committee comprised of members from the Northwestern and Deerfield scientific leadership teams. Northwestern members will initially include Neilson; Richard Silverman, the Patrick G. Ryan/Aon Professor of Chemistry and Molecular Biosciences in Weinberg College of Arts and Sciences; and Löffler.
The Northwestern committee members will use their experiential scientific knowledge, in consultation with Deerfield, to assess each proposal's potential biological and commercial success. Projects will be selected based on many criteria, with an emphasis on the novelty of biological insight, regardless of its stage of development.
Projects accepted by Lakeside will be supported with a complete development plan, including vital experiments needed to reach Investigational New Drug (IND)-readiness in an expedited time frame. Deerfield also will support Lakeside with operational expertise.
Successful IND-ready projects will have access to additional Deerfield capital, accelerating the time to market by eliminating the need for investigators to perform other capital raises.
"Northwestern's first-class track record and leadership position in basic and translational research, exceptional investigators and forward-thinking leadership, combined with Lakeside's ability to execute projects, creates the perfect synergistic system for drug development," said James Flynn, Deerfield's managing partner. "Additionally, supporting life-science discovery with INVO as a resource can help enhance the ecosystem at large in Chicago. We are looking forward to a very productive collaboration."
Over the past decade, Northwestern has captured more than $4.2 billion in National Institutes of Health funding. The collaboration between Deerfield and the University will add to an already thriving healthcare community in Chicago that includes research institutions like Northwestern, major healthcare industry partners and innovative tech spaces.