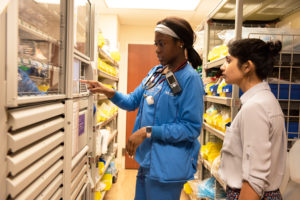 In May, medical student Nicholas Volpe spent a morning walking in the shoes of nurses, who he will work closely with during his clerkships, and throughout his career as a physician.
During the Nursing Role Learning Experience, third-year medical students shadow nurses one-on-one at Northwestern Memorial Hospital (NMH), gaining a deeper understanding of the role of nurses in patient care and building critical communication skills before heading into clerkships.
"For me, it was so valuable to invest time in understanding the wide scope of nurses' role in the hospital. Seeing how they make things happen for patients in real time is something we can't get from our textbooks," Volpe said.
The unique Nursing Role Learning Experience, now in its second year, is the brainchild of Stephanie Radtke, BSN, RN, CMSRN, and Sarah Cummins, BSN, RN, CMSRN — two nurses at NMH who noticed gaps in nurse-physician communication and created the program as part of a quality improvement project.
"It's really important for patients to see that their healthcare team is all on the same page. We wanted to create a shadow experience for medical students to not only understand what we do but also learn how we can communicate together as a team," explained Radtke, a clinical coordinator of Trauma, Urology, Vascular at NMH. "This experience helps to break the ice for students and set up a direct line of communication before they even become residents."
Patricia Garcia, MD, MPH, '91 GME, associate dean for Curriculum, notes that such interprofessional education is paramount for medical students.
"Teamwork is the foundation of outstanding patient care, so the more we can help acculturate and educate our students as part of teams, the better," said Garcia, also a professor of Medical Education and of Obstetrics and Gynecology in the Division of Maternal-Fetal Medicine. "We look forward to more involvement of nurses in our medical school curriculum."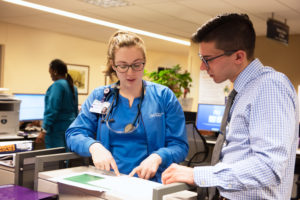 Surveys administrated to both nurses and medical students after the experience have been overwhelmingly positive, Radtke said.
"This has been eye-opening for a lot of students — to see what nurses actually do on a day-to-day basis, how many different patients he or she might be caring for, and the multiple disciplines that a nurse works with to take care of a patient, from physical therapy to nutrition," she said.
Radtke says that shadowing the nurses also helps medical students become more comfortable with the ins and outs of the hospital before entering clerkship; the experience has since taken the place of the third-year students' hospital orientation.
"It's great for medical students to have somebody who works on the wards all the time show them basic things — like how to work a bed or silence an IV pump without turning it off —which can cause anxiety early on," Radtke said.
Third-year medical student Adeolu Ilesanmi agrees that the Nursing Role Learning Experience has helped to ease the transition to clerkships.
"Having the opportunity to gain some insight into the complexities and nuances of the nurses' role in the healthcare team was invaluable, especially before beginning rotations," Ilesanmi said. "I feel like I'll be able to find a lot of support and guidance from the nurse I end up working alongside, and for that I'm extremely grateful."