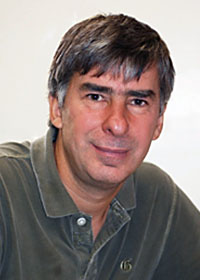 A Northwestern Medicine study has provided new insights into the organization of a key protein called cadherin within structures called adherens junctions, which help cells stick together.
The study, published in Proceedings of the National Academy of Sciences, was led by senior author Sergey Troyanovsky, PhD, professor of Dermatology and Cell and Molecular Biology, in collaboration with scientists at Columbia University.
Adherens junctions (AJs) are protein complexes — primarily made up of cadherin — that form bonds between cells in nearly all human tissues. Although AJs are fundamental to maintaining tissue structure, the actual organization of cadherin molecules inside and outside of these junctions has remained unclear — along with other key aspects of AJ biology.
In particular, there has been significant interest in understanding how adherens junctions possess two seemingly incompatible properties: both force and flexibility.
"This was a big puzzle," explained Troyanvosky, who is also a member of the Robert H. Lurie Comprehensive Cancer Center of Northwestern University. "For many years, we've been trying to understand how the adhesion site between two cells could have these two very different features — the strength of the system and its plasticity."
In the current study, the team of scientists sought to deepen understanding of these features by exploring the organization and dynamics of cadherin within AJs.
By employing a super-resolution microscope that can detect single molecules in structures, the scientists were able to demonstrate that AJs can reach more than one micrometer in length and that they consist of tightly packed clusters of cadherin, interspersed with some sparser cadherin regions. Furthermore, their findings showed that cadherin molecules outside of the junction are not organized in clusters, but are monomeric.
The scientists also discovered that regardless of the overall stability of individual AJs, they are in fact highly dynamic. "The lifetime of the tightly packed cadherin clusters is very short, about a second. They disassemble and the released cadherin molecules are used for new clusters," Troyanvosky explained. "This is how we explain the strength and plasticity of adherns junctions — they continuously rebuild their adhesion units, cadherin clusters."
Understanding the architecture of cadherin — and the mechanisms of cell-cell adhesion more broadly — is important, Troyanvosky notes, as abnormal cell-cell adhesion plays a role in a number of diseases, including cancer, and is a key factor in skin disorders such as pemphigus.
In ongoing investigations based on this study's findings, Troyanvosky's laboratory is now investigating an antibody capable of changing the pattern of cadherin within the clusters, in order to modify cell adhesion for potential therapeutic purposes, among other projects.
The study was supported by National Institutes of Health grants AR44016, AR057992 and GM062270, and by National Science Foundation grant MCB-1412472.