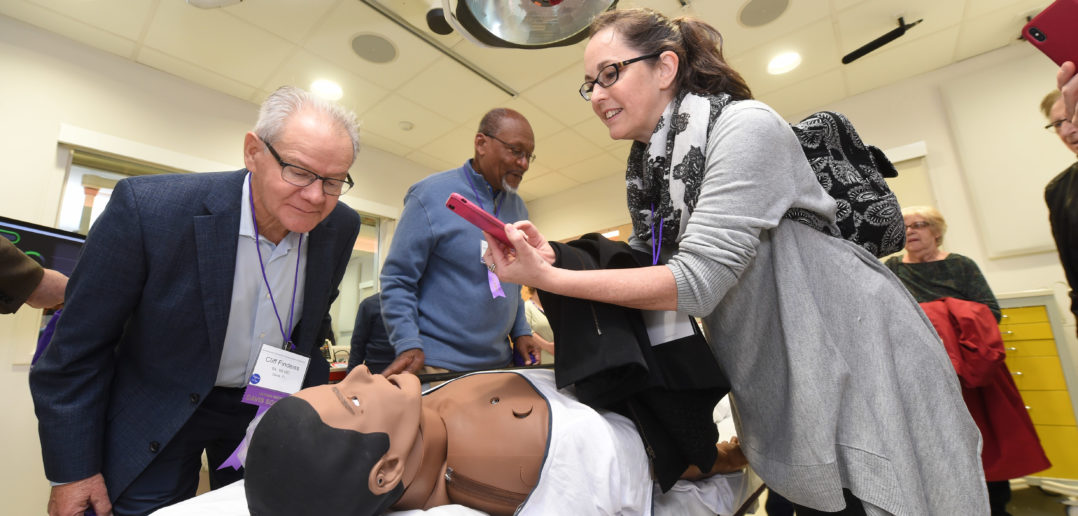 After graduating from medical school, both Craig Showalter, '68 MD, and Steve Embry, '68 MD, joined the military — with the Vietnam War escalating, young men with medical training like Showalter and Embry were in high demand.
"I got pulled into the army right out of medical school; in fact, they tried to get me out of medical school before I graduated," Showalter said.
Of his era, Embry said, "I would estimate 95 percent of medical school graduates were serving in the military back then."
That's just one of the many changes the Class of '68 has seen since graduating, many of which were on display as Showalter and Embry — and over 500 other alumni and guests — returned to campus for this year's Alumni Weekend, held April 27 and 28. The event was the largest gathering in the medical school's history.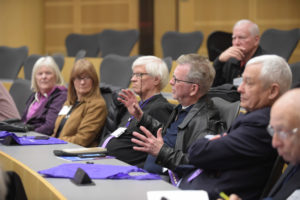 Graduates reconnected with classmates, reminisced about their time at Feinberg and marveled at how the medical school campus has evolved. They went on tours of the hospitals and education buildings, attended seminars led by Feinberg faculty and visited Chicago attractions like the Museum of Contemporary Art and 875 North Michigan Avenue, formerly known as the John Hancock Center.
"There's definitely a sense of purple pride that brings people back," said Kavitha Gandhi, '98 MD, clinical instructor of Dermatology. "I still teach here; I jump at every opportunity because it's fun for me to be back in the classroom, even if I'm on the other side of the lectern."
The campus has transformed dramatically in recent years, noted Nupar Ghoshal, '99 PhD, '03 MD, assistant professor of Neurology at Washington University School of Medicine and a Feinberg Medical Alumni Board member.
"It's really amazing to see this campus change in the time we've been away," Ghoshal said.
On Friday morning, David Kerns, '68 MD, hosted a forum on his recently published novel, "Fortnight on Maxwell Street." The book borrows heavily from Kerns' time at the Chicago Maternity Center, an obstetrics clinic on Chicago's West Side where many of the Class of '68 rotated to learn about childbirth.
"The neighborhood was a bustling center of immigrant activity, and you could hear live music every Saturday or Sunday — you also of course had the blues clubs," Kerns said. "The novel captures a lot about the maternity center, but it's also about the neighborhood and the 1968 Chicago Riots."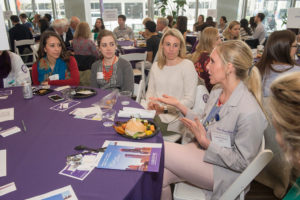 After the morning forums, current Feinberg students joined alumni for a mentoring lunch, where alumni were grouped by specialty and dispensed advice to interested students. This was the first year that the Physician Assistant (PA) Program participated in the mentoring lunch, and Laura Frese, '16 PA-C, a PA at The Women's Group of Northwestern, wanted to follow the example of the PAs who came before her.
"I received so much advice about career development and other topics from providers while I was in school," Frese said. "Coming and speaking with students is a good way to give back to a program that has done so much for me."
Later that day, Melissa Simon, MD, '06 GME, vice chair for clinical research in the Department of Obstetrics and Gynecology, led a panel discussion on Women in Medicine at the historic Drake Hotel.
The session featured panelists from a variety of disciplines within medicine, including Lois Hedman, DScPT, associate professor of Physical Therapy and Human Movement Sciences, Elizabeth Spinuzza Harris, '86 MD, private practice physician in Texas, Julia Vermylen, '11 MD, '11 MPH, '14 GME, instructor of Medicine in the Division of Hospital Medicine, and Shannon Crabtree, MMS, PA-C, instructor in the Medical Education: PA Program.
"We have movements that are happening right now, but we've still got a long way to go," said Simon, also the George H. Gardner, MD, Professor of Clinical Gynecology and a professor of Preventive Medicine and Medical Social Sciences. "There are some people that are more disadvantaged than us, so there are groups within us and amongst us that we have to help support and include."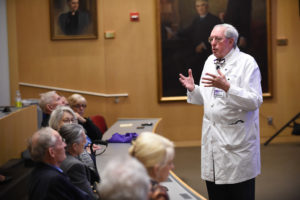 On Friday afternoon, Eric G. Neilson, MD, vice president for Medical Affairs and Lewis Landsberg Dean, delivered an update on the state of the school and discussed the future of both Feinberg and Northwestern Medicine as a whole.
In particular, Dean Neilson highlighted the ongoing construction of the Simpson Querrey Biomedical Research Center and Northwestern Medicine's acquisitions of other Chicago-area hospitals.
"We will have quite an interesting environment for growth, across many departments," Neilson said. "There's 10 million people in the Chicago area — you can't take care of all of them, but we want to position ourselves so that patients who want Northwestern Medicine care can find a facility that can help them closer to home."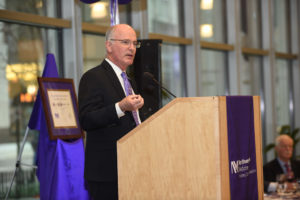 Later that night, alumni and friends gathered in the Robert H. Lurie Medical Research Center for cocktails, dinner and dancing, featuring live music from a quartet drawn from the Northwestern Medical Orchestra.
Friday evening's event also featured the presentation of the Distinguished Alumni Award, received this year by Michael Mulholland, '78 MD, chair of the Department of Surgery at the University of Michigan Medical School.
"Feinberg is where I discovered my love for surgery and where I began my professional life — of course I'm grateful for that," Mulholland said. "Of course, it's also where I met my wife, and I started the most important aspect of my personal life, so I'm grateful for that as well. These things combined are why this day is very special."
Presentations and forums continued throughout the weekend, and Saturday's events also included a fun run and walk along the Lakefront Trail, a pancake breakfast, class reunion dinners and several tours across the city.