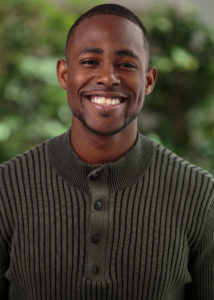 As one of several Feinberg students overseeing the Health Professions Recruitment and Exposure Program (HPREP), first-year medical student Raheem Bell helps high school and college students from underrepresented backgrounds explore a variety of health careers.
As part of HPREP, Bell and other Northwestern students lead program participants through a variety of educational activities, including small-group discussions, case studies, and information sessions on careers and even physical exam skills.
Bell draws upon his own experiences to inspire younger students to broaden their horizons: living in Jamaica until he moved to New Jersey at the age of 11, Bell dreamed of becoming a physician from the time he was a child, but he sometimes found it hard to believe it would actually happen.
Now, well into his first year of medical school, Bell serves as an advisor for the HPREP program and also conducts orthopaedic research with Anish Kadakia, MD, associate professor of Orthopaedic Surgery. Bell is also vice president of the Feinberg chapter of the Student National Medical Association (SNMA).
Read a Q&A with Bell below:
What drew you to medical school at Northwestern?
Raheem Bell: Medical school has been a dream of mine for a long time. Choosing where to spend the next four years of growth and transformation took a lot of thought and self-examination. I ultimately chose Feinberg because of the people and the focus on excellence in the context of self-care. A career in medicine is one of increasing demands. Because of this, I wanted to attend an institution that would not only equip me with the scientific and social knowledge to practice medicine, but also the tools necessary for longevity. I'm happy to say that this is the case at Feinberg.
What are your medical or research interests?
I've always been a very technical person, and because of that, I am currently interested in the surgical fields. Specifically, I work well with children and I envision myself practicing some type of pediatric surgery in the not-so-distant future.
Currently, I am working with Dr. Kadakia to study a new hydrogel joint replacement for the treatment of hallux rigidus, or arthritis of the big toe. We are hoping to assess functional outcomes as well as pain relief in patients who receive this new implant in comparison to those who receive the gold standard operation, arthrodesis, otherwise known as joint fusion.
How would you describe your experience in the Health Professions Recruitment and Exposure Program (HPREP)?
HPREP has been one of my favorite experiences of medical school thus far. It's always been important for me to show the younger generations that they, too, are capable of overcoming their circumstances. I remember how hard it was for me to mentally construct a path to medicine when I was in high school.
Being in a position to truly impact the trajectory of a young person's life has been a true blessing. One of my biggest goals for this program is to have the students leave with the very real experience that a career in medicine is not only exciting, but feasible for them.
What do you do as part of HPREP?
I've been a part of the team of first-year medical students organizing all events. We've orchestrated activities to give students a glimpse into several aspects of medicine. I have mainly taken part in activities relevant to medical school. This ranges from practicing clinical skills in McGaw to having the students take a shot at problem-based learning through a sample case.
What have you learned from the experience?
I've learned more about the unique role that I play in the bigger context of medicine. One day, my primary job will be patient care, but I would argue that it will also be to recruit and inspire the next generation. This experience has given me some of the tools necessary to construct outreach efforts effectively.
I have also learned about how much I have grown in the past few months. It's very easy to get caught up with the pace of medical school and become unaware of one's own development. This program has given me an opportunity to slow down, and appreciate how far I've come.
Do you want to continue to work with students once you're out of school?
I do intend to continue to work with students after medical school. My dream is to one day also be able to inspire the youth of my home country, Jamaica. I have organized service trips back home through my undergraduate institution of Boston College in the past, and I would love to continue giving back.