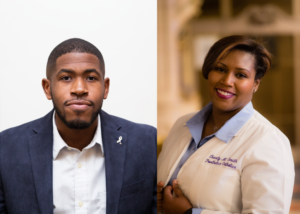 Two Feinberg students in the Master's in Prosthetics and Orthotics degree program were selected to receive the International African American Prosthetic and Orthotic Coalition's prestigious Sam D. Benson Scholarship.
The International African American Prosthetic and Orthotic Coalition (IAAPOC) selected Charity Smith, a first-year student in the Master's in Prosthetics and Orthotics (MPO) degree program, and Michael Hoggatt, second-year student in the MPO program. The scholarship honors Benson, a founding member and the first president of the IAAPOC.
The IAAPOC was established in 1990 to promote the prosthetics and orthotics profession among the African-American community, and organizes an annual meeting to bring together clinicians, educators and vendors from across the country.
The MPO program is administered by the Northwestern University Prosthetics-Orthotic Center (NUPOC), part of the Department of Physical Medicine and Rehabilitation.
Read interviews with Smith and Hoggatt below.
Why did you enter the Master's in Prosthetics and Orthotics program?
Charity Smith: I became interested in this field after I was referred from a Department of Veterans Affairs (VA) Health Care Center to a local clinic for managing my plantar fasciitis with orthotic sole inserts. This was my initial exposure to prosthetics and orthotics. Noticing the high number of veteran patients, I wanted to know more. Both my experience as a patient and observations while sitting in the waiting room sparked my interest in this field.
Ultimately, I entered into this program to learn how to provide exemplary patient care. Applying to this program was a very clear choice for me. I was impressed by the longevity of this program dating as far back as 1945, and the accomplishments of the staff and previous students. Most of all, I respect the program for its history and involvement in providing care to wounded soldiers and veterans.
Michael Hoggatt: I entered the Master's in Prosthetics and Orthotics program because it allowed me to pursue my interests of rehabilitation, engineering and art concurrently. As an P&O practitioner, I will have the opportunity to see the immediate and profound effects of what I create on the quality of life of patients.
What are your medical or research interests?
CS: I'm interested in decreasing the number of amputations due to diabetes, increasing educational initiatives through community outreach to underprivileged youth and improving continuity of care for veteran and minority patients.
MH: My current research interests include the psychosocial aspects of disability and the effects of participatory visual methods in prosthetic care.
What does being selected for this scholarship mean to you?
CS: It is the ultimate level of encouragement to know that African-American professionals acknowledge my potential and have identified me as an upcoming leader in this field. It is also great to know that I have the support of the IAAPOC members, in addition to the support of my family and friends.
MH: Receiving the Sam D. Benson Scholarship is a great honor to me. This award confirms that I am making great strides in pursuit of becoming a prosthetist-orthotist and ultimately expanding the ways that I can improve the quality of life of future patients.
Where would you like to take your career once you graduate?
CS: I want to make meaningful contributions to the field of prosthetics and orthotics. As a veteran, I want to continue to serve my country by caring for wounded service members in the VA. I have also considered teaching, additional specialized training or opening a private practice clinic in rural North Carolina. I am open to exploring other opportunities as they become available.
MH: After graduation, I plan to begin a residency program administered by the National Commission on Orthotic and Prosthetic Education. I also plan to visit high schools to educate students about the field of Prosthetics and Orthotics.