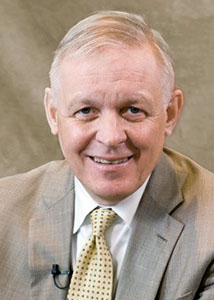 For women with breast cancer classified as both HER2-positive and hormone receptor-positive, a combination of two HER2-targeting drugs plus hormone therapy provided the most benefit to patients with advanced disease, according to findings from a Northwestern Medicine clinical trial.
The study, published in the Journal of Clinical Oncology, was led by William Gradishar, MD, interim chief of Hematology and Oncology in the Department of Medicine and director of the clinical network of the Robert H. Lurie Comprehensive Cancer Center of Northwestern University.
About 10 percent of all breast cancers are considered to be both HER2-positive — indicating that the tumors have higher levels of HER2, a protein that promotes the growth of cancer cells — and also hormone receptor-positive, indicating that the cancer grows in response to the hormones estrogen or progesterone.
In general, patients with HER2-positive breast cancer — regardless of whether it is hormone-receptor positive or not — are typically treated with HER2-targeted drugs and chemotherapy.
But not all of these patients are candidates for chemotherapy. Further, previous research had suggested that simultaneously targeting both HER2 and the hormone receptor may provide a benefit in patients with HER2-positive and hormone receptor-positive cancer.
In the current study, the investigators assessed whether the combination of two therapies that target HER2 — lapatinib (Tykerb) and trastuzumab (Herceptin) — along with a type of hormone therapy called an aromatase inhibitor (AI), without chemotherapy, would improve outcomes in this specific group of breast cancer patients, compared to trastuzumab and an AI alone. The trial also included an arm that evaluated whether lapatinib and an AI alone would result in different outcomes.
The large phase III, multi-center clinical trial — the first of its kind — randomly assigned 355 postmenopausal women with metastatic breast cancer determined to be HER2- and hormone-receptor positive to one of the three drug regimens. All of the women had experienced disease progression during prior treatment.
The findings showed that the drug regimen of the two HER2-targeted therapies combined with an AI significantly improved progression-free survival among patients, compared to the single HER2-targeted therapy with an AI.
"The combination of therapies that are specific to breast cancer tumor cell molecular markers is important," explained Gradishar, also the Betsy Bramsen Professor of Breast Oncology and director of the Maggie Daley Center for Women's Cancer Care. "For patients with estrogen-sensitive and HER2-positive breast cancers, where chemotherapy is not an option, the combination of HER2-targeted therapies and anti-hormonal therapy can provide significant benefit."
In the group assigned the two HER2-targeting agents with AI, median progression-free survival was 11 months, compared to 5.7 months among patients with trastuzumab and AI alone — indicating a 38 percent reduction in the risk of disease progression.
Common side effects were diarrhea, especially among those patients receiving lapatinib, as well as rash and nausea.
Original funding for the ALTERNATIVE study was provided by GlaxoSmithKline, which previously manufactured lapatinib; lapatinib is currently an asset of Novartis Pharmaceutical Corporation, who sponsored the current phase of the study.