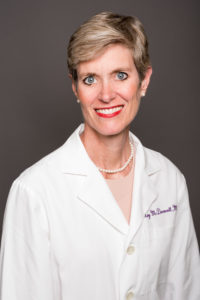 Northwestern now boasts more AHA research networks than any other institution
The American Heart Association has awarded Feinberg its fourth sponsored research network center, focusing on calf muscle pathology and disability in peripheral artery disease.
American Heart Association (AHA) Strategically Focused Research Networks (SFRN) are consortiums of three to five centers across different institutions working simultaneously within a single cardiovascular disease area. Partner institutions for the new Vascular Disease Research Network include Brigham & Women's Hospital in Boston, University of Kentucky in Lexington, and Vanderbilt University in Nashville.
This newly-awarded center is Northwestern Medicine's fourth — the most of any institution in the country — and will be led by Mary M. McDermott, MD, Jeremiah Stamler Professor.
"Centers will meet together at least yearly and center directors have regular telephone calls to discuss collaborative research opportunities in vascular disease," said McDermott, also a professor of Medicine in the Division of General Internal Medicine and Geriatrics, and of Preventative Medicine. "The goal is to facilitate highly productive multidisciplinary research in vascular disease with leading established experts. Training the next generation of scientists in vascular disease is also a network priority."
Investigators have come to realize the importance of calf muscle pathology as an important marker of functional impairment and decline in people with peripheral artery disease (PAD), according to McDermott. Northwestern's SFRN Center will conduct three studies to establish ischemia-related calf muscle pathological characteristics, with the eventual goal of identifying therapeutic interventions to prevent mobility loss in PAD.
First, a basic science project will study abnormalities in specific mitochondrial markers to determine whether they differ in people with and without PAD, taking advantage of the large repository of muscle biopsy specimens from PAD patients stored at Northwestern. This project will be led by Christiaan Leeuwenburgh, PhD, chief of the Division of Biology of Aging at the University of Florida College of Medicine.
Second, a longitudinal prospective study will study the long-term effects of a lack of oxygenated blood on the skeletal muscles on the legs, and determine whether novel markers of calf muscle mitochondrial activity are related to a functional decline in people with PAD. This project will be led by Philip Greenland, MD, Harry W. Dingman Professor of Cardiology and director of the Center for Population Health Sciences within the Institute for Public Health and Medicine.
Greenland is also a professor of Preventive Medicine in the Division of Epidemiology and of Medicine in the Division of Cardiology.
Finally, McDermott will lead the third investigation, a clinical trial testing a novel supplement targeting PAD for the first time.
"This project will test whether nicotinamide riboside, both with and without resveratrol, improves walking ability in people with PAD," McDermott said. "The trial will also study how these therapies affect mitochondrial activity in calf muscle in people with blockages in their leg arteries."
In addition, Northwestern's SFRN will look to the future, with a training program led by Mercedes Carnethon, PhD, vice chair of Preventive Medicine and chief of Epidemiology in the Department of Preventive Medicine, and associate professor of Preventive Medicine in the Division of Epidemiology.
"Training the next generation of investigators in vascular disease — and encouraging collaborations between trainees at different centers — is a high priority of the network and Northwestern's center," McDermott said.