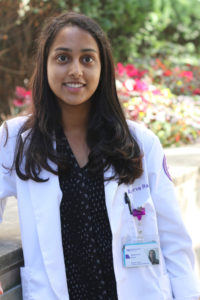 South Asian populations have a higher mortality rate from cardiovascular disease than any other ethnic group in the United States. Even when their BMIs are in the normal range, Americans of South Asian descent are twice as likely as whites to have risks for heart disease, stroke and diabetes.
Through both her research and her volunteer work, second-year medical student Apoorva Ram is working to reduce this significant health disparity.
Ram is conducting her Area of Scholarly Concentration (AOSC) research project under the mentorship of Namratha Kandula, MD, MPH, associate professor of Medicine in the Division of General Internal Medicine and Geriatrics, and a principal investigator of MASALA — the first longitudinal study to investigate heart disease etiology and risk factors specific to South Asian communities.
By analyzing qualitative data collected through MASALA, Ram is hoping to understand how parent-child relationships within South Asian families might affect both their health habits and behavior change. In the future, she hopes that insights gathered from the project will help inform novel interventions, specific to South Asian populations, that improve cardiovascular health.
Along with her research, Ram also confronts this health disparity in the real world. She serves on the student board of the New Life Volunteering Society Clinic, a free clinic near Devon Avenue which serves a predominately South Asian patient population, and volunteers her time helping to provide care there one weekend per month.
Earlier this year, Ram was selected by her peers to receive an M2 Student Senate Service Award, in recognition of her work organizing the student and faculty demonstrations in support of the Affordable Care Act.
Read a Q&A with Apoorva
Why did you choose Feinberg?
One of the first criteria I looked for in a medical school was a place with a commitment to public health. With Feinberg's dual MD/MPH program, as well as its Institute for Public Health and Medicine, I knew there would be a strong community of public health people here.
I also enjoyed the collaborative feel at Feinberg. It truly is a group learning environment, and that's something that really drew me here.
Why did you select this research project?
Dr. Kandula gave a talk during our cardiovascular modules about how she had been implementing culturally specific interventions for South Asians using data from a subpopulation here in Chicago. I really liked how direct it was — the idea of research that can help people right away, with immediate pay-off.
Dr. Kandula had noticed while going through interviews with South Asian Americans — collected through MASALA — that there was a lot of focus on family, and we thought analyzing those family relationships would be a really interesting thing to do. I was an anthropology major as an undergrad, so I also knew coming into medical school that I was really interested in continuing to do qualitative research.
It's pretty new to be studying social-network relationships within the context of healthcare and specific interventions. There's a lot of data out there on how parent well-being and diseases might affect their children's health, but not much the other way around — which is what I'm specifically looking at in this project.
It's an ambitious goal, but I'm hoping that this research might help lead to tailored interventions that help South Asians use their social networks to change behavior for better cardiovascular health.
How does your research and your volunteer work inform each other?
Because I'm South Asian — my family immigrated from India when I was two — I of course already had a lot of cultural knowledge prior to working on the MASALA study. Still, volunteering at the clinic has helped to give me a better perspective on just how big the risk is for cardiovascular disease amongst this population — and that wasn't something I was aware of before working on this research.
When I go to the clinic, I see a lot of diseases related to cardiovascular health, and it really reinforces how important it is that this is studied.
How do you fit wellness into your busy schedule as a medical student?
The biggest outlet for me is reading. I read a lot of novels and poetry, and also enjoy writing and just working my mind in different ways. It really helps during the early part of medical school, when everything feels very science-oriented, to see the humanities side of things. I also do a lot of yoga!
What are your plans for the future?
While I haven't yet settled on a specific residency, I do know that I want to work with underserved populations. In particular, my goal is to work with immigrant populations in some capacity, probably with some kind of public health component.
I've taken Spanish classes my whole life, and this summer, I spent four weeks in Bolivia on a trip funded through the Center for Global Health, specifically to improve my medical Spanish. I lived in a homestay and also rotated through four different hospital settings to better understand rural medicine.
I'm hoping that these experiences will better prepare me to work with underserved Spanish-speaking populations in my home state of California, which is where I hope to do my residency.
What has been your most rewarding experience at Feinberg?
For me, it's volunteering with the low-income South Asian community at the free clinic. You really feel integral to a patient's care. There's usually only one attending physician at the clinic at a time, so the clinic wouldn't be able to run if it weren't for medical students; we collect the entire history and we do as much of the physical exam as we can.
It feels so rewarding to be able to help people so early on in medical school. It really makes me grateful that I chose a career in medicine.
Read more about the MASALA study in the latest issue of Northwestern Medicine Magazine.