"From my position as provost, I am going to do all that I can to make things better in the present and in the near future. But the real promise is to be found in the next generation," said Jonathan Holloway, PhD, provost of Northwestern University, opening the Fall Diversity and Inclusion Lyceum Lecture.
The event, held November 29, was sponsored by the Office of Diversity and Inclusion and attended by Feinberg medical students, faculty and staff.
Holloway, a historian specializing in post-emancipation United States history, provided a historical overview of African-Americans in majority white universities during his address, "The Price of Recognition: Race and the Making of the Modern University." But he also spoke personally of progress and his optimism for the future.
"I look to all of you, the medical students especially, with the hope that you will find ways to break with old institutionalized habits that represent acts of bad faith, that you will learn to be a constructive critic — not merely a critic — that you will be a champion for the most humane practices in your respective fields, and that in the process of caring for your patients you will also be committed to learning what you can about them — their traditions, their cultures — that you will, to put it another way: see them," Holloway said.
The Lyceum Lecture series was launched in the fall of 2015, and has featured a variety of luminaries since, including Antonia Novello, MD, the first Hispanic and first woman Surgeon General, and Neil Powe, MD, MPH, MBA, chief of Medicine at San Francisco General Hospital and a leading investigator in healthcare disparities. Mae Jemison, MD, the first woman of color to travel into space, delivered the Martin Luther King, Jr. keynote address.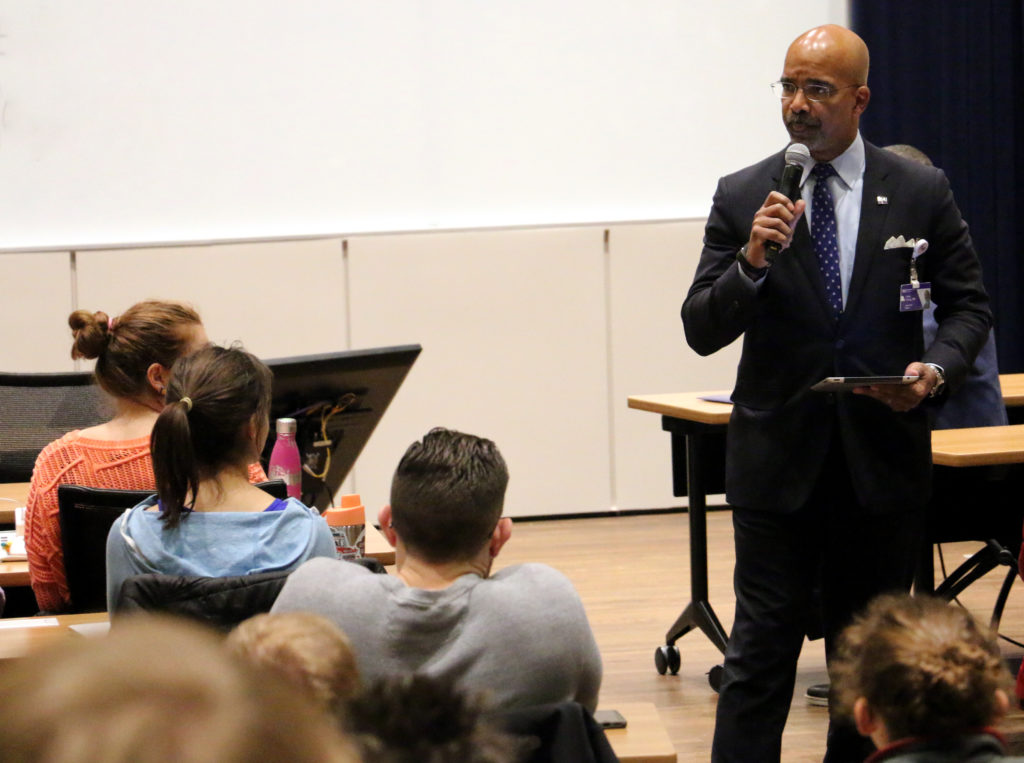 "Over the last two years, we've been involved in a longitudinal comprehensive experience at Feinberg to encourage a spirit of inclusivity, understand more about the importance of diversity, and recognize the strengths in our differences to address fundamental differences in health outcomes," said Clyde Yancy, MD, MSc, vice dean for Diversity and Inclusion and chief of Cardiology in the Department of Medicine. "Among the many things that we've done to try to nudge our culture and introduce to students different ways of thinking has been hosting the lyceum series. In that progression, we are delighted to welcome Jonathan Holloway."
Holloway, who joined Northwestern as provost on July 1, 2017, was formerly Dean of Yale College and chair of the Department of African-American Studies. He joined the Yale faculty in 1999, after earning three advanced degrees in history from the university.
Before delivering his lecture, Holloway also shared a personal anecdote, from when he was a college student interning in Washington, D.C.
Standing with his father in front of the offices of the House Ethics Committee, his father told him, "'People always complain that there hasn't been any progress. And sure, you can look around and point to all kinds of problems. But son, if you look closer and if you think about the past, you'll see that there has been tremendous progress,'" Holloway said. "'When I was your age,' he continued, 'the only way someone who looked like us could cross such a threshold is if he were pushing a cart through.' "
Added Holloway, "I share this because we are not far removed from this past. I am not far removed from this past. And frankly, for far too many people of great promise and great talent and great intellect, that past is actually our present. And if you can acknowledge and remember that fact, then we will begin to start making progress."
During the event, Holloway also acknowledged the presence of the Northwestern Medicine Scholars in the audience. The pipeline program encourages outstanding high-school students from underrepresented populations to explore careers as physicians or biomedical scientists.
Afterwards, Feinberg medical students joined Holloway, Yancy, Eric G. Neilson, MD, vice president for Medical Affairs and Lewis Landsberg Dean, and Teresa Mastin, PhD, director of Diversity and Inclusion, for a lunch to further the conversation.
"Dr. Holloway's lecture was inspiring because he showed through his experiences how aspects of his background helped him navigate his professional journey," said Elsy Compres, a second-year medical student and president of the Latino Medical Student Association, who attended both the lecture and lunch. "Discussions that promote the valuable experiences of our faculty and administrative leaders as they made their way towards becoming key decision-makers both exemplify social progress and highlight the important impact that we can make with our diverse backgrounds."