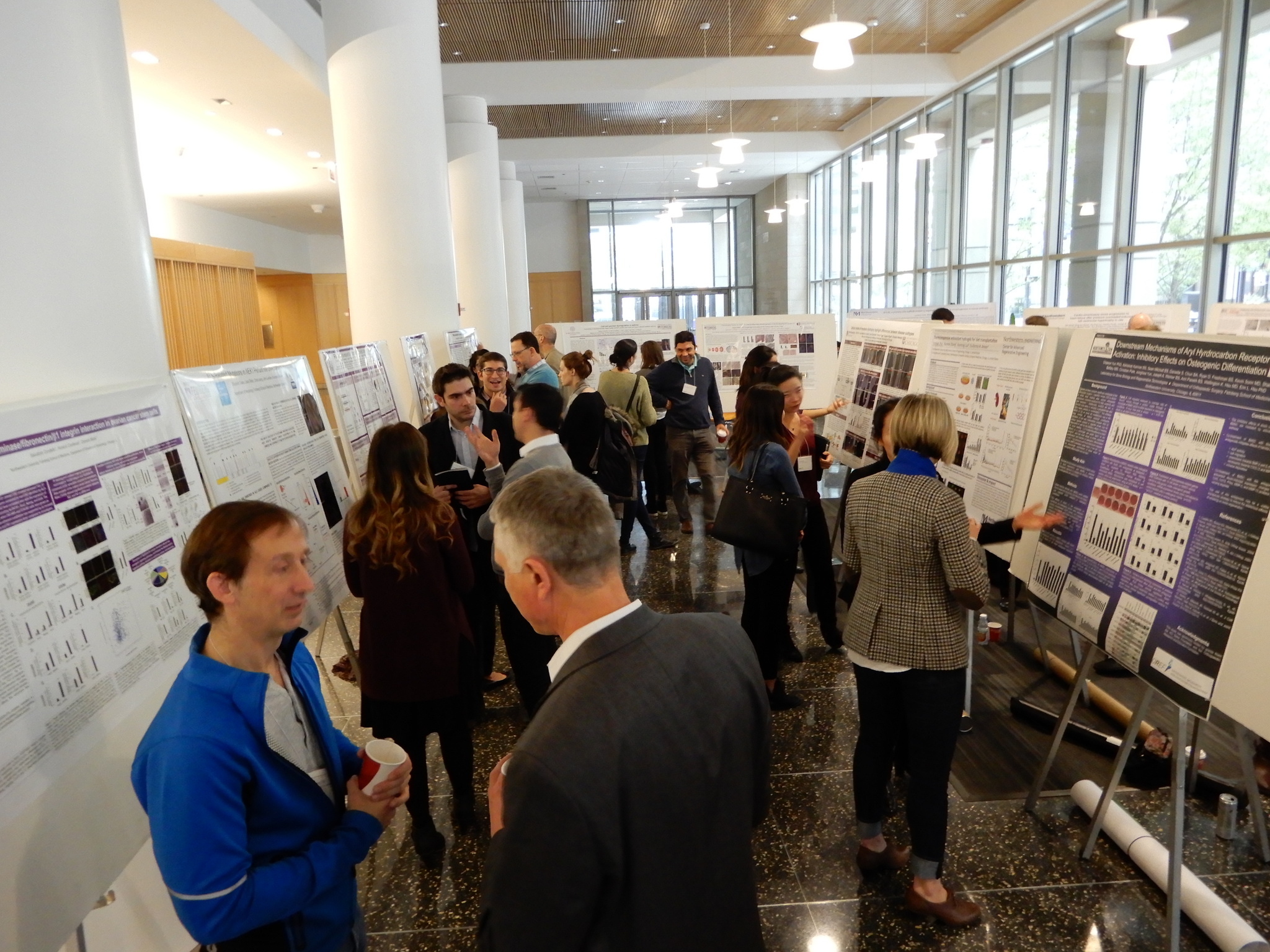 More than 140 scientists, students and trainees from dozens of departments gathered recently to discuss and share the results of their investigations in the rapidly-expanding fields of stem cells and regenerative medicine.
"Thinking about what we could do in regenerative medicine, it blows your mind. That's what's exciting. This isn't a science fiction story anymore. This is something that could happen — and it is happening," said Guillermo Oliver, PhD, the Thomas D. Spies Professor of Lymphatic Metabolism and director of the Center for Vascular and Developmental Biology at the Feinberg Cardiovascular Research Institute.
The goal of the inaugural Stem Cells and Regenerative Biology Research Retreat was to bring together disparate teams working in different departments and fields of science, to foster collaboration and to create a vision for the future of the Stem Cells and Regenerative Biology initiative, of which Oliver is also the director.
The event centered around a pair of poster sessions held at the Robert H. Lurie Medical Research Center, where primary investigators, graduate students and postdoctoral trainees mingled to discuss the results of their projects and share insights about the future of the field.
For Nathaniel Henning, a second-year graduate student in the Driskill Graduate Program in the Life Sciences, rapid expansion in the fields of stem cells and regenerative biology was an appealing prospect for his studies. "What drew me to this avenue of research is the explosion of possibilities happening now in stem cells," he said.
Henning, who works in the lab of Monica Laronda, '11 PhD, assistant professor of Pediatrics in the Division of Endocrinology, presented findings that focus on the development of granulosa-like cells derived from induced pluripotent stem cells. The work is part of the lab's eventual goal of developing 3-D printed ovarian bioprosthetics generated from patient-derived cells to use for fertility preservation and restoration.
According to Henning, recent developments in the field have greatly expanded what's possible using stem cells. "Previously it was a little bit of a black box. Now we can look into the black box and figure out everything that's inside of it, and make developments like these bioprosthetics," he said.
Several posters featured innovative uses of nanotechnology and novel biomaterials applied to investigations focused on stem cells, regenerative medicine projects, or both.
"We have a terrific strength in nanotechnology and bioengineering, in Evanston and here on our campus," said Oliver, who is also a professor of Medicine in the Division of Nephrology and Hypertension. "There are terrific people doing regenerative medicine from their own perspective, creating nanofibers and biomaterials, which are really remarkable tools. I think that's our edge over other institutions."
Blending nanotechnology like spherical nucleic acids with stem cells and regenerative medicine made perfect sense for Jennifer Ferrer, a graduate student in the Interdisciplinary Biological Sciences Graduate Program. She works with Chad Mirkin, PhD, in the Department of Chemistry at the Weinberg College of Arts and Sciences and of Medicine at Feinberg, as well as with Jason Wertheim, MD, PhD, vice chair for research and Edward G. Elcock Professor of Surgical Research in the Department of Surgery.
"I don't think there's been a lot of crosstalk between the nano world and the stem cell world. It could be a really interesting collaboration and really groundbreaking if we start to use these spherical nucleic acids as delivery tools for stem cell research," Ferrer said.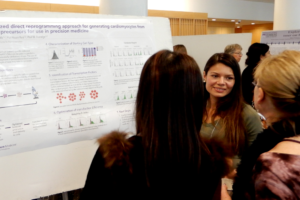 Marisol Romero Tejeda, a third-year graduate student in the Driskill Graduate Program, working in the lab of Paul Burridge, PhD, assistant professor of Pharmacology, presented a study that focused on reprogramming blood cells to generate cardiomyocytes for use in precision medicine applications. She said one of the appeals of working with stem cells is seeing how her research could be translated to real-world implications.
"It's very easy to see how what you're doing is going to impact somebody's diagnosis or somebody's quality of life. To me, that's really exciting," Romero Tejeda said.
The retreat and poster session will become an annual event, according to Oliver, but the real goal is to break down barriers and make collaboration across disciplines a fundamental part of regenerative biology science at Northwestern.
"This is such a multidisciplinary field in which departmental and center boundaries should be broken, as we are all in this together," Oliver said.
Evangelos Kiskinis, PhD, assistant professor of Neurology in the Division of Neuromuscular Disease and of Physiology, uses patient-specific induced pluripotent stem cells to model neurological diseases and co-directs the Stem Cells and Regenerative Biology initiative. Kiskinis, Burridge, Oliver and Mirkin are also members of the Robert H. Lurie Comprehensive Cancer Center of Northwestern University.
"Our goal is to nurture and develop a strong scientific community comprised of basic and clinical scientists working in this area," Kiskinis said.