For Rosemary (Roey) Hines Fuller, dedicating the summer after her third year of medical school to courses like finance, marketing and accounting was all part of her journey to becoming a better physician.
Fuller is one of six fourth-year medical students who will spend the next year at Northwestern's Kellogg School of Management, earning a Master of Business Administration (MBA).
As part of Feinberg's joint MD/MBA program, the students complete core business classes the summer after their third year, and join Kellogg's full-time MBA program in the fall.
Fuller hopes to apply the leadership and management skills she accrues to her future practice as a physician. "It's still early in the program, but I'm already enjoying the experience of thinking in a completely different way and learning new ways to approach a problem," Fuller said. "I'm really excited to think innovatively about medicine."
Read a Q&A with Roey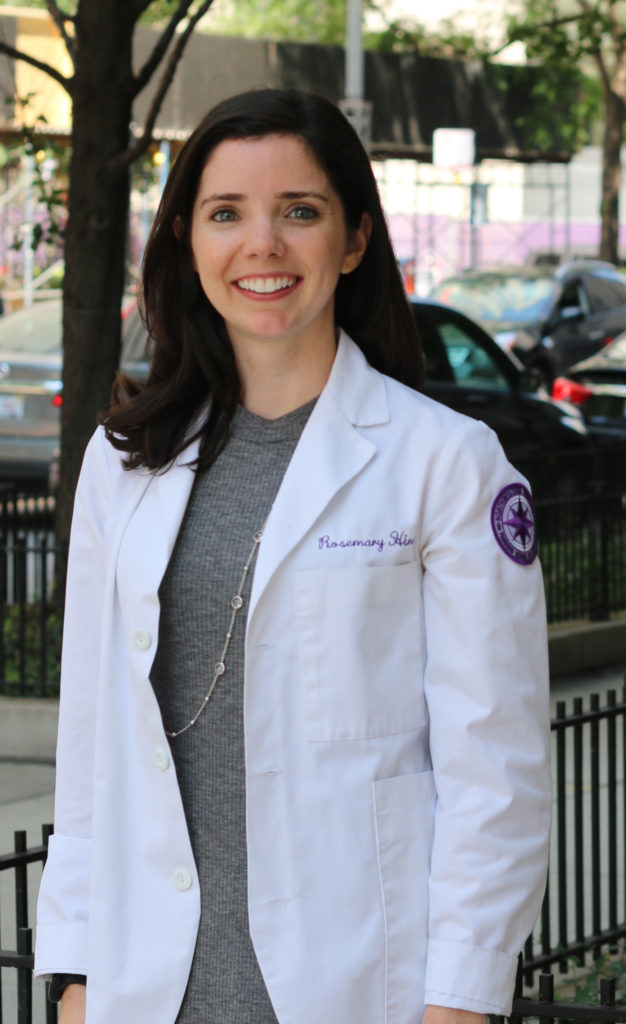 Why did you decide to pursue the joint MD/MBA degree?
Before I came to Feinberg, I spent a year working in Boston at a global health research group focused on developing low-cost, scalable technologies for low-income countries. The MD/MBA program sounded like the perfect continuation of what I had already done: thinking innovatively and creatively about medicine and how we can effect change at a more systemic level.
My passion lies in these questions about disrupting medicine and disrupting healthcare. Especially in today's world, thinking along those lines is going to be crucial, and I think having a year to complete the MBA will be really helpful.
How do you see the MBA complementing your experience as a medical student?
So much about the way we practice medicine involves very business-minded problems and ideas — even if it's not what you might think of a typical "business" question.
For example, the first class we took was called "Leadership in Organizations," where we learned about different aspects of leadership, how to negotiate, how to run a team and such. Those are all skills you don't necessarily learn as a medical student or as a resident — but having to manage and run a team comes up all the time, and medicine is only becoming more teamwork focused.
I think a lot of the themes we learned in that class, and future classes, will definitely carry through. I hope to be a better resident, and ultimately an attending, as a result.
What are your research interests?
Even with the joint degree, I knew I wanted to also pursue research, especially social science research. Dr. Neil Stone, who has been an amazing mentor, was really receptive to my idea.
Medication adherence is a big topic, especially in cardiovascular medicine. For example, a patient with high cholesterol who has to take a statin every day might struggle with adherence because they don't actually feel sick. So with Dr. Stone, I designed a study where we looked at the communication between the patient and physician to explore how this was addressed in the encounter in the doctor's office.
The study, which was published in JAMA Cardiology, found that there was a huge communication gap: many times physicians were not recognizing when their patients were not adhering.
Ultimately, we recommend that medication adherence be a question that is asked in every appointment, similar to a vital sign. The wording itself is also really important. Instead of asking, "Are you taking your medication?" we found that changing the wording to "How many pills have you missed in the past week?" really helps to open up communication and made for a more honest discussion.
How do you fit wellness into your busy life as an MD/MBA student?
I think wellness is something that really sets Feinberg apart from other medical schools.
Overall, the support you feel from the deans and the faculty is tremendous. They do a great job of taking care of their students and making sure you feel that you can have a life outside of medical school, which I think is so important.
For example, Heart and Sole is a running group that's not only a nice outlet for exercise but also a great way to connect with different people you might not otherwise meet. I've also gone to Furry Friends of Feinberg, which is great, and I've attended a lot of the yoga in the library events.
During my first two years, I was also involved with the American Medical Women's Association (AMWA). I was vice president of mentorship and in charge of pairing female physicians with women in the first- and second-year classes. My mentor was Dr. Suzanne Schmidt, a pediatric emergency medicine physician. It was really helpful to hear about how she loves what she does, but also has a life outside of medicine, with a family and kids.
I also really like how Feinberg uses a college system, where we have that smaller, built-in network. My college mentor, Dr. Angira Patel, a pediatric cardiologist, is fantastic. She's the type of person who you can email about anything and is always there to talk, whether it's personal or academic issues, even if it's the smallest thing.
What are your future plans for residency and beyond?
Right now, I'm interested in pursuing a residency in pediatrics. I'd like to both practice medicine and also be part of systematic changes within a hospital or within healthcare broadly.
Dr. Marcelo Malakooti has been a great role model for me in that sense. He's a practicing pediatrician but also the head of innovation at Lurie Children's Hospital, and is working on a lot of cool projects. For example, he ran a think-tank dinner last fall that I attended, where we were broken up into small groups and brainstormed new business and technology approaches to solving a problem, in this case, increasing the rate of hand-sanitizing in the hospital.
While I definitely want to be a practicing clinician, I also found myself thinking about the bigger-picture questions about medicine — and I love that Northwestern has given me the opportunity to study both.