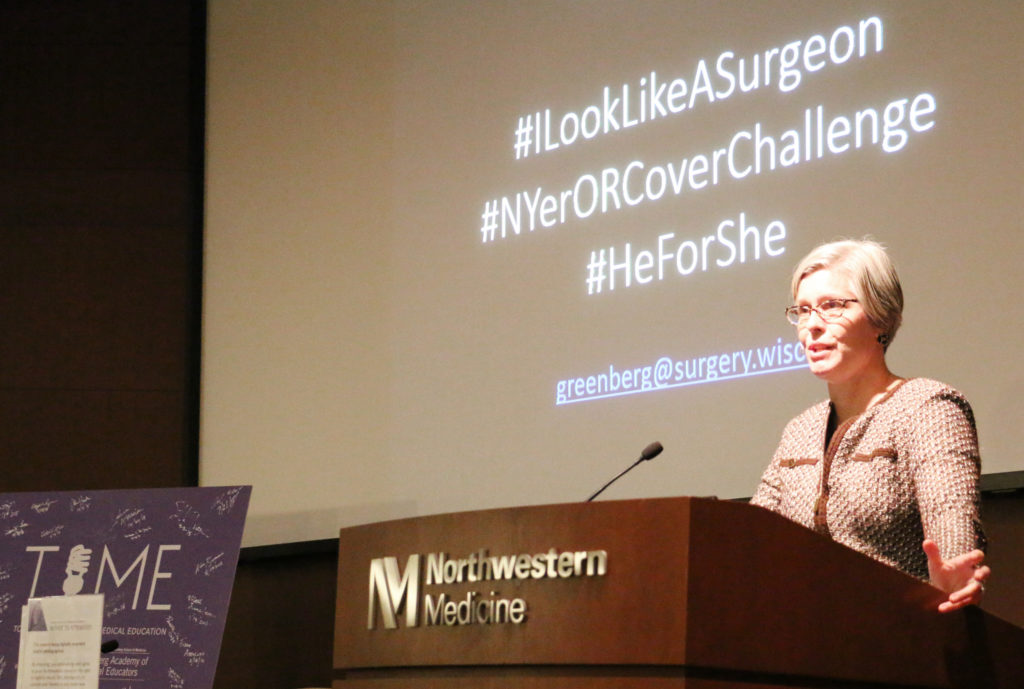 Lecture Series Explores Gender Disparities, Other Current Topics
At the school year's first Today's Innovations in Medical Education (TIME) lecture, Caprice Greenberg, MD, MPH, a professor of Surgery at the University of Wisconsin School of Medicine, spoke about persistent gender disparities in the field of surgery and solutions to bridging the gap.
TIME is a monthly lecture series at Feinberg dedicated to highlighting technological advances, new pedagogy and best practices in health professions education.
The most recent lecture, called "Sticky Floors and Glass Ceilings," was co-sponsored by the Feinberg Academy of Medical Educations (FAME) and the Department of Surgery, and attended by Feinberg faculty, staff and medical students.
Greenberg was introduced by Jonathan Fryer, MD, the Dean Richard H. Young and Ellen Stearns Young Professor of Surgery in the Division of Organ Transplantation.
Greenberg discussed strides that have been made in the field — including increases in the number of women in leadership and in general surgery residencies, and a decrease in explicit discrimination — but also pointed to stats showing issues that remain, including pervasive disparities in salary and advancement opportunities, as well as implicit biases that may be harder to combat.
"My goal today is to show you data," Greenberg said. "I'm a scientist. I believe in data, and hopefully the data that I'm going to show you will convince you that there is actually a problem."
Greenberg also proposed a number of solutions to help close the gap, from blind hiring and promotion practices to actively encouraging women to apply for leadership positions.
"Most importantly, I think that we all need to admit that we have gender bias, and that we need to educate ourselves on how we can mitigate the impact of those biases," she said.
TIME Lectures Feature Topics in Education
The TIME series was launched in 2015 as part of FAME's overall mission to represent and support medical educators at Feinberg. FAME also hosts the annual Medical Education Day and offers recurring faculty workshops and online learning modules, among other resources to help educators build and share their skills.
"The activities sponsored by FAME foster our community of medical educators and contribute to educational excellence at Feinberg," said Walter Eppich, MD, MEd, director of FAME and an associate professor of Pediatrics in the Division of Emergency Medicine and of Medical Education.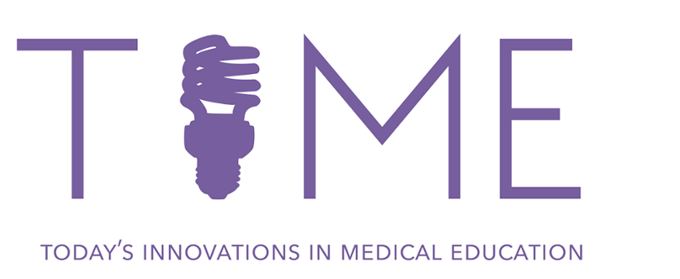 This year's Medical Education Day, held Friday, September 29, will also include a TIME lecture as the keynote address. Led by James O. Woolliscroft, MD, Dean Emeritus at University of Michigan Medical School, the lecture will focus on helping medical education investigators identify important education questions to study.
In October, Ashti Doobay-Persaud, MD, assistant professor of Medicine in the Division of Hospital Medicine, will present the TIME lecture on the role of certificate programs in graduate medical education to deepen knowledge and build interdepartmental relationships.
Among other upcoming TIME events, November's lecture will be delivered by Daniel Evans, '00 MD, '03 GME and Bruce Henschen, '12 MD, '12 MPH, '15 GME, both assistant professors of Medicine in the Division of General Internal Medicine and Geriatrics.
The lecture will focus on the importance of continuity in medical education, particularly highlighting Feinberg's Education-Centered Medical Home (ECMH), a team-based longitudinal primary care track for medical students.
"We feel fortunate and honored to be involved in this series," Henschen said. "The TIME series is so important for two reasons. First, it blends educators from disparate fields, promoting collaboration and sharing of ideas. Secondly, it's exciting to hear about the great work being done throughout the country on behalf of medical trainees."
For a full list of upcoming lectures, please visit TIME Lecture Series.