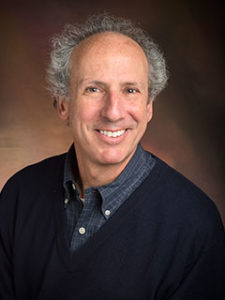 Robert Kalb, MD, has been named the inaugural director of the Les Turner ALS Research and Patient Center at Northwestern Medicine and chief of Neuromuscular Medicine in the Ken & Ruth Davee Department of Neurology.
"There's a strong scientific community at Northwestern Medicine with some of the leading lights in the ALS world," Kalb said. "I'm looking forward to the opportunity to bring my interests and skills to Chicago, foster collaborations and make connections with an intellectually rich and devoted community."
Kalb has spent the past 15 years on the faculty of the Perelman School of Medicine at the University of Pennsylvania — currently serving as the Joseph Stokes Jr. Research Investigator and a professor of Neurology and Pediatrics. There, he also heads a research lab focusing on the abnormal molecular processes that lead to amyotrophic lateral sclerosis (ALS), using genetically engineered mice, neuron cultures and C. elegans, a small roundworm.
"After a more than 35-year relationship with Northwestern University Feinberg School of Medicine as a partner in ALS research and clinical care, the Les Turner ALS Foundation is delighted to welcome Dr. Kalb as the inaugural director of the Les Turner ALS Research and Patient Center at Northwestern Medicine. We look forward to a close working relationship with him. Dr. Kalb's deep expertise in ALS scientific research and as a veteran ALS clinician plus his visionary approach to translational research gives great momentum to the Center's position as a worldwide leader in the fight against ALS," said Andrea Pauls Backman, executive director of the Les Turner ALS Foundation.
Kalb received his medical degree from Cornell University Medical College and completed a neurology residency at Yale University. Soon after, he secured funding from the National Institutes of Health, from which he has been continually funded for over 27 years. His early breakthroughs focused on motor neuron development, studying rats who spent neonatal life at zero gravity on the Space Shuttle.
Kalb's interest in motor neurons blossomed into an interest in motor neuron diseases, zeroing in on gene activation and misfolded proteins in familial ALS.
"This is a fabulous time to be a physician and scientist who is interested in working on difficult problems," Kalb said. "The amount of scientific information we have is incredible, and we have the tools to unravel deeply complex problems."
Kalb believes Northwestern Medicine's strong neurological research community will be a resource and has made it a priority to tease out insights across research groups.
"There are many labs at Northwestern that are devoted to neurodegenerative diseases such as ALS, and I'm looking forward to soliciting critiques and new ways of problem-solving based on other people's areas of expertise," Kalb said.
Jack Rozental, MD, PhD, chief of Comprehensive Neurology in the Department of Neurology, will remain the interim director of the Les Turner ALS Research and Patient Center until Kalb takes the reins in December 2017.
"I am an optimist: I believe there is no problem we cannot solve," Kalb said.  "With imaginative science and support, we can cure this disease."