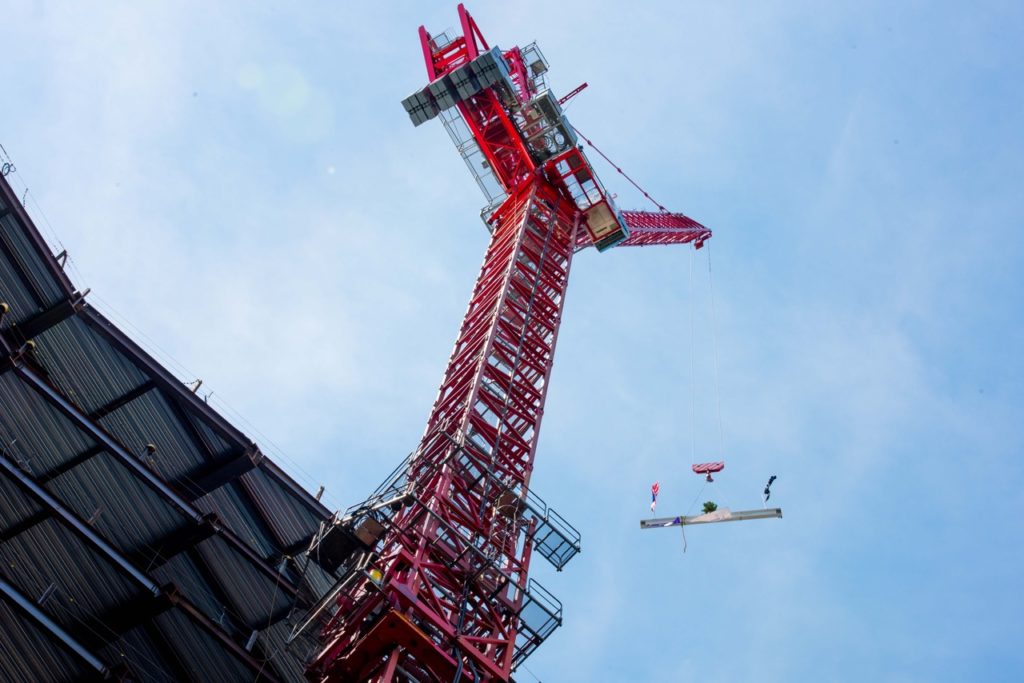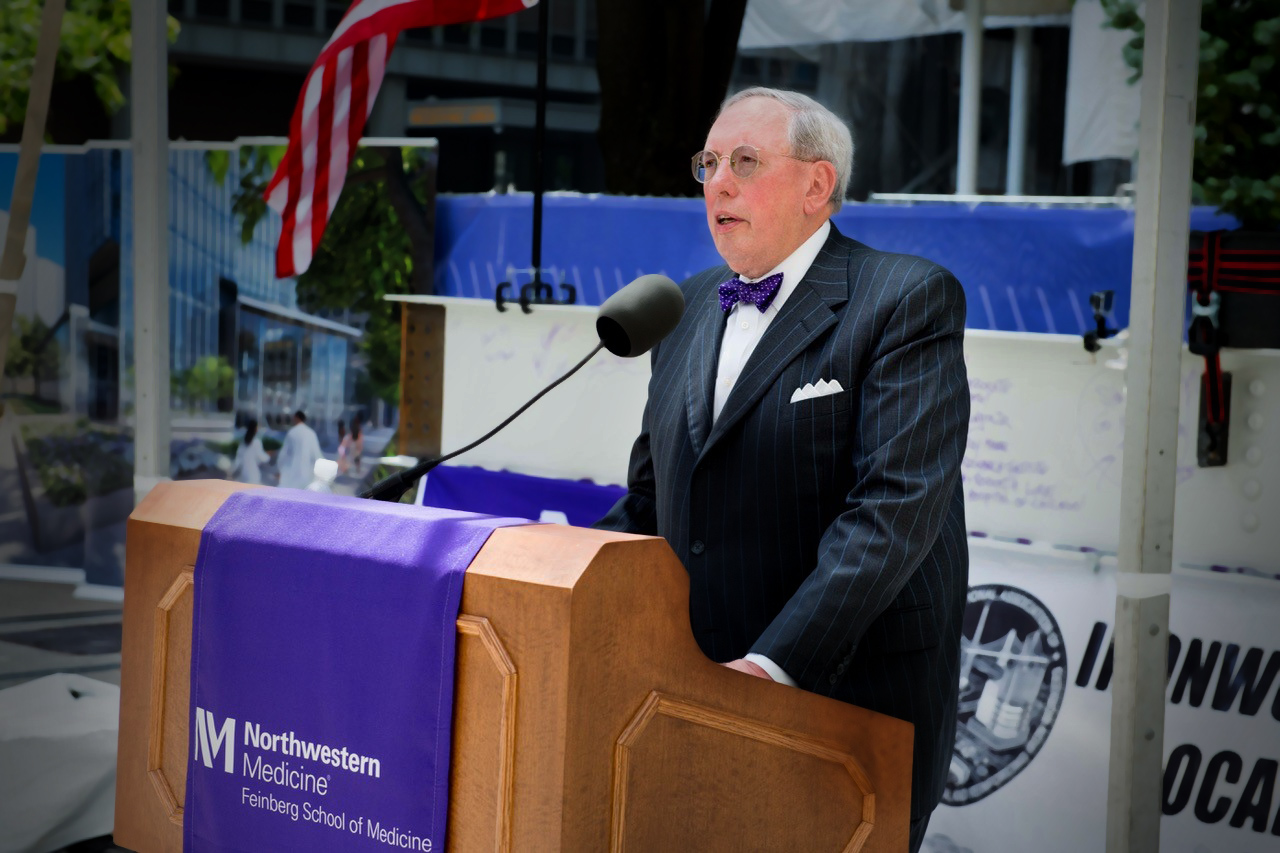 View a slideshow of photos from the topping-off celebration.
Thursday marked a day of celebration as a ceremonial steel support beam was set in place atop the Louis A. Simpson and Kimberly K. Querrey Biomedical Research Center.
The "topping-off" ceremony marked a major milestone in the construction of the 14-story, 600,000-square-foot building, which will significantly expand the medical school's research enterprise.
At the event, Northwestern benefactors, medical school faculty and staff, and leaders from Northwestern Memorial Healthcare and Ann & Robert H. Lurie Children's Hospital of Chicago signed the steel beam before it was hoisted above Superior Street.
"Today marks a great moment for the medical school and the university, our hospitals, the scientific community and, hopefully, our patients," said Eric G. Neilson, MD, vice president for Medical Affairs and Lewis Landsberg Dean. "We pause to thank all the hardworking men and women who have contributed their skills and their knowledge to build this impressive and complex structure you see before you. It's also a good time to reflect on the extraordinary contributions our generous benefactors have made: their investment in and commitment to the vision we have for better human health."
In particular, Neilson thanked Louis Simpson and Kimberly Querrey, whose naming gift was critical to the construction of the new center; Stanley Manne of the Stanley Manne Children's Research Institute, affiliated with Lurie Children's Hospital; John Potocsnak, whose gift supported the new building's lobby and laboratory floors; the Judd A. and Marjorie Weinberg Family Foundation; Andrew and JoAnn Senyei; and Howard Trienens, all who have made generous gifts to fund the new building.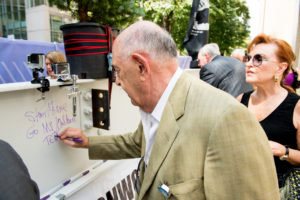 The first phase of the Simpson Querrey Biomedical Research Center is scheduled to be completed in late 2018 with 14 stories, including nine laboratory floors dedicated to biomedical research.
The building, designed to support collaboration among scientists throughout Northwestern, will be connected floor-by-floor to the Robert H. Lurie Medical Research Center. Stanley Manne Children's Research Institute will also occupy four floors in the new building.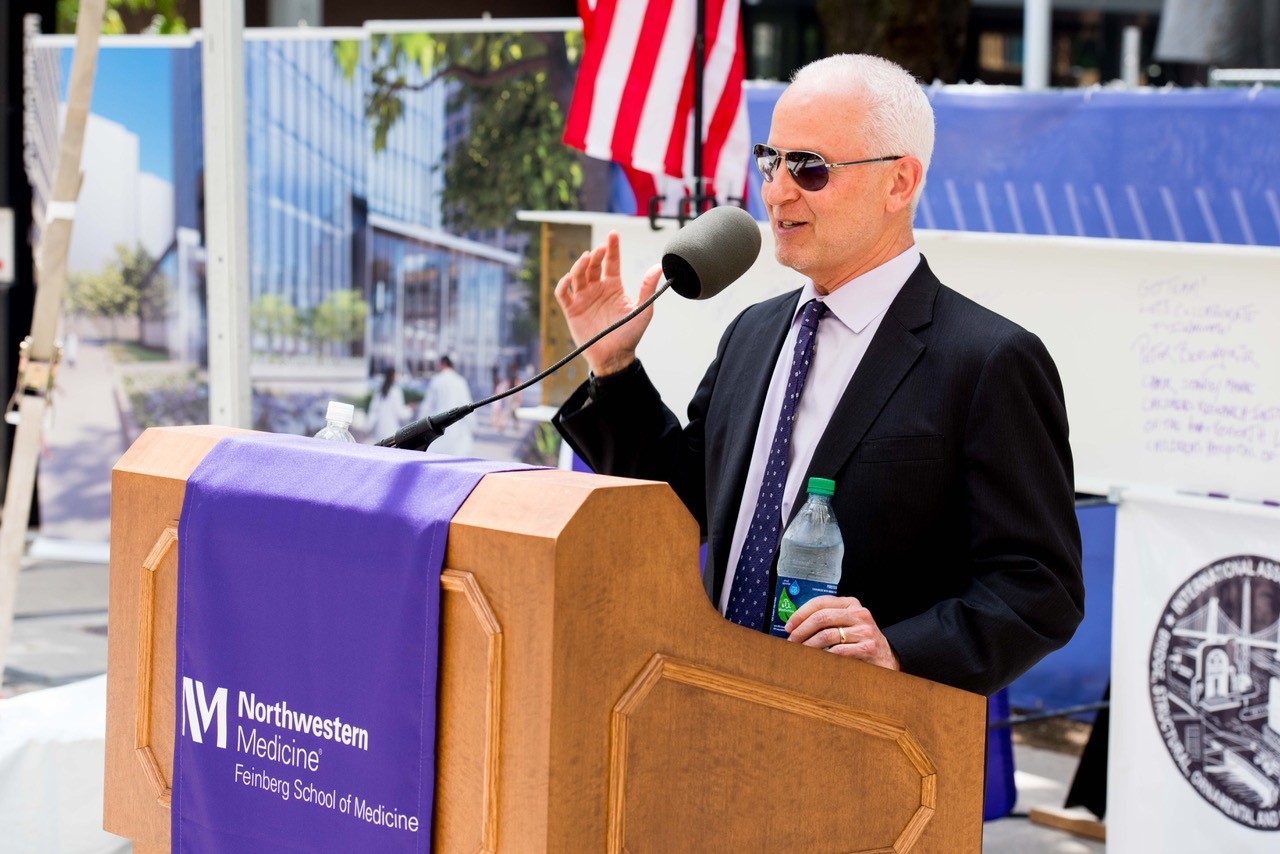 "It's a great day for Northwestern and for our affiliated hospitals, but it's also a great day for Chicago and for the world," said Morton Schapiro, PhD, president of Northwestern University. "It's nice to go up in the rankings and all that. But we are in the business of making people's lives better. And that's what's going to happen in this building."
After the beam was raised, a lunch followed for both event attendees and more than 200 construction team members on the project.
The Simpson Querrey Biomedical Research Center is also designed to accommodate future expansion, up to an additional 15 laboratory floors during future phases, with an eventual build-out capacity of more than 1.2 million square feet.