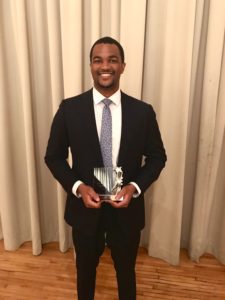 Quentin Youmans, 15' MD, a resident in internal medicine, and Elsy Compres, a second-year medical student, were recently honored with Excellence in Medicine awards by the American Medical Association Foundation.
The national awards, presented during the AMA Annual Meeting on June 9, recognize physicians who exemplify the highest values of volunteerism, community engagement, leadership and dedication to the care of underserved populations.
Youmans received the 2017 Excellence in Medicine Leadership Award, given annually to medical students, residents, fellows and early-career physicians who have exhibited outstanding leadership in community service, education, public health or organized medicine. The program provides leadership development training for these recipients to further strengthen their efforts of advancing healthcare in America.
"I am humbled and honored to have received the 2017 AMA Foundation Excellence in Medicine Leadership Award," said Youmans, who has also been selected to serve as a chief medical resident for the Internal Medicine Residency program for the academic year 2018-19. "I am passionate about medical education and ensuring that each trainee is afforded a fair shot at becoming the best physician possible. This award reaffirms for me the value of service, and provides a national platform with which to champion mentorship, advocacy and diversity in medical education."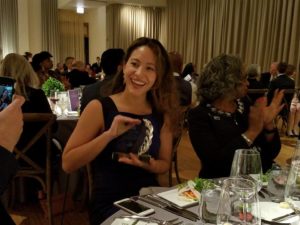 Compres, a first generation Dominican-American, received the 2017 Excellence in Medicine Minority Scholars Award. Compres has been active in efforts to reduce health disparities through global health research and advocacy, and spearheads a multi-center project combining infectious disease, dermatology and global health professionals in the United States and Dominican Republic. During her undergraduate studies at the University of Pennsylvania, Compres was a member of the International Honors Program and traveled throughout West Africa, Southeast Asia and South America conducting anthropological research on resource access among marginalized citizens.
"I have had the opportunity to work with marginalized communities around the world through my undergraduate and gap years, and that has been incredibly rewarding for me. It is the reason I chose to study medicine and what I reflect on when I need extra motivation. I plan to dedicate my medical career to advocacy for underserved patient populations and will continue my efforts to promote diversity in the medical field and do whatever I can for those in need. I am deeply moved to receive this recognition for a cause that I feel so passionate about," said Compres.
The Minority Scholars Award program not only encourages diversity in medicine and alleviates debt, but also acknowledges the commitment to the elimination of healthcare disparities.
Youmans said he is planning a career in academic cardiovascular medicine and is passionate about diversity, inclusion and improving the educational experience for underrepresented minority trainees in medicine. He founded Student to Resident Institutional Vehicle for Excellence (STRIVE), a mentoring program that supports underrepresented minority medical students by providing a safe space for learning, mentorship and collegiality with residents and fellows.
STRIVE was awarded a $19,000 grant through the Northwestern University Provost Grant for Faculty Innovation in Diversity and Equity.