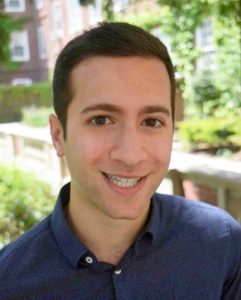 Michael Musharbash, a second-year medical student at Feinberg, has received a Schweitzer Fellowship to implement health educational services for LGBT and homeless youth at the Center on Halsted.
"The goal of my workshop is to improve health literacy and economic opportunity among LGBTQ youth," Musharbash said. "Nearly 40 percent of homeless youth identify as LGBT. That's because half of all teens still get a negative reaction from their parents when they come out. Providing these young people with both medical and economic knowledge will help them live fulfilling lives — because, as the saying goes, health is wealth."
The competitive Schweitzer Fellowship, which is awarded annually to 30 Chicago-area graduate students, is a year-long service learning program that allows aspiring health professionals to design and direct innovative community service projects to address unmet health needs.
Musharbash will devote at least 200 hours to his project at the Center on Halsted, an LGBT community health organization in Chicago's Lakeview neighborhood.
"During medical school, we are often caught up in the horserace of exams and research. The Schweitzer Fellowship is a way for me to take some time out of my week to remember why I went into medicine in the first place," said Musharbash, who is also president of the Queers & Allies Student Group at Feinberg.
The fellowship, named in honor of the Nobel laureate and physician Albert Schweitzer, is administered by the non-profit Health & Medicine Policy Research Group.
"In the face of ongoing uncertainty in our healthcare system and increased threats to the services our most vulnerable residents rely on, the role of our Schweitzer Fellows as ambassadors of hope is more important than ever," said Arthur Kohrman, MD, chair of the Advisory Council and a board member at Health & Medicine Policy Research Group, and a professor emeritus of Pediatrics and Preventive Medicine at Feinberg. "The Schweitzer Fellowship brings the creative ideas and energy of these remarkable health students to underserved communities."
In addition to his service project, Musharbash will also participate in a thirteen-month program that includes trainings, monthly meetings and interdisciplinary collaboration, as well as support from the Schweitzer Fellowship Advisory Council.
Musharbash's mentor for the fellowship is Virginia Bishop, MD, MPH, assistant professor of Preventive Medicine in the Division of Behavioral Medicine.
"I'm interested in the intersection of medicine, public health and politics. I hope this project helps me learn how to incorporate the last two into my career as a physician," Musharbash said.