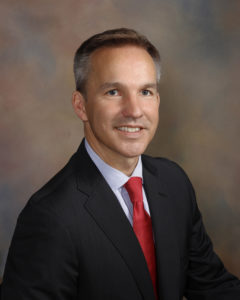 Daniel Brat, MD, PhD, a prominent neuropathologist and brain tumor investigator, has been named chair of the Departments of Pathology at Northwestern University Feinberg School of Medicine and Northwestern Memorial Healthcare, effective this September.
Brat is currently a professor and vice chair for Translational Programs in the Department of Pathology and Laboratory Medicine at Emory University School of Medicine. He also serves as director of the Cancer Tissue and Pathology shared resource facility at the Winship Cancer Institute of Emory University.
"It is a true privilege to welcome Daniel to Northwestern Medicine," said Eric G. Neilson, MD, vice president for Medical Affairs and Lewis Landsberg Dean. "Daniel is an exceptional physician-scientist who has had an enormous impact on the field of glioblastoma and lower grade gliomas. I am confident that his demonstrated expertise, enthusiasm and thoughtful leadership will bring the Department of Pathology to the next level."
Brat earned his medical degree from the Mayo Medical School and doctoral degree from the Mayo Graduate School, both in 1994. He completed a residency in anatomic pathology and a fellowship in neuropathology at Johns Hopkins Hospital. In 1999, Brat joined Emory as an attending physician in neuropathology and as a faculty member in the Department of Pathology and Laboratory Medicine, where he has specialized in developing advanced diagnostic approaches for brain tumors.
In addition to his other leadership roles at Emory, he is currently director of neuropathology in the Department of Pathology and Laboratory Medicine. He also directs the neuropathology fellowship and is co-director of the pathology residency training program. He was a co-founder of Emory's In Silico Center for Brain Tumor Research.
"I can't imagine a better academic medical center to join than Northwestern Medicine, and I can't imagine a better time than right now," Brat said. "The upward trajectory of the academic programs and the healthcare system is remarkable, and Northwestern is poised to be at the leading edge of innovation and healthcare delivery. I am looking forward to working with the outstanding talent within the Department of Pathology to advance diagnostic and laboratory-based patient management capabilities and to improve the understanding of disease."
Brat's research investigates the mechanisms that underlie the progression of glioblastoma — a fatal brain tumor — with a focus on the contributions of hypoxia, genetics, tumor microenvironment and stem cells.
His lab, which is funded by the National Institutes of Health, has produced a number of breakthrough findings. In 2015, Brat was the lead author of a paper published in the New England Journal of Medicine that identified a novel way of classifying gliomas based on their genetic makeup. In total, he has published more than 200 papers in peer-reviewed scientific journals, including Science, Nature, Cell and Proceedings of the National Academy of Sciences.
Brat is a member of the American Society for Clinical Investigation, along with numerous other professional organizations and committees. He has also been elected to the academic honor societies Alpha Omega Alpha and Phi Beta Kappa. Among his many honors, Brat has received the Lifetime Achievement Award for Meritorious Service from the College of American Pathologists, the Georgia Research Alliance Distinguished Cancer Scientist, the American Association of Neuropathologists Award for Best Paper in Neuro-oncology Research, and Mentor of the Year in Post-doctoral Education from Emory University School of Medicine.
Brat replaces William Muller, MD, PhD, Magerstadt Professor of Pathology, who stepped down last July after nine years as chair of the department. Howard Chrisman, MD, MBA, '97 GME, professor of Radiology and of Surgery, and president of Northwestern Medical Group, has led the department in the interim.
"We are deeply appreciative of Howard's fine leadership during this time of transition," Neilson said. "We would also like to thank Sue Quaggin, and the members of the search committee she led, for their diligent work identifying such excellent new leadership for the department."