For Timothy Sita, '17 MD, '17 PhD, Feinberg's 158th medical school commencement ceremony was an ideal moment to both reflect on his seven-year journey at Feinberg and look forward to his future as a physician-scientist.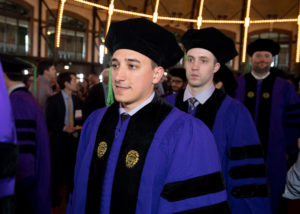 "I feel a mixture of gratitude and humility. Looking around the auditorium, I'm surrounded by friends, family and faculty — without their support, I wouldn't be here celebrating the completion of these degrees," Sita said. During the ceremony, he was hooded by his wife, Elizabeth Sita, '14 MD, whom he met during their first week of medical school in 2010.
"I also feel a bit humbled by the challenges that still lie ahead," said Sita, who will begin a residency in radiation oncology at the McGaw Medical Center of Northwestern University. "Medicine and research are constantly changing, and I know there's plenty left to learn and master."
The ceremony, held May 22 in the Aon Grand Ballroom at Navy Pier, began with an introduction by Eric G. Neilson, MD, vice president for Medical Affairs and Lewis Landsberg Dean, who welcomed graduating medical students, faculty members, family and friends.
"As I reflect on the extraordinary things you have accomplished so far, I am reminded that you are also embarking on a new stage in your life as students of medicine," Neilson said. "This stage is more personal and reflective, where you quickly become your own teacher and set goals for what you will remember and refresh through years of continuing medical education. You are embarking on that joyous journey of life-long learning."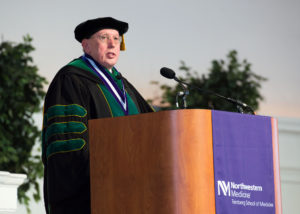 Neilson introduced Nancy Andrews, MD, PhD, dean and vice chancellor for academic affairs at Duke University School of Medicine, who delivered the commencement address.
Andrews encouraged graduates to become leaders in medicine and to continue to stand up for the values of science and truth. "You have chosen a remarkable profession. You can do everything from treating earthquake victims in Nepal to finding a cure for Alzheimer's disease. You will become part of your patients' lives in the most intimate way, and you will use your skills and talents to change their lives for the better. But in my view, being a physician comes with an added responsibility," Andrews said. "We need your leadership to make sure that the decisions affecting the health and well-being of our society are based on critical review of the best available evidence."
Daniel Linzer, PhD, provost of Northwestern University, also urged graduates to remain committed to the pursuit of new knowledge. "You receive the MD today for mastering a great deal of knowledge about molecular mechanisms and physiological processes, and for an ability to translate that knowledge in practice," he said. "But with your degree also comes the hope — actually, it is our expectation — that going forward, you will continue to advance that knowledge with discovery."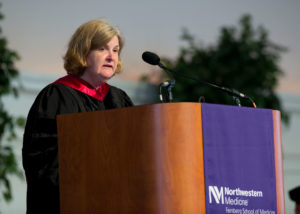 Marianne Green, MD, senior associate dean for Medical Education, presented the members of the class of 2017. As the new graduates crossed the stage, they received their doctoral hood and diploma from their college mentor or a family member who is a physician.
After degrees were conferred, Kathryn Delaney, '17 MD, MA, delivered a message to her fellow graduating students. "Since you took an oath and first put on a white coat, I've watched you nurture talent, earn privilege and perform duties with strength and grace," said Delaney, who was nominated by her peers to be the class speaker. "It has been the pleasure and the honor of a lifetime to watch you all become physicians over the last four years. I can't wait to watch you continue to grow into this new identity in the years to come."
As the commencement ceremony concluded, the graduates recited the Declaration of Geneva, the modern declaration of the physician's oath, that same one they took as first-year medical students.
Twenty-three members of this year's class were inducted into the medical honor society, Alpha Omega Alpha. Eight received Magna Cum Laude in Scientia Experimentali and 13 received Cum Laude in Scientia Experimentali. Nine graduates received summa cum laude, six received magna cum laude and six received cum laude.
Of the graduates who earned joint degrees, 12 received a Master's Degree in Public Health, nine completed a PhD in the Medical Scientist Training Program, six received a Master's Degree in Medical Humanities and Bioethics and three received a Master's Degree in Business Administration.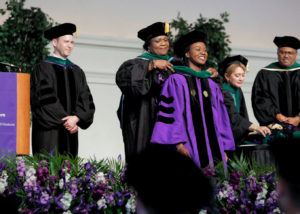 After the ceremony, a reception for graduates, family and friends followed.
"I think for a lot of us, graduation is going to be pretty challenging emotionally, because of all the relationships we've formed," said Erinma Ukoha, '17 MD, MPH, who received Magna Cum Laude in Scientia Experimentali. "I'm humbled by how supported and encouraged I've been throughout these four years — from my classmates and now some of my closest friends, mentors, the OB/GYN department, the Office of Diversity and Inclusion, and the deans and staff in AWOME."
Ukoha will soon begin a residency in obstetrics and gynecology at the University of California, San Francisco. "It's been a long, exciting journey," she said. "Now I'm excited to grow as both a physician and an individual in residency and build upon the foundation that Feinberg has given me."