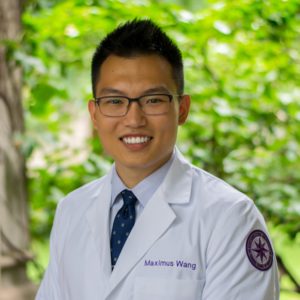 As the first place winner of Northwestern University's 4th Annual Intramural Global Health Case Competition, earlier this year, Maximus Wang, MPH, first-year MD/PhD student in the Medical Scientist Training Program, and his team traveled to Emory University for the international competition. For the competition, they were tasked with creating and presenting a plan to address mental health issues in children in Liberia.
During the Northwestern competition, graduate and undergraduate students from different schools came together to develop solutions to global health challenges. The Center for Global Health co-sponsored the case competition with Weinberg's Global Health program, the Program in African Studies, and the Pritzker Law School's International Human Rights program.
What was the most challenging part of the competition?
The way we're taught to think as medical students is very different from students in other disciplines, such as business or psychology, so I think realizing that and seeing how it played into what people thought were important and the issues they wanted to stress was really insightful. Also, everyone was from such different backgrounds, so it was interesting to see how they thought about the problems presented.
What did you learn?
Before coming to Northwestern, I got my MPH and did global health work. So I always knew I wanted to stay involved in the field and the case competition was a good way to stay active in global health. In terms of lessons learned, I realized that the way you portray your vision to other people is extremely important. Watching the finalist teams present, even though their proposals weren't all that different from ours, I could see the way they were able to sell themselves and get people to align with their vision.
How did this experience fit into your education at Feinberg?
I'm interested in Bioengineering/Materials Science for my PhD. I think global health is such a broad field that regardless of what you are working on there is always a way to tie it in. For me, I'm interested in biomaterials and the nanoscale applications of these materials in drug targeting and delivery. It is exciting to view it as a modular platform that you can use to address multiple different disease states as opposed to being a single treatment paradigm. Not only can you target cancer cells, for example, but you can also employ the same basic material setup to encapsulate and have targeted release of antibiotics in the context of infectious diseases. Utilizing this technology in resource poor settings is something that I want to incorporate into my future work.