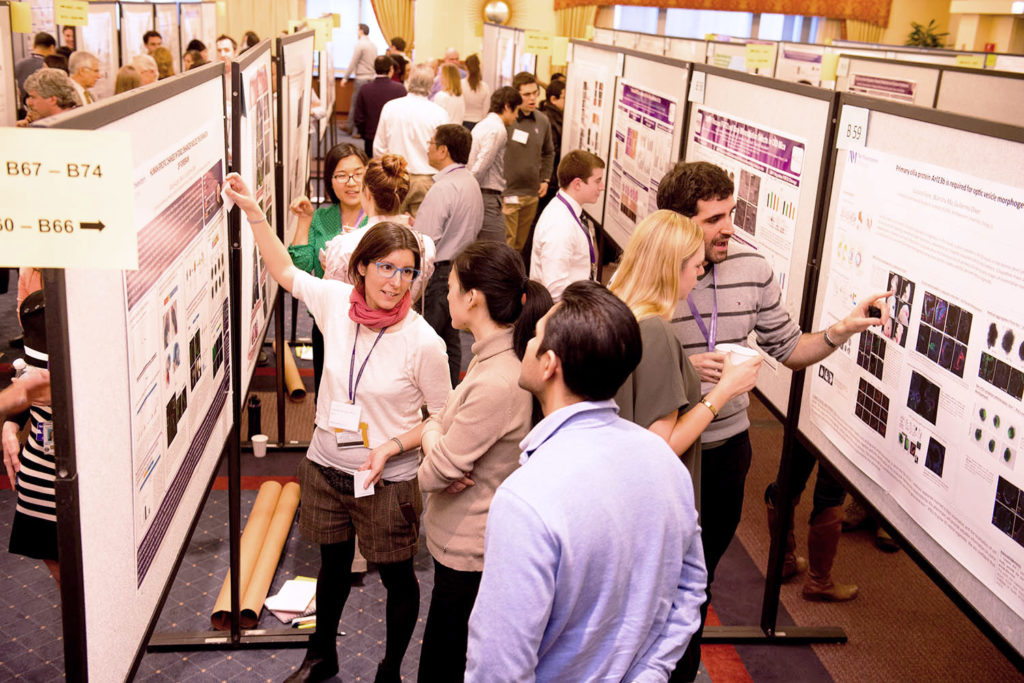 At the 13th Annual Lewis Landsberg Research Day, David Barefield, PhD, a postdoctoral fellow, presented on his work characterizing a novel protein and its role in arrhythmia and cardiomyopathy, one of more than 400 abstracts showcased.
Barefield was first place winner in the basic sciences category for the poster competition, the largest in Research Day history. Barefield said, "It was a great way to get feedback and suggestions from people who have had more experience."
This year's record-breaking participation showcased the diversity of innovative research taking place at Feinberg. The event included posters on basic science research, clinical research, public health and social sciences research and education research.
"It's an exciting time to be involved in research at Feinberg," said Rex Chisholm, PhD, vice dean of Scientific Affairs and Graduate Education. "Our community's passion for research is on display today, and this is a much larger turnout than we've ever had before, and we continue to expect to grow even more as we recruit more faculty."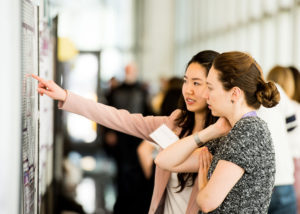 The day's activities included a keynote lecture, the most well-attended research day keynote to date, presented by Charles L. Sawyers, MD, chair of the Human Oncology and Pathogenesis Program at Memorial Sloan Kettering Cancer Center.
Sawyers discussed acquired resistance to targeted therapies in cancer and guided the audience through an exploration of some of the models being developed in his lab to find answers.
"Genomic resistance mechanisms remain common, but I think their relative frequency is starting to decrease and the reason is because we are really good at designing the next generation inhibitors," Sawyers said. "Non-genomic resistance mechanisms are emerging, and I'm optimistic they are druggable."
During the poster presentations, Patricia Brazee, a graduate student in the DGP, enjoyed having the chance to share her work and exchange ideas with peers.
"It's always excited to share work with other departments. There is so much research going on at Northwestern, and Research Day shows you the scope of what is going on," Brazee said, who received third-place for her basic science project. She studies the role of lung epithelium in regulating the immune response of the influenza virus.
Celia O'Brien, PhD, instructor of Medical Education, who received third-place for her education research project using nurses to assess medical students, agreed and said, "Research Day is a good opportunity to showcase programs that we implement, that people might not know about."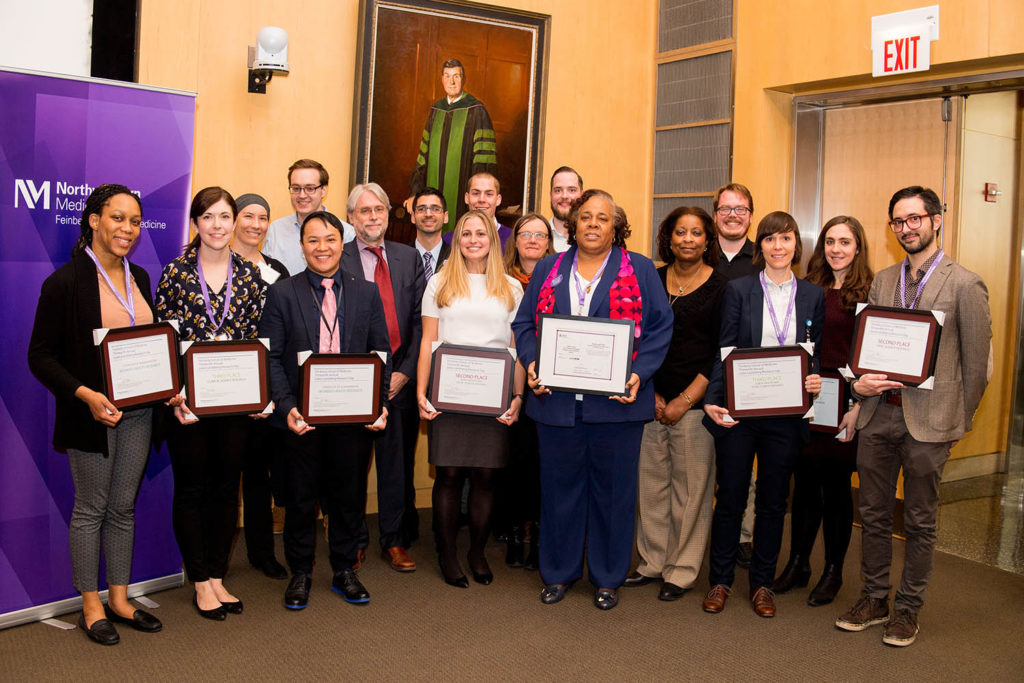 This Year's Winners
Senior faculty served as judges and awarded participants whose projects demonstrated outstanding and innovative research with potential to advance medical science and healthcare.
First place: David Barefield, PhD, postdoctoral fellow, "Novel myofilament component MYBPHL is implicated in arrhythmia and DCM"
Second: Andrea Piunti, PhD, postdoctoral research fellow, "Therapeutic targeting of polycomb and BET bromodomain proteins in DIPG"
Third: Patricia Brazee, graduate student, "LUBAC Mediated Epithelial Signaling During Influenza Infection"
First place: Brian Joyce, PhD, postdoctoral fellow, "DNA methylation of telomere biology genes and cancer risk"
Second: Jacob Kresovich, PhD, postdoctoral fellow, "Therapeutic targeting of polycomb and BET bromodomain proteins in DIPG"
Third: Julianne Ubago, MD, fellow in Pathology, "PD-1 and PD-L1 expression in HER2-positive breast carcinomas"
Public Health and Social Sciences:
First Place: Lauren Gard, MPH, research project coordinator, "The Northwestern and Access Community Heath Network medication education study"
Second: Lindsay Pool, PhD, AHA postdoctoral fellow, "Cardiovascular Preventive Service Use Trends During Affordable Care Act Implementation"
Third: Amy Curtis, MD, resident in Psychiatry and Behavioral Sciences, "Social information processing ability and change in cigarette smoking during pregnancy: Testing a novel social-cognitive-affiliative model of health behavior change"
First place: Jackson Herzog, third-year medical student, "Impact of a longitudinal primary care clerkship on patient outcomes"
Second: David Salzman,'05 MD, '09 GME, assistant professor of Emergency Medicine and Medical Education, "EPA simulation-based mastery learning capstone course"
Third: Celia O'Brien, PhD, instructor of Medical Education, and Marianne Green, MD, senior associate dean for Medical Education, "Utilizing nurses to assess students' professionalism, communication, and teamwork skills"
Medical Women Faculty Organization Founders Awards
ARCC Community-Engaged Research Partnership Award: "Pastors4PCOR: Engaging Faith Based Communities in Health Research" This project is a partnership between the teams ofRebecca Johnson, PhD, a research assistant professor of Medical Social Sciences, Paris Davis, PhD, MBA, project lead for Pastors for 4 PCOR, Dianna Ingram, PhD, MPH, assistant professor at Rush University Medical Center and 12 churches serving underrepresented populations in Chicago and South Suburban areas.