On Friday, March 17, Feinberg's fourth-year medical students gathered at Gino's East in Chicago and tore open their white envelopes, learning together where they will spend their next several years, their first as physicians.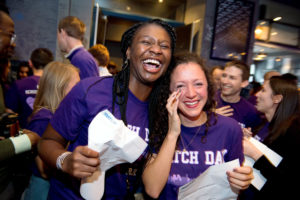 Match Day, an annual tradition held on the third Friday of March, is the day when all fourth-year students across the country learn — at exactly the same time — where they will train as residents for the next three to seven years.
At Northwestern, the room erupted in cheers at 11:30 a.m. as the envelopes were opened in unison. The class of 2017, surrounded by friends, family and faculty, celebrated the success of their medical school journey and the beginning of the next phase of their medical careers.
"The atmosphere here today was incredible. It felt like the roof was going to lift off with all the energy," said Richard Greendyk, who matched in internal medicine at New York-Presbyterian Hospital at Columbia University Medical Center. "Everyone was incredibly happy when they opened their letters, and this really wouldn't have happened without all the phenomenal support we've gotten here over the last four years."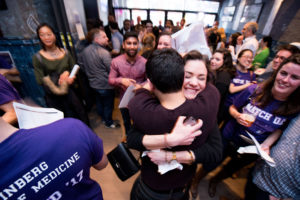 Residency matches are made by the National Resident Matching Program (NRMP), which uses a computerized algorithm to pair graduating medical students with available training positions at U.S. teaching hospitals. The model takes into account the top choices of both the students and the residency programs. This year's Match Day was the largest in history, with a record 43,137 registered applicants vying for more than 31,000 residency positions.
Mia Helfrich and Charles Qin entered the match as a couple. Both students matched in orthopaedic surgery, with Helfrich at the McGaw Medical Center of Northwestern University and Qin at the University of Chicago Medical Center. "It was very nerve-racking, standing there with our envelopes before we counted down, but we're so happy we matched in the same city," Helfrich said. "I'm really looking forward to spending another five years training here at Northwestern."
The NRMP allows students who choose to match as a couple to link their rank lists together, in order for the two to obtain residences in the same geographic location. This year, 1,125 couples participated in the match, the highest on record.
Parul Kathuria, an Honors Program in Medical Education student who has studied at Northwestern for the last seven years, also chose to continue her medical career here. She matched in dermatology and internal medicine at the McGaw Medical Center. "I've had some amazing mentors here in both the dermatology and internal medicine departments, and I'm thrilled to be staying," she said. "The Northwestern community is rich with such a wide variety of students from all kinds of backgrounds. It really is a special place to do your training."
Brittany Vieira celebrated her match at Brigham and Women's Hospital in Boston, where she'll begin her training as a plastic surgeon. "I think Feinberg does an unbelievable job fostering exactly the person you want to be. They let me learn medical education exactly the way I needed to, and I think that freedom and support is what got me into Harvard plastic surgery," Vieira said. "It was an unbelievable moment today. To have that many people realize their dreams in one second, in one room — there's just nothing like it."