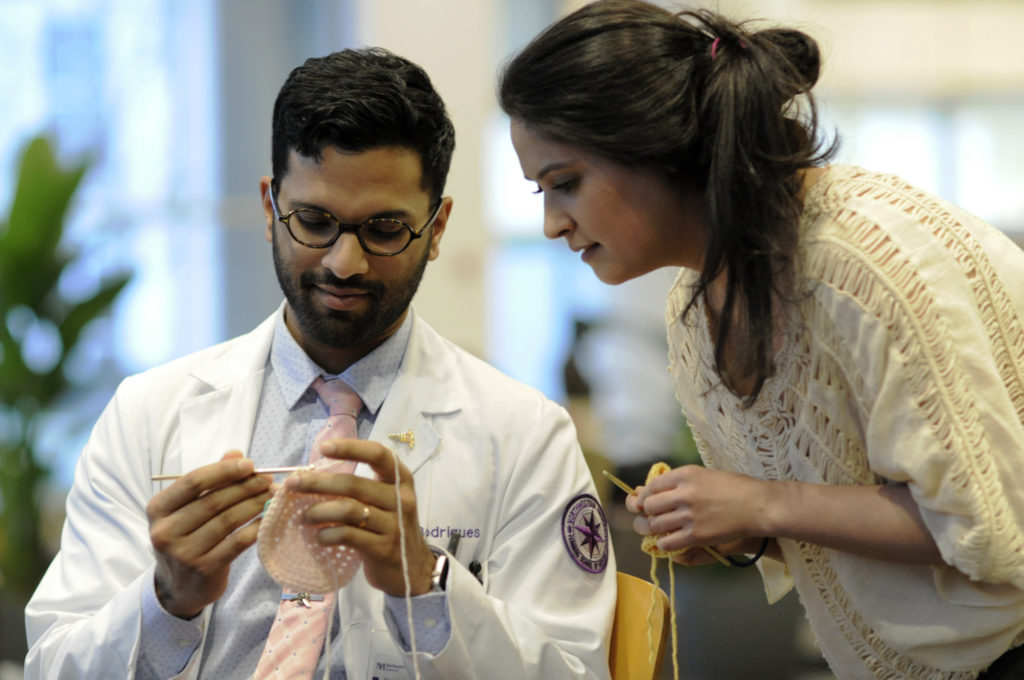 Medical students recently gathered in the atrium of the Robert H. Lurie Medical Research Center to crochet baby hats for Apna Ghar, an organization that services and conducts advocacy across immigrant communities to end gender violence.
Lauren Andrews, a third-year medical student and long-time knitter, started the group, called Fein Yarns and Healing Threads, at the beginning of her second year after hearing from peers who wanted to learn to knit and crochet.
"One of the things that Feinberg is good at is emphasizing that to be a good physician, you need to take care of yourself. You can't be burned out and have the empathy reserves to care for patients and have the energy to go the extra mile that a lot of situations need," Andrews said.
The student group receives donated yarn for all of their projects. "Teaching a skill that allows students to relax and re-center, that works towards that goal of looking at your own wellness as an important aspect of being a good physician."
Hogan Randall, a third-year medical student, agreed, and said he joined the group because he found "crocheting to be a very therapeutic activity and a great way to relax and step back from all of the busyness of life."
Last year, they made about 40 hats, which were donated to Apna Ghar through faculty advisor Lenore Soglin, MD, assistant professor of Medicine in the Division of General Internal Medicine and Geriatrics. Andrews said she hopes to make more this year.
"The women were very touched to have a hand-made item for their babies during such a stressful time in their lives," Andrews said. "I'm hoping this year we can have an impact on even more families that use the shelter."
Patients In Need of Fine Motor Rehabilitation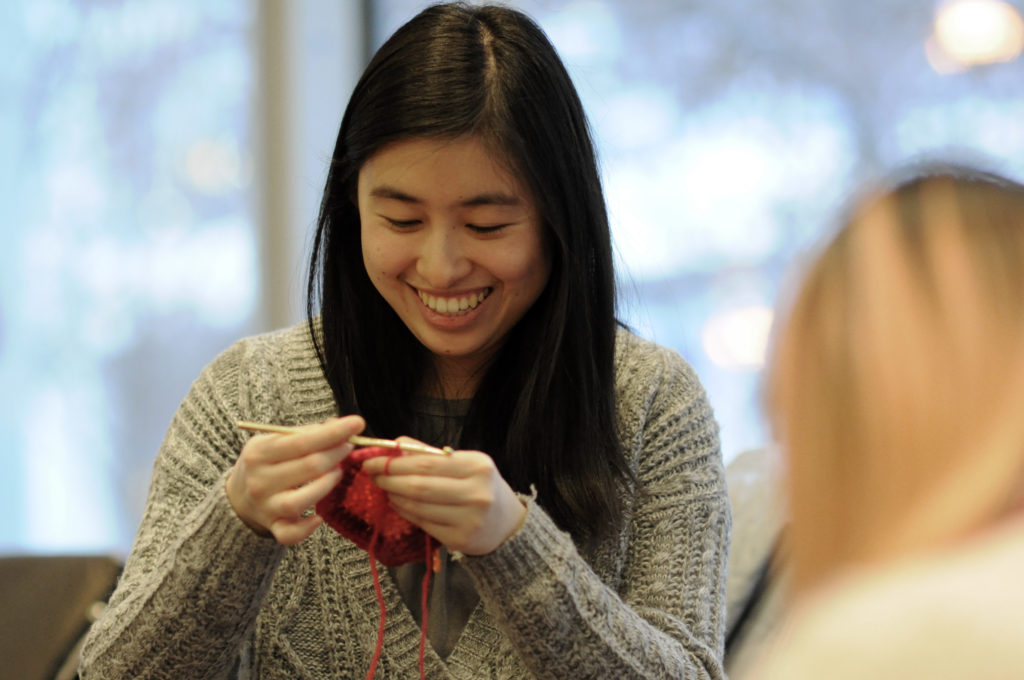 Participating in the group also gives a chance for first- and second-year students to gain insights and advice from third- and fourth-year students, in addition to giving them an added opportunity to work with patients at the Rehabilitation Institute of Chicago (RIC).
Through a recreation therapy program, medical students in the group teach knitting and crocheting to patients in need of fine motor rehabilitation. Typical fine motor exercises include picking up and dropping balls, which Andrews said can be tedious and monotonous.
"Teaching them to crochet or knit exercises the same fine motor skills, and it allows them to create something," Andrews said. "Making something for someone else can give them a sense of purpose while doing rehab at the same time."
Joy Liang, a second-year medical student, first became interested in Fein Yarns and Healing Threads to meet students with similar hobbies and found it equally as rewarding to give back to the community.
"I appreciate that we've found ways to use this hobby to actively help out people in the community," Liang said.
Andrews said she would like to extend the program to work with patients admitted to the hospital.
"A lot of these people who are staying in the hospital go through a huge period of stress and anxiety, and by giving them a life skill, it can give them a sense of purpose, and they can feel like they are still in a caring role for their family or friends," Andrews said.