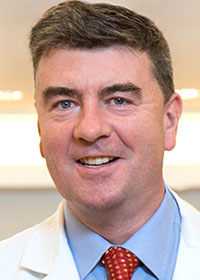 A newly identified biomarker may predict treatment response in patients with chronic myelogenous leukemia (CML), according to a Northwestern Medicine study.
The paper, published in the Journal of Clinical Oncology, was co-authored by Frank Giles, MD, chief of Hematology/Oncology in the Department of Medicine. Giles is also director of developmental therapeutics at the Robert H. Lurie Comprehensive Cancer Center of Northwestern University.
CML is a rare, slow-progressing cancer where the bone marrow produces too many granulocytes, a type of white blood cell.
A previous study, led by Giles and published in the journal Leukemia in 2015, demonstrated the efficacy of a tyrosine kinase inhibitor (TKI) called nilotinib in treating patients with CML. But little was known about whether the drug modifies immune-cell function, and physicians lacked a biomarker to predict whether a patient with CML would respond to such treatment.
In the current paper — a substudy of the previous clinical trials — the investigators conducted a prospective immune monitoring program of 54 patients with chronic-phase CML who were undergoing TKI therapy.
They discovered that expression levels of CD62L, an immune cell protein, correlated with prognostic disease characteristics. Specifically, patients who at diagnosis had high expression of CD62L on T-cells and low soluble CD62L plasma levels, were the most likely to experience an optimal molecular response to the therapy.
If future studies confirm the findings, the predictive biomarker may be critical in an era of molecular-targeted therapy, the authors noted, as it will help match patients with the appropriate treatment and avoid over- or under-treatment.
Giles is also a principal investigator on a new national clinical trial evaluating immunotherapy drugs in patients with rare cancers, along with Young Kwang Chae, MD, MPH, MBA, assistant professor of Medicine in the Division of Hematology/Oncology and a member of the Lurie Cancer Center.
The current study was supported by Novartis, the Finnish Cancer Institute, the Österreichische Nationalbank Jubiläumsfondsprojekt (Jubilee Fund of the Austrian National Bank) No. 14781, and the European Treatment and Outcome Study Program for Chronic Myelogenous Leukemia 2016.
Giles has had a consulting and advisory role with, and received research funding from Novartis, which manufactures nilotinib.