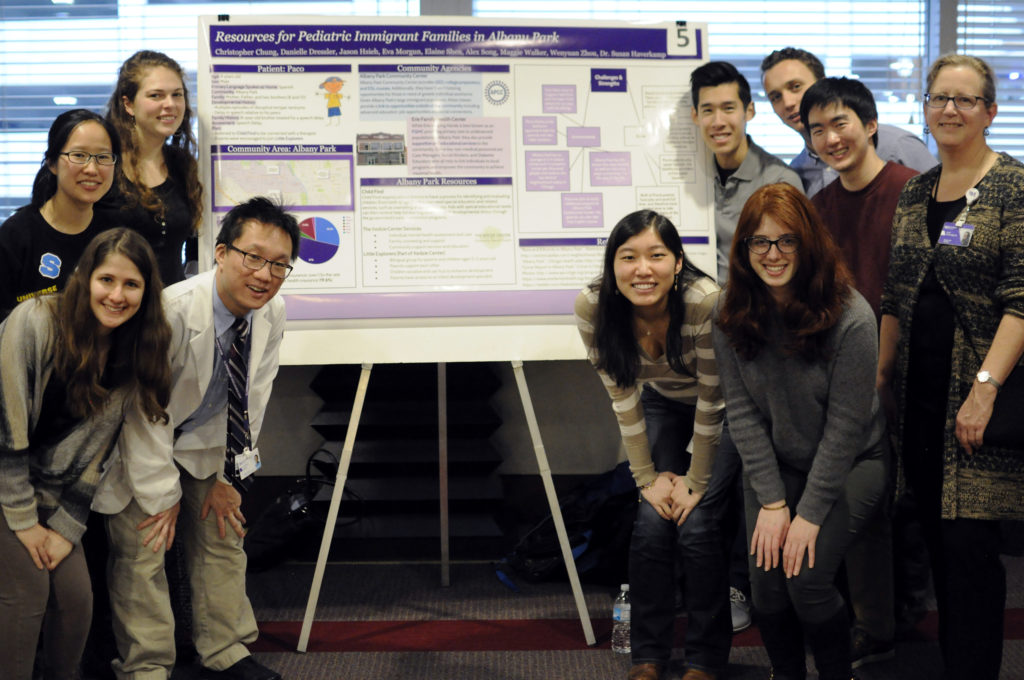 A team of first-year medical students presented on the challenges faced by immigrant families with young children in Albany Park, a diverse Chicago neighborhood, during a recent poster session, part of a community health project to introduce medical students to the social determinants of health.
This project built upon the knowledge and skills medical students learned in their Foundations Module Health and Society sessions at the beginning of the academic year. Through visiting neighborhoods outside of Feinberg's Chicago campus in Streeterville, students had an opportunity to better understand the social and physical environments where people live and how it impacts an individual's ability to live healthy.
"Chicago is so much more than Streeterville. The project helped us see the struggle a patient population experiences and what resources may or may not be available to them," said Wenyuan Zhou, a first-year medical student.
During the fall, Zhou and her group members chose a fictional case-study patient, a four-year-old with a speech delay, and the neighborhood where that patient would have lived. Under the mentorship of Susan Haverkamp, MD, clinical assistant professor of Pediatrics in the Division of Community-Based Primary Care, the students visited Albany Park in December and spoke with community members and interviewed an immigrant family at Erie Family Health Center.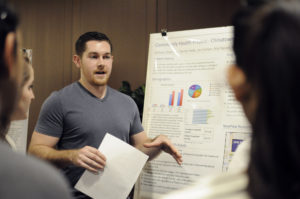 "As someone who works in the neighborhood, I appreciate students giving up a Saturday of their time to spend a day in the community and talk to a family in the neighborhood," Haverkamp said.
After assessing the resources available for speech delay in Albany Park, the group developed a treatment plan for their fictional patient.
"We were fortunate to hear from a patient that was very similar to our case study patient during the visit to the community," said Danielle Dressler, a first-year medical student. "It's good to have exposure to different neighborhoods and populations."
Other projects presented by first-year medical students at the poster session included diabetes and hypertension in Chinatown, mental health in Rogers Park and homelessness in Uptown.