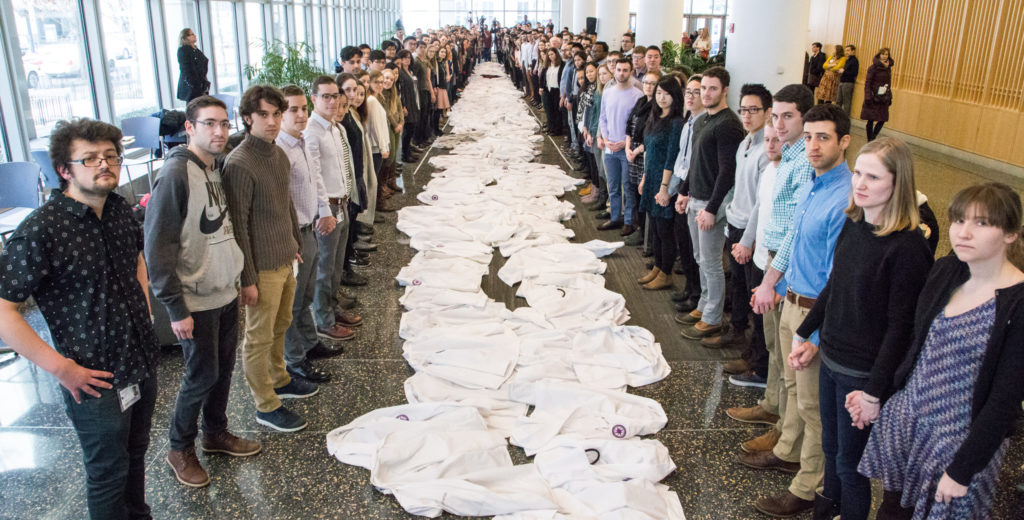 Close to 200 medical students laid down their white coats on the floor of the Robert H. Lurie Medical Research Center on Monday, in a symbolic gesture forming a white carpet in support of the Affordable Care Act (ACA).
The rally, called "White Coats for Coverage," urged Illinois legislators to maintain the state's healthcare coverage and protested a national repeal of the ACA, which student organizers felt would "pull the carpet out from under our patients' feet," said Jordan Rook, a second-year medical student who organized the event.
Michelle Gorecki, Andrea Henricks and Arturo Salow — all second-year medical students — were co-organizers. They are part of a group of about 20 students who have been regularly meeting since November's presidential election to discuss courses of action in support of health equity.
"There's been a lot of discontent about some of this administration's decisions about healthcare. The ACA may be flawed, but it works," Rook said. "We wanted to give students a way to channel some of that discontent, by simply laying down their white coats to show how much this matters. And they really showed up."
The white coat demonstration was inspired by #ProtectOurPatients, a national grassroots organization of healthcare professionals opposed to the repeal of the ACA, but was intended to demonstrate support among medical students in Illinois specifically.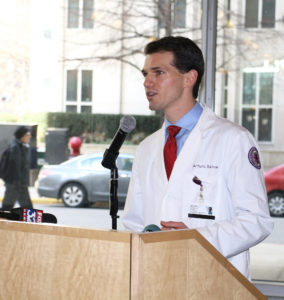 "Our general philosophy is that our voices will be most effectively heard at the state and local levels," said Stephen Whitfield, a medical student who also assisted with the event. "Our main aims are to protect Medicaid expansion, healthcare subsidies and pre-existing coverage within the state of Illinois, under Illinois law."
A petition with those demands, authored by the event co-organizers, has since gathered more than 700 signatures from 11 medical schools in Illinois, and will soon be sent to state officials.
­Other speakers at the event included Noelle Martinez, a third-year medical student; a representative from the office of U.S. Sen. Dick Durbin (D-Ill.); Bruce Henschen, '12 MD, '12 MPH, '15 GME, assistant professor of Medicine in the Division of General Internal Medicine and Geriatrics; and Matthew Davis, MD, MAPP, Professor of Pediatrics and head of the Division of Academic General Pediatrics and Primary Care at the Ann & Robert H. Lurie Children's Hospital of Chicago.
"We hope this inspires an ongoing, persistent engagement among medical students," Whitfield said. "Through the petition, we've now built a network of about a dozen other medical schools in the state who are interested in this type of action. Today was a very important immediate initiative for us, but it's just the beginning of our engagement, and we're hoping events like this will become more commonplace in the future."