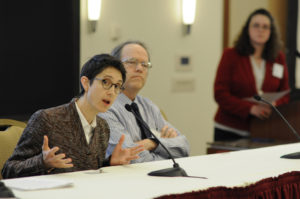 Scientists from throughout the Northwestern Medicine community and beyond came together to celebrate the one-year anniversary of the implementation of the National Institutes of Health's (NIH) landmark sex-inclusion policy at a symposium on January 25.
"After a long time of being marginalized, the issue of sex differences in brain and body is rapidly rising at the same time as resistance to it — by people who don't fully understand," said keynote speaker Larry Cahill, PhD, professor of Neurobiology and Behavior at the University of California, Irvine. "At this time, we need initiatives and symposiums like this to help people understand this is important, to pay attention to sex differences."
Last January, the NIH mandated that research funding would be contingent upon the inclusion of female cells or animals in all studies. The policy instructs scientists to account for the possible role of sex as a biological variable in animal and clinical studies and to factor sex into research designs, analyses and reporting.
"I think this is going to inform everything we do going forward," said Teresa Woodruff, PhD, founder and director of the Women's Health Research Institute. Woodruff delivered an overview of the policy and touched on barriers to sex inclusion in animal research and misconceptions around sex-based research. "It's a new opportunity to explore an uncharted dimension of scientific space — an entirely new part of the scientific landscape that allows for a huge amount of discovery that is for the taking."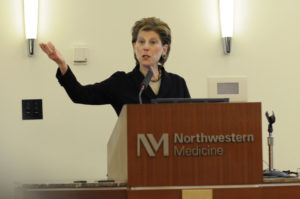 The symposium worked to demystify the concept of sex inclusion and provided resources and training for scientists interested in conducting sex-based research.
"Not only are we trying to raise consciousness but it also made us think about the scientific method. This policy is not really about equalizing males and females … it really fundamentally comes down to rethinking the scientific method," said Woodruff, also the Thomas J. Watkins Memorial Professor of Obstetrics and Gynecology and director of the Center for Reproductive Science.
During her talk, Woodruff also proposed to the audience that "the next generation of biomedical advances that improve the lives of all people would require fundamental discovery research that includes sex as a variable."
The day included lectures from leading scientists in biomedical research from various fields including psychiatry, neuroscience, dermatology and obstetrics and gynecology.
"Our time is now; what could be more personal than sex for precision medicine?" said Jill Goldstein, PhD, professor of Psychiatry and Medicine at Harvard Medical School, who spoke on her research in sex differences in depression, memory and cardiovascular disease. "Everybody is talking about how we have the new precision medicine initiative. We need to be smarter about the development of therapeutics, and it's really important to incorporate our knowledge; sex-dependent therapeutics is absolutely key."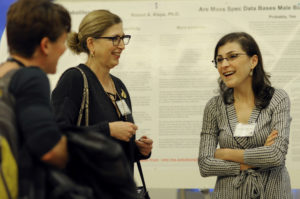 The poster session showcased some of the research going on at Northwestern. Graduate student Lidija Gorsic presented her research on identifying and functionally validating rare genetic variants associated with a common polycystic ovary syndrome phenotype. "It's an important topic looking at sex differences and raising awareness. I enjoyed the talks and hearing about other people's research," she said.
Haley Titus, PhD, a postdoctoral fellow, came to the symposium to learn more about the mandate. "I was pleasantly surprised by the symposium," Titus said. "It gave a nice background of what the policy meant and how to implement it. I had previously thought of it as hurdles to jump over and this day has changed my perspective."
The event was supported by the National Institutes of Health National Center for Advancing Translational Sciences grant UL1TR001422.
For more information and resources visit sexinclusion.northwestern.edu.