Mae Jemison, MD, a physician, astronaut and the first woman of color to travel into space, delivered the keynote address during Northwestern University's 2017 celebration of the life and legacy of Martin Luther King, Jr. on Monday, January 23.
The speech — sponsored by Northwestern University Feinberg School of Medicine and Pritzker School of Law, and attended by faculty, students, staff and the public — reflected on this year's overarching theme of "Moving Beyond the Dream."
"Dr. Mae Jemison embodies not only the aspirations of Dr. King through her life's accomplishments, but is a prime example of someone striving to ensure the fruition of his ideals for future generations," said fourth-year medical student Jakita Baldwin, who introduced Jemison via a pre-recorded video.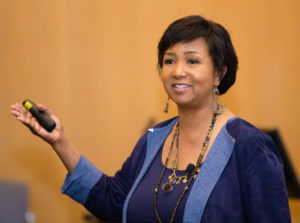 During her speech, Jemison recounted her journey from growing up on the South Side of Chicago to earning a bachelor's degree in chemical engineering from Stanford University, and later, a doctorate in medicine from Cornell University. Jemison, who held a passion for science and space travel as a child, later served six years as a NASA astronaut. In 1992, she flew aboard the shuttle Endeavour, becoming the first woman of color in space.
"When I was growing up, there was this vibrancy in the world. I was around when Dr. King came to Chicago, and I grew up during a time when people were going into space. We believed there were lots of things that could happen and that we could make a difference," Jemison said.
Since her time in NASA, Jemison has dedicated her life to advocating for space exploration, science literacy and inspiring the next generation to pursue science, technology and medicine, especially those from underrepresented populations.
She founded the nonprofit children's science camp The Earth We Share and currently leads 100 Year Starship, an initiative to make human interstellar space travel a reality within the next 100 years.
"For me, 'Moving Beyond the Dream' means don't doubt; dare. You have to put yourself out there to make things happen in a different way," Jemison said. "Dr. King's dream was the idea that every individual has the capability, the talent, to make things happen, to shape the world and make it a better place."
The choir from Chicago's Morgan Park High School — the alma mater of both Jemison and Baldwin — performed two pieces during the program, and were introduced by Clyde Yancy, MD, MSc, vice dean for Diversity and Inclusion, and chief of Cardiology in the Department of Medicine.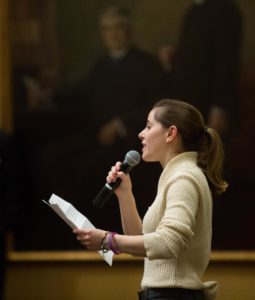 Northwestern's two-week long program of events in commemoration of King on the Chicago campus also included a panel discussion on post-election law and policy in healthcare and civil rights, held Wednesday, and a student oratorical competition on Friday.
The winner of that competition, second-year medical student Tatiana Carrasquilla, delivered an encore presentation of her oration before Jemison's keynote address. Carrasquilla, also co-president of the Latino Medical Student Association, reflected on King's quote "In the end, we will remember not the words of our enemies, but the silence of our friends."