National trial of immune therapies for patients who have run out of options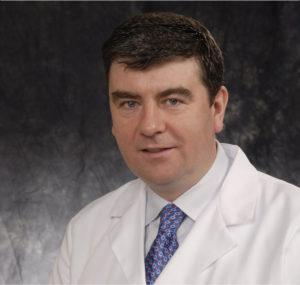 A novel national trial at the Robert H. Lurie Comprehensive Cancer Center of Northwestern University for people with no established alternative to treat their rare cancers is being co-led by Northwestern Medicine investigators, who helped conceive of and develop the project.
The clinical trial called DART will offer eligible cancer patients a combination of two immunotherapy drugs that help reactivate the patients' own immune system to fight cancer.
"The DART trial offers a vital safety net for people with rare cancers who currently often fall between the therapeutic cracks," said Frank Giles, MD, chief and Johanna Dobe Professor of Hematology/Oncology in the Department of Medicine and one of four principal investigators of the study. "Patients with less common cancers have traditionally been a relatively neglected group."
Giles is also the director of Developmental Therapeutics at the Lurie Cancer Center and a Northwestern Medicine oncologist.
Many people with rare cancers – which comprise 20 percent of cancers diagnosed — aren't eligible for molecularly targeted cancer therapies because genetic testing of their tumor doesn't show a match (target) for a specific drug. When traditional chemotherapy fails, they often don't have an established effective alternative.
Rare cancers are those diseases with less than a 6 in 100,000 incidence per year. These include dozens of individual types, including cancers in nerves, glands, bones and skin.
The Lurie Cancer Center's Developmental Therapeutics program focuses on rare cancers and offers an increasing number of clinical studies specifically designed for them. Giles initiated a clinical study alliance with Bristol Myers Squibb that focuses on these patients. The company is also providing the study drugs for the DART trial.
"This trial is unusual because it bridges two exciting revolutions in anti-cancer developmental therapeutics – molecular targeted therapy and immune-modulation," Giles said. "These therapies re-energize and re-engage the patient's own immune system in the fight against their cancer."
The aim of the DART trial is to determine if a combination of immune-modulatory drugs – ipilimumab and nivolumab – given in six-week cycles, can significantly shrink tumors. The U.S. Food and Drug Administration have already approved this combination to treat some patients with melanoma, and it is currently being tested on a variety of lung cancers. It is also being studied within the Lurie Cancer Center's Developmental Therapeutics program as a therapy for some patients with very aggressive breast cancer.
"DART will have strong science benefits by allowing us to both explore the genomic landscape of rare tumors within the NCI-MATCH and then assess the response of their tumors to combination immunotherapy," said Young Kwang Chae, MD, assistant professor of Medicine in the Department of Hematology/Oncology and a principal investigator of DART.
A team will use tumor tissue samples from participants to study how immune cells and genes respond to the drug combination. They will look for biomarkers that predict treatment response among patients. Trial leaders plan to enroll 300 patients.
DART stands for Dual Anti-CTLA-4 & Anti-PD-1 blockade in Rare Tumors. The trial is managed by SWOG, a cancer clinical trials group that is part of the National Cancer Institute's (NCI) National Clinical Trials Network. Giles serves as SWOG's principal investigator for Northwestern University.
"Northwestern has a proud history of very significant contributions to the full spectrum of National Clinical Trials Network activities," said Al B. Benson III, MD, professor of Medicine in the Division of Hematology/Oncology and associate director for cooperative groups within the Lurie Cancer Center. "Our leadership in DART expands this work which perfectly complements our intense institutional efforts to develop new therapies for patients with cancer and to ensure any potentially effective treatments are available to them as quickly as possible."
To join the study, patients must first be registered to NCI-MATCH. If a treatment option is not identified under NCI-MATCH or if they didn't respond to treatment on that trial and their rare cancer is eligible, they can then be considered for enrollment on the DART study.
NCI-MATCH is a landmark precision medicine trial open at more than 1,000 clinical sites.
It uses a customized tumor gene testing method to match patients' cancers to multiple targeted treatments with 24 being currently offered. As of December 1, 2016, nearly 300 patients have entered NCI-MATCH treatment arms.
Northwestern is collaborating with the University of California, San Diego (UCSD) on leadership of the DART trial. The other two principal investigators on the trial are Sandip Patel, MD, assistant professor and assistant director of the Clinical Trials Office at the UCSD Moores Cancer Center and Razelle Kurzrock, MD, senior deputy center director at the Moores Cancer Center and chair of the Early Therapeutics and Rare Cancers Committee at SWOG.
The DART trial is funded by the NCI.