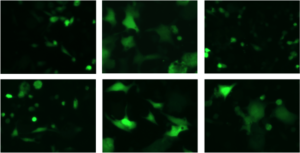 Scientists have uncovered insights into the structure of herpesvirus proteins, shedding new light on the process of viral entry into host cells, according to a recent paper published in Nature Communications.
"It's a major advance in understanding the sequential steps of how herpesviruses infect cells in the human body," said co-author Richard Longnecker, PhD, professor of Microbiology-Immunology.
There are nine types of herpesviruses, including Epstein-Barr virus (EBV), that infect humans. Despite extensive study, the overall mechanism of the virus' entry into cells is not well understood. Post-doctoral members Jia Chen, PhD, and Britta Möhl, PhD, of Longnecker's lab collaborated with Karthik Sathiyamoorthy and Yao Hu in Theodore Jardetzky's laboratory at Stanford University to study how EBV glycoproteins mediate the binding and fusion to host cell membranes.
Determining the structure of the glycoprotein complexes helped explain interactions and important regions that regulate virus entry into epithelial cells and B cells, a type of white blood cell. B cells and epithelial cells are the cell types that are infected in humans. The scientists determined where antibodies bind to glycoproteins that mediate the EBV entry process which may identify the "Achilles' heel" of the EBV entry process that may prove useful in developing vaccines to prevent herpesvirus infections.
"The findings have provided a clearer picture on how the virus enters cells and the commonalities and differences between the mechanisms the different herpesviruses use to infect cells," Longnecker said, also a member of the Robert H. Lurie Comprehensive Cancer Center of Northwestern University.
In a previous paper published in mBio, the team characterized the function of one region of a glycoprotein complex, showing how it regulates fusion of the virus to epithelial cells.
These studies help provide a framework to perform screens for herpesvirus entry inhibitors that may eventually lead to the creation of better therapeutics and can provide strategies to help develop vaccines.
"There is a lot of interest in antibodies that could protect against infection. It is important to know what proteins are involved and where they are susceptible to antibody binding," Longnecker said.
The study was supported by National Institute of Allergy and Infectious Diseases grants AI119480 and AI076183, and National Cancer Institute grant CA117794.