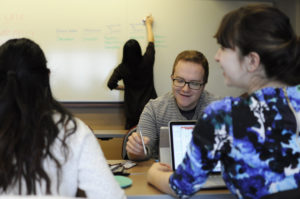 During their first Synthesis and Application Module (SAM), first-year medical students working in small groups delved into a case study focusing on the pathogenesis, diagnosis and management of care for patients with HIV infections.
Organized to coincide with World AIDS Day on December 1, these student-run groups met for two-hour sessions over the course of three days to integrate and apply material they've learned previously in new contexts.
"SAM week was a great opportunity to integrate all of that work in a collaborative manner with my classmates," said Elsy Compres, a first-year medical student. "Learning from my classmates in a relatively low-stress environment for the week before starting completely new subject matter has provided an engaging break from the normal rhythm of medical school."
HIV is a complex multi-organ infectious disease, requiring basic knowledge in genetics, molecular biology, virology, microbiology, pharmacology and immunology, and therefore connects most of the topics students learn in their Foundations module during the first few months of medical school, said Chad Achenbach, '02 MD, '02 MPH, assistant professor of Medicine in the Division of Infectious Diseases and course director for the SAM.
Information reviewed throughout the week's coursework included: the innate and adaptive immune system; genetic susceptibility to infections; viral, bacterial and fungal lifecycles and mechanisms of antimicrobial treatment; and signs and symptoms of acute and chronic infections.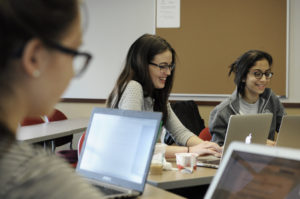 In addition to the case-based learning sessions, students also participated in two advocacy, policy and ethics (APE) sessions examining and discussing current issues in the U.S. and globally.
"I thought APE was particularly notable because the case really forced my entire group to grapple with the aspects of confidentiality and ethics that we will probably all face at some point in our careers," Compres said. "Realizing that many of us feel a sense of uncertainty and discomfort ethically with regards to the legal mandates for certain medical decisions was grounding. I think that it's crucial for us to think critically about cases that challenge us in these ways together, as we develop professionally."
Other activities in the module included the viewing of "How to Survive a Plague," a documentary about the early years of the AIDS epidemic, and clinical skills sessions where students practiced communication skills with standardized patients.
"HIV is an emerging infectious disease within the last 30 years with importance on both a local and global scale," Achenbach said. "HIV has always been wrapped in social/political controversy with important lessons and applications to medical ethics, policy and advocacy. If first-year medical students can understand the medical and social complexities of HIV, then they can do anything."