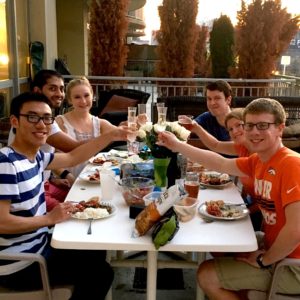 Second-year medical student Michael Scott noticed he was only interacting with a small cohort of his peers and was looking for ways to meet other members of his class year.
Knowing that many other medical students felt the same way, Arianna Yanes, also a second-year medical student, started a potluck event called Supper with Six last year with the goal of creating more community amongst her peers.
"It's great because you don't know everyone in your class, and it's fun to meet people in a low-key environment," Scott said.
Kosta Nicolozakes, a second-year student, agreed, "During your path through medical school it's nice to interact with people in your class year whom you haven't spent much time with."
Inspired by Dinner with 12 Strangers, an event hosted by the Northwestern Alumni Association, Yanes organized the first dinner for her medical school class. Before each dinner, medical students are randomly placed into groups of six to have dinner at the home of one of the students. She has continued the program after each exam since then.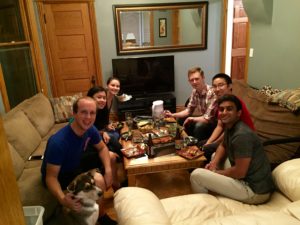 "Organizing these dinners is a way for us to meet people outside of our small class sessions and friend groups and connect with others," said Yanes, also president of the Class of 2019.
This year, Yanes opened the program for some of the dinners to include students from all four years of medical school and Northwestern students from other graduate degree programs.
"For me, it's fantastic that students want to meet more of their peers and spend more time getting to know other students in the community," Yanes said.