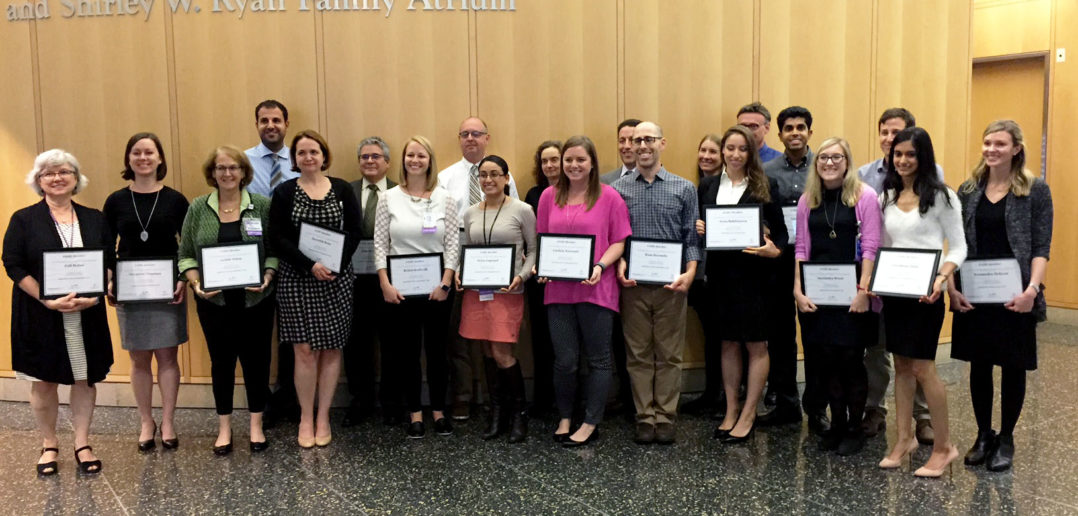 While exceptional teaching takes place every day at the medical school, Feinberg's annual Medical Education Day conference gives students, faculty and staff a chance to pause and specifically recognize those efforts in a gathering dedicated to the celebration and advancement of medical education.
At the sixth annual Medical Education Day, held September 30, experienced faculty, novice educators and students gathered to exchange best practices at hands-on workshops, attend didactic lectures and honor faculty members' achievements at a closing reception.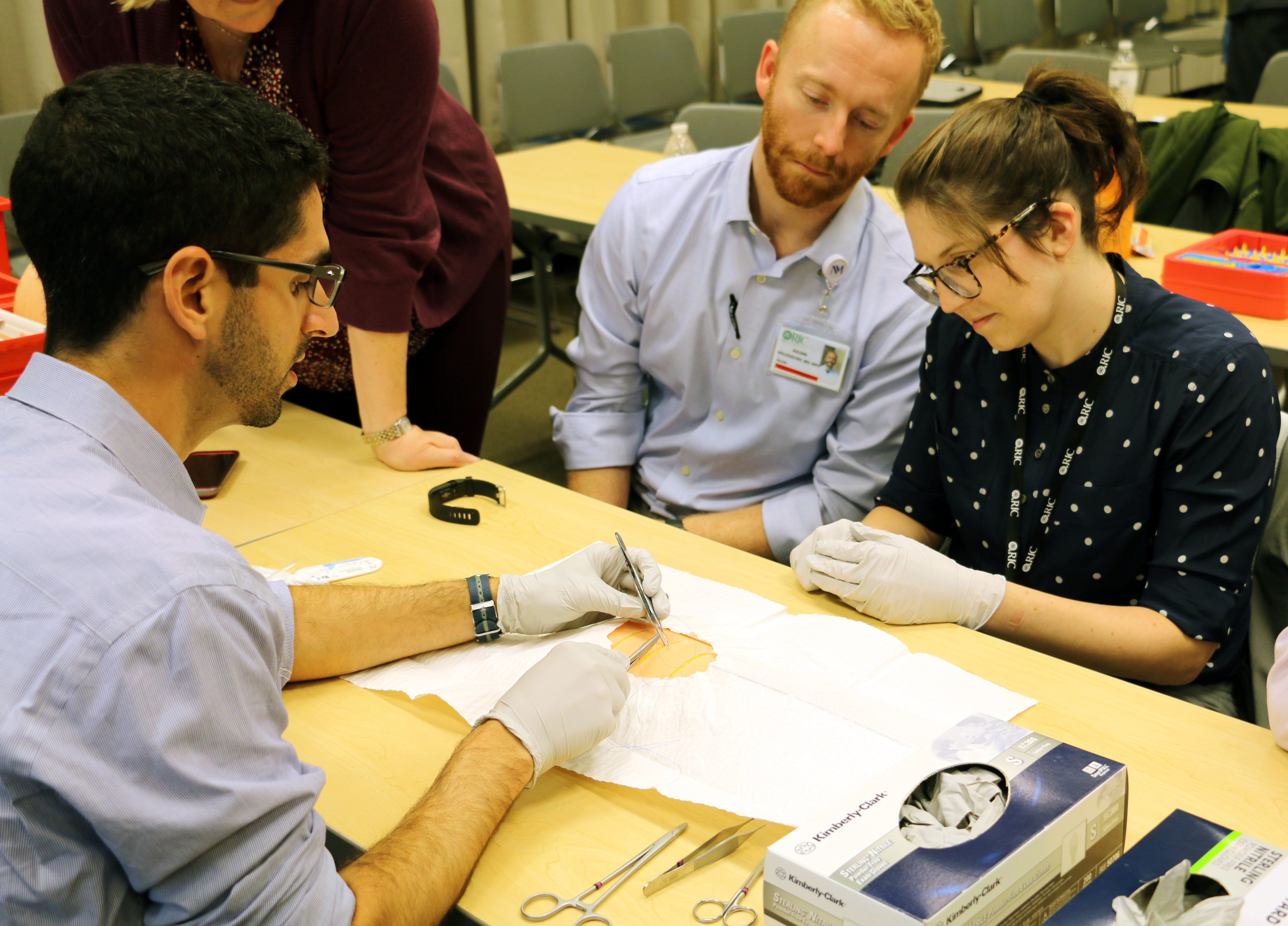 The all-day event, held in the Robert H. Lurie Medical Research Center, was sponsored by the Department of Medical Education, Northwestern Simulation and the Feinberg Academy of Medical Educators (FAME).
"Medical Education Day allows us to celebrate the people who love to teach," said Michael Gisondi, MD, director of FAME and associate professor of Emergency Medicine. "Teaching is the reason we're all here, but it can get overlooked during busy clinical schedules and the stress of other academic responsibilities. Medical Education Day allows us to reflect and value the greatest internal motivation for many of our faculty."
The day's events were anchored by a keynote address by David Sklar, MD, editor in chief of the journal Academic Medicine and distinguished professor emeritus at the University of New Mexico, as part of FAME's Today's Innovations in Medical Education lecture series. Sklar — who also led a morning workshop on the peer review process — spoke on the need to better align medical education with healthcare delivery to address current problems in the health system, including ballooning costs.
"Healthcare costs will become the leading issue we have to talk about," Sklar said. "But with the help of medical education, lowering heathcare spending and improving quality can go hand-in-hand."
In a breakout session that followed, Ricardo Rosenkranz, MD, clinical assistant professor of Pediatrics, kept a packed Searle Seminar Room captivated in his workshop on borrowing strategies from the performance arts — specifically, magic — to improve medical lectures.
"The magician Lawrence Hass defined magic as 'the artful performance of impossible things intended to bring about energy, delight and wonder,'" Rosenkranz said. "This applies to us as medical educators, too. We are moving from the realm of the known to the unknown and, when done correctly, lectures should result in energy, delight and wonder in our students."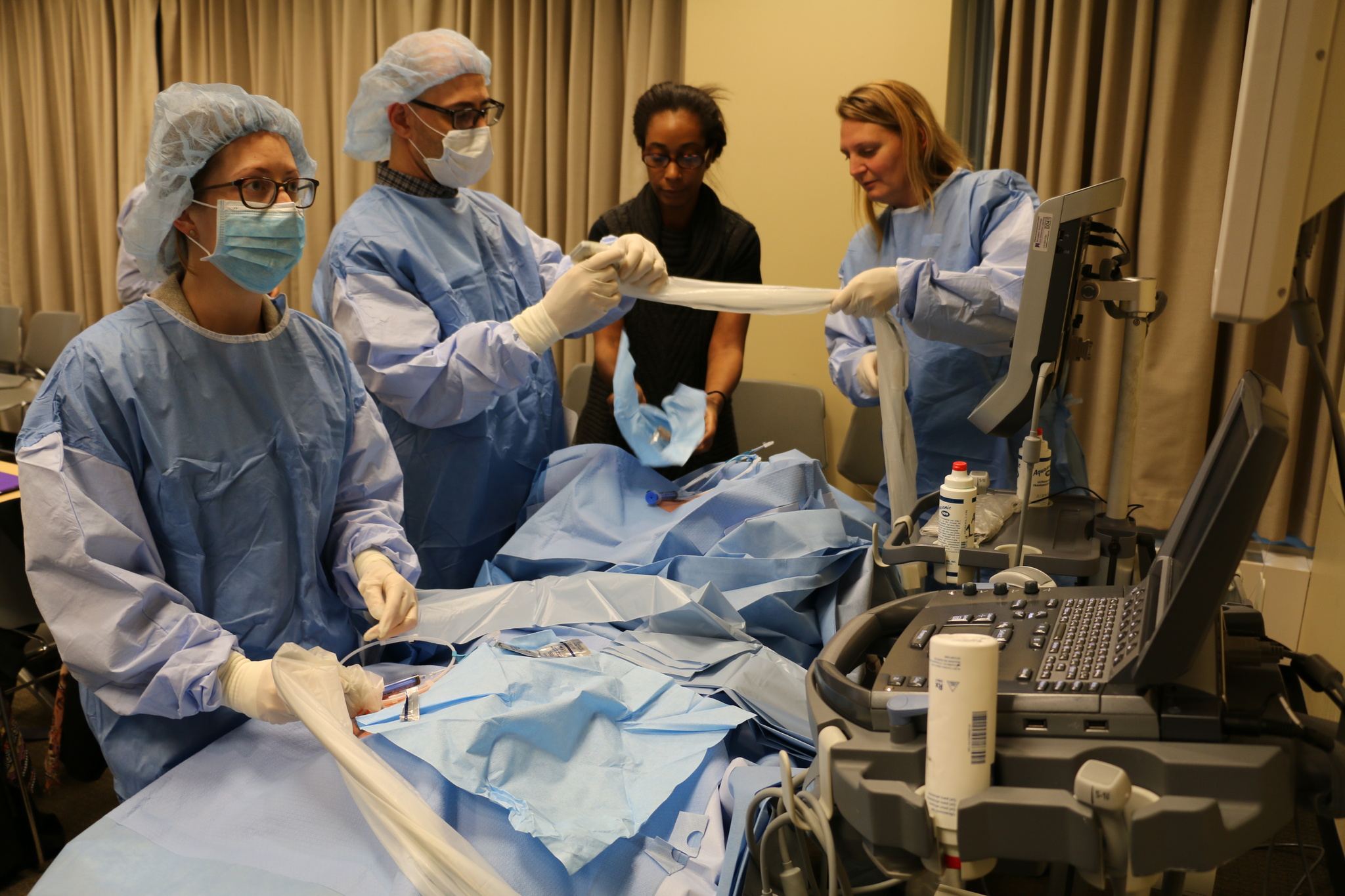 A magic performance grips the audience because of tension and suspense, Rosenkranz explained, two qualities that can apply to lectures as well. "When you present the student with a problem that is unresolved, this sense of tension creates real engagement in the classroom," he said.
Throughout the afternoon, moderated oral presentations by students, faculty and housestaff — on topics ranging from training rheumatologists to using an app to evaluate students during clinical rotations — filled the atrium of the Lurie building.
Later, a session intended to spur future research collaborations, "Match Making in Medical Education Research," paired medical students and potential mentors in a "speed-dating" format for short one-on-one conversations to discuss research ideas.
"Being a medical educator is so rewarding — it's fun, invigorating, and we have such wonderful students and residents at Feinberg," said Diane B. Wayne, '91 MD, vice dean for Education and Dr. John Sherman Appleman Professor of Medicine and Medical Education. "But Medical Education Day is also a really terrific annual event because you meet faculty, students and residents from all parts of Feinberg, our major teaching hospitals and members of our growing health system. And it's one of our most popular annual events that brings together people from so many different departments across the school."
Another highlight of the afternoon included an interactive, hands-on training session for "Deliberate Practice in Simulation-Based Mastery Learning," led by Jeffrey Barsuk, '99 MD, '02 GME, professor of Medicine and Medical Education and David Salzman, '05 MD, '09 GME, MEd, assistant professor of Emergency Medicine and Medical Education. Workshop attendees used state-of-the-art simulation equipment to practice suturing and central line insertion, as they learned how the simulation lab can help establish an engaging, safe and realistic learning environment.
At the event's closing reception, Gisondi applauded the 99 clinician educators who were promoted in the last year, as well as announced the induction of 25 new FAME members and three winners from the day's oral presentations. The gathering also recognized the 10 winners of the John X. Thomas, Jr., PhD, Best Teachers of Feinberg Award, formerly the Best Teachers of Feinberg Award.
Ultra-short Didactic Lecture Award Winner:
Cecil Shuo Qiu, medical student, on "A Second Opinion on Student Leadership: Applying the Management Consulting Model to Medical Education and Service"
Moderated Oral Research Presentation Winners:
Annette Dekker, medical student, on "Quality Improvement Project to Increase Patient-Student Continuity of Care in Education-Centered-Medical Home"
Allison Deneen, program coordinator, Office of Medical Education, on "What Effect does a Smartphone Application Have on Direct Observation Narrative Feedback?"
The 2016 John X. Thomas, Jr., PhD, Best Teachers of Feinberg Award Winners:
Michael Fotis, BS Pharm, lecturer of Medical Education in the Physician Assistant Program
John Brinkmann, CPO, assistant professor of Physical Medicine and Rehabilitation
Kirsten Moisio, PT, PhD, associate professor of Physical Therapy and Human Movement Sciences
James Walter, MD, third-year fellow, Pulmonary and Critical Care Clinical Fellowship Program
Russell Horowitz, MD '04 GME, assistant professor of Pediatrics in the Division of Emergency Medicine
Steven Gallo, '91 MD, '94 GME, clinical assistant professor of Medicine in the Division of General Internal Medicine and Geriatrics
Ashti Doobay-Persaud, MD, assistant professor of Medicine in the Division of Hospital Medicine
Bing Ho, MD, MPH, assistant professor of Medicine in the Division of Nephrology and of Surgery in the Division of Organ Transplantation
Cathy Wicklund, MS, associate professor of Obstetrics and Gynecology in the Division of Clinical Genetics
Lori Goodhartz, MD, associate professor of Radiology