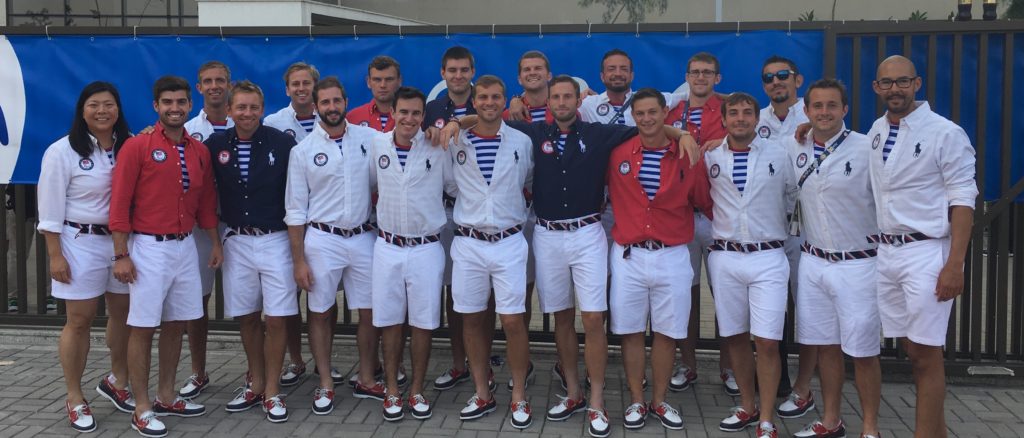 The highlight of the Paralympic Games in Rio de Janeiro for Monica Rho, '05 MD, '09 GME, head team physician for the U.S. Paralympic Men's Soccer Team and assistant professor of Physical Medicine and Rehabilitation (PM&R), was watching star defender Josh Brunais carry the U.S. flag for the closing ceremony on September 18.
"Watching him carry the nation's flag was a special moment for all of us on the team," said Rho, who is also section chief of musculoskeletal medicine at the Rehabilitation Institute of Chicago.
Rho spent the past year with the men on the team, who have various diagnoses such as cerebral palsy, stroke and traumatic brain injury. As one of their traveling physicians, she had the opportunity to learn every aspect of their lifestyle, beyond sports injuries.
Rho recalled the first time she traveled with Brunais, a U.S. Army veteran who had been in a helicopter crash during his service.
"I saw his terror. I witnessed his PTSD symptoms as they were happening and watched him have the courage to get on the airplane," she said. "When patients come to see you, they tell you about experiencing anxiety, but when you are traveling with a team, you live it. Seeing that firsthand enhances your ability to care for your patients."
Throughout the games, the team faced many challenges, including a key player breaking his second metatarsal — a long bone in the foot — during their first match.
"It was heartbreaking to lose a player in the first match against the Netherlands," Rho said. While the team didn't make it to the medal round, Rho said they played their "hearts out" and finished in seventh place.
While in Rio, Rho enjoyed watching athletes in other sports such as wheelchair rugby, swimming and sitting volleyball.
"Watching other sports was outstanding. I saw an athlete with one arm and no legs compete in a breaststroke final and watched the U.S. women's sitting volleyball team win a gold medal," Rho said. "At the Paralympics, you see all of these athletes with disabilities at their highest point. As a physician, you usually see them at their lowest and don't always see what they end up accomplishing."
Rho learned of the opportunity through George Chiampas, DO, assistant professor of Emergency Medicine and Orthopaedic Surgery at Northwestern and chief medical officer at U.S. Soccer. The position was the perfect fit, combining Rho's educational background and expertise in PM&R and sports medicine.
She and colleague Daniel Blatz, MD, MPH, '13 GME, instructor of PM&R, will continue to work with the team as they carry on monthly training camps and compete in various tournaments in the future.