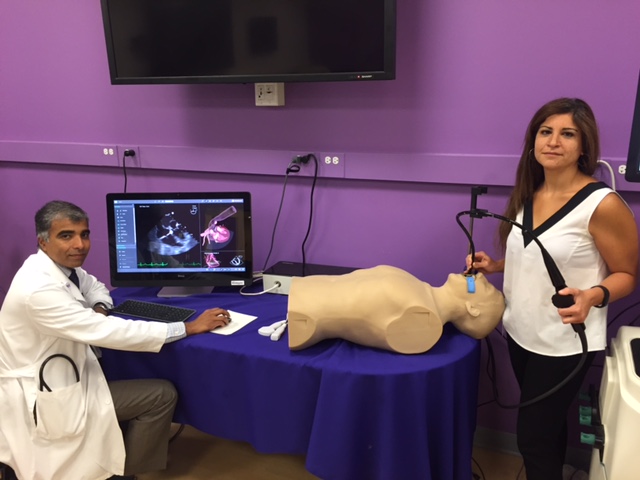 Jyothy Puthumana, MD, associate professor of Medicine in the Division of Cardiology, has a vision to make Northwestern Medicine a leader in simulation-based training for cardiology, specifically in echocardiography in the Chicago area.
Puthumana has been using a specialized simulation to assess and improve skills in transesophageal echocardiograms (TEE), a procedure where a cardiologist will use ultrasound through a probe in the esophagus to recreate images of the heart.
He found cardiologists who routinely do this procedure many times a week tend to perform comprehensive and timely exams, whereas cardiologists who do this less frequently miss critical images and take longer to complete the exam. These findings were presented this summer at the 27th Annual Scientific Sessions of the American Society of Echocardiography in Seattle.
"While it's important for cardiologists to get the images needed to answer the specific clinical question, if the exam isn't comprehensive, they may miss important associated findings that may impact patient care and outcomes," he said. "The simulator is an amazing tool to help both trainees and cardiologists practice identifying gaps in performing a comprehensive echocardiographic examination in a timely manner, which will impact patient care and outcomes."
Last year, through generous donations made by a patient and Northwestern Simulation, Puthumana acquired the Echoardiography simulator, with the ability to train in TEE and trans thoracic (TTE) procedures. Puthumana first collected data from experienced cardiologists practicing on the simulator at the annual Echo Northwestern Continuing Medical Education Conference. Following that conference, Puthumana gathered more data from Northwestern Medicine cardiologists and second- and third-year cardiology fellows.
Following his success using the simulator with cardiologists, Puthumana is starting similar projects with fellows using TTE simulation for healthcare providers in intensive care units and the emergency room, where performing focused echocardiograms may be helpful in narrowing down a diagnosis quickly.
"The goal is to offer them some expertise in a focused TTE exam, in an acutely ill patient when important and life threatening clinical conditions need to be ruled out fast," he said.
This year, Puthumana will use the simulator to train first-year cardiology fellows on the TEE procedure before they start doing TEE's in patients. "First-year fellows will have one-on-one training on the simulator with a faculty member in performing a comprehensive TEE exam. The hope is they will have the necessary amount of comfort and training on the simulator to perform the procedure in a timely manner – this will potentially also effect patient comfort and the need for less conscious sedation while performing procedures on actual patients," Puthumana said.
Puthumana also plans to reach out to other cardiology fellowship programs in the Chicagoland area to offer trainees the opportunity to perform a comprehensive TEE using the simulator and to receive directed hands-on intervention and training, with the aim of standardizing skills. He said in the future he hopes to extend the TTE simulation training to medicine residents and potentially medical students so they have a better set of diagnostic skills to complement their clinical skills.
Puthumana's project is supported by the Alvin H. Baum Clinical Simulation Faculty Fellowship.