View an album of photos from the Founders' Day celebration.
Feinberg celebrates new class of medical students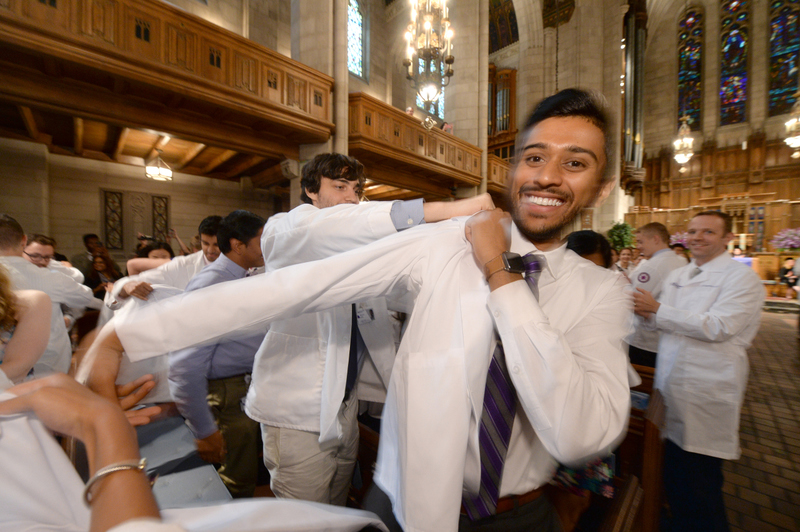 Founders' Day is an annual celebration honoring Feinberg's founders and welcoming the entering class of first-year medical students to the medical profession. For Faith Svigos, it also signifies a transition from her experiences as a patient and student to her path towards becoming a doctor.
Svigos was born with spina bifida and VACTERL association, a congenital defect that affects the development of the spinal cord and surrounding nerves, and she was a patient at Ann and Robert H. Lurie Children's Hospital of Chicago and Northwestern Memorial Hospital. Many of her physicians and mentors had training at Northwestern and serve as Feinberg faculty members.
"I couldn't be happier that I'm becoming one of their colleagues, embarking on my medical career at the very institution that has made such an impact on my life," Svigos said. "With the unwavering support of my doctors, I've never doubted my potential and ability to pursue my goals. I feel my life's purpose is to find ways to pass on the profound lessons I've learned from them to my future patients."
Svigos joined 162 other members of the Class of 2020, plus second-year medical students, faculty and families at the 158th Founders' Day gathering on August 12.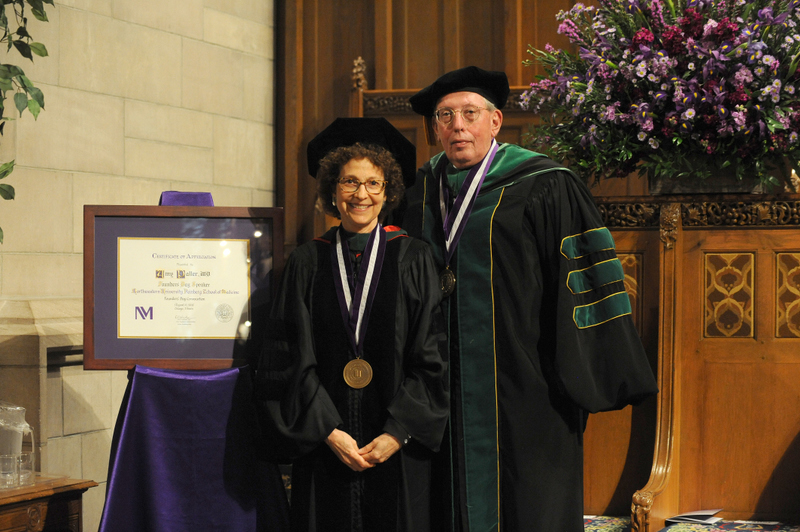 "Founders' Day is a tradition here at the medical school. It is mostly about the future," said Eric G. Neilson, MD, vice president for Medical Affairs and Lewis Landsberg Dean, as he welcomed guests. "It is the traditional start of our new academic year; it is also a new beginning for our students on a path that will lead them into careers of life-long responsibility."
Neilson discussed the history of Feinberg and the obligations and responsibilities students will have in the future as physicians.
"An obligation to serve patients to the best of your ability, no matter the circumstance, is at the very core of our profession — this is the principle of altruism," he said. "A promise to use the best science to understand and treat your patients — this is the principle of competence. And last a commitment to improve the health of human populations — this is the principle of equity and social justice."
Amy Paller, MD, chair of Dermatology, delivered the keynote address. Paller provided advice to students and shared her own journey as a physician-scientist.
"You are entering medical school at an exciting time. The practice of medicine is rapidly transforming," Paller said. "Changes in how we deliver healthcare are rewarding us for focusing on quality, on patient satisfaction and on increasing efficiency. More people than ever have the health insurance they desperately need, promising to reduce healthcare disparities. And the unprecedented pace of discovery, including here at Northwestern, is also driving this transformation."
During the ceremony, second-year medical students and mentors presented members of the Class of 2020 with white coats and students recited the Declaration of Geneva, the modern-day equivalent of the Hippocratic Oath.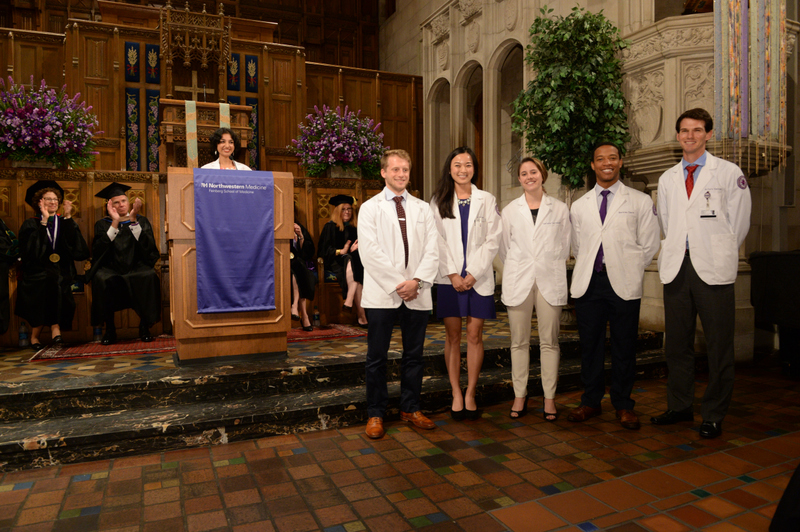 "By choosing this profession, we are opening ourselves up to let others —  mostly complete strangers — into our lives," said first-year medical student Adeolu Ilesanmi. "Those interactions might be brief, but they will also be so powerful because of the knowledge and skills we'll gain, as well as the strengthened sense of humanity and cohesiveness with our world."
Ilesanmi spent the last year conducting mental health research and education in Nigeria.
"I think Founders' Day is really the celebration of the fact that we've made it to this stage in our lives. We all get to go and grow through this phase together, which is awesome, and makes it slightly less daunting. I look forward to looking back on Founders' Day in four years and being proud of how far we have come," Ilesanmi said.
Roshni Bhatnagar, president of the Student Senate, presented awards at the event to second-year medical students:
2016 Student Senate Service Award

Tatiana Carrasquilla, for her work with the Alzheimer's buddy program, community clinics and creating a student publication
Berkley Davis, for his role as a mentor for inmates on healthy living at the Cook County Jail and as a tutor for the Chicago Youth Programs
Liz Nguyen, for her service with the student Wellness Initiative, Feinberg's student consulting organization Second Opinions and Community Health Chicago
Ben Peipert, for his leadership in Second Opinions and his support in helping his peers study
Artie Salow, for his advocacy for family medicine, primary care and community health
Student Senate Engagement Award, awarded to the Adolescent Medicine Interest Group for serving as advocates for the health and education of teens and creating a curriculum to address sexual education for underserved youth