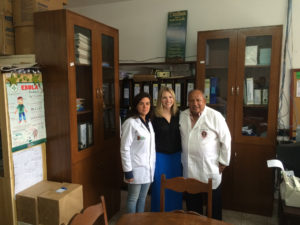 When Marissa Boeck, MD, MPH, chose to spend a year doing research during her general surgery residency at New York Presbyterian Hospital/Columbia University Medical Center, she chose to work under the mentorship of Mamta Swaroop, MD, assistant professor of Surgery in the Division of Trauma and Critical Care, working on furthering the development of Bolivia's trauma and emergency response system.
Boeck helped develop a hospital-based trauma registry for injury surveillance, to serve as a foundation for future injury prevention strategies and to improve the safety and quality of healthcare delivered. Boeck said she hopes the project, part of the Northwestern Trauma and Surgical Initiative, will strengthen Bolivia's existing emergency response and trauma system.
"Having a trauma and emergency registry will allow people to follow trauma patterns happening in the communities and improve the quality of care and prevention of future injuries in the population," Boeck said. "Bolivia doesn't really have reliable trauma data. The registry helps lay the foundation for a trauma system and to help define local standards of care that fit the local context."
Another goal of the project is to increase awareness of trauma and to foster local capacity for research, education and training initiatives.
"Even the definition of trauma isn't clear. The word for the medical field of trauma in Spanish, traumatología, means orthopaedics, but trauma includes burns, intoxications, poisonings, gun shot wounds and additional injury mechanisms," Boeck said.
With Swaroop, Boeck collaborated with local government officials, health department staff, physicians and emergency medical service providers to collect data on trauma patients entering the emergency departments in five participating hospitals in Santa Cruz de la Sierra, a city of about 1.6 million people.
They documented patient information, such as basic demographics, mode of hospital transport, location, mechanisms and types of injuries and outcomes.
"This is the first time we've started a registry project in Bolivia, and it's a team effort," Swaroop said. "There have been a multitude of people doing the work, and it is the people who have done the previous registry work, and failed, and taught us their failures and mistakes, who have guided our pathways."
Currently, the registry includes more than 3,200 patients, and access to the electronic database is shared with participating hospitals and local government.
"It's been interesting to see the patterns of injures that have been happening. For example, observing what kinds of violence happen in areas of the city will enable us to begin targeting and decreasing the incidence of certain injuries in the city," Boeck said. "We've had a great partnership and plan to expand the registry to more emergency rooms in the near future, in partnership with the local health department."
Samuel South, MD, a general surgery resident at Northwestern University, will head to Bolivia in August to continue working on the project. Additionally, he will implement a Trauma Responder Course, which was piloted in 2013 in La Paz and Potosi and is based on first responder courses from Swaroop's previous experiences teaching in Bangladesh, Cambodia and India.
"By understanding a little about the skillset of the people in the hospitals, we are trying to figure out what is the least expensive, most effective ways to improve people's training," South said. "Ideally over time, we'd like to accomplish an organized system for trauma and emergency medical services, an integrative response throughout the country and appropriate care delivered at the scene or in route and, finally, leave them with their own system for education and research."
Boeck's project was funded by the Global Health Initiative at the Center for Global Health, the Center for Surgery and Public Health at Brigham and Women's Hospital, Harvard Medical School and Harvard T. Chan School of Public Health. South's project is funded by the Global Health Initiative, Northwestern Department of Surgery and International Infusion, a private donor of the Northwestern Trauma and Surgical Initiative.