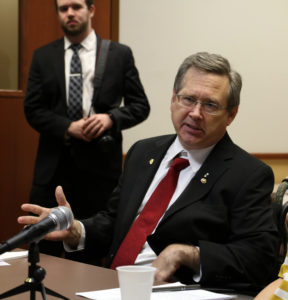 U.S. Sen. Mark Kirk (R-Ill.) visited Northwestern University Feinberg School of Medicine on Monday, joining top neuroscientists from across Chicago to announce plans for a statewide consortium to advance brain research.
Walter Koroshetz, MD, director of the National Institute of Neurological Disorders and Stroke at the National Institutes of Health, along with scientists from Feinberg, Ann & Robert H. Lurie Children's Hospital of Chicago, University of Chicago, University of Illinois at Chicago and Argonne National Laboratory held a roundtable to discuss collaboration opportunities that will be created by the proposed $25 million Brain Research through Advancing Innovative Neurotechnologies (BRAIN) Initiative.
"With the institutions represented in this room, we have a unique ability to build a collaboration in the state of Illinois," Kirk said.
Precision medicine was a main focus for several of the scientists around the table, including Dimitri Krainc, MD, chair of Feinberg's Department of Neurology and director of the Center for Rare Neurological Diseases.
"Our main objective is really to enhance all the aspects of precision medicine for neurological diseases and that involves how to identify people who are at risk, how to identify people who are responding to certain therapies and their disease progression, and then developing targeted treatments for those patients," Krainc said. "Neurology is leading the way on this, but what's important to remember is that this targeted precision medicine approach can be applied to any disease."
The initiative will allow neuroscientists across the state to conduct collaborative brain research using "big data" approaches to find novel new treatments for neurological diseases such as Alzheimer's, stroke, epilepsy, traumatic brain injury and more.
Scientists from Lurie Children's Hospital will also take part in the initiative.
"The impact of precision medicine is as great or greater in pediatric disorders because many of these disorders are genetically predetermined. They start in early infancy, whether it's epilepsy, unique brain tumors or disorders such as spinal muscle atrophy. We are at a point where we understand the mechanisms and are able to find specific, precise therapies that reverse the abnormalities. I think this is the future of treating pediatric disorders," said Leon Epstein, MD, chief of Neurology at Ann & Robert H. Lurie Children's Hospital.
Kirk emphasized his goal to make Illinois an authority on brain disorder research, including finding treatment and prevention measures, and shared his personal road to recovery from a stroke in 2012.
"As a senator who has experienced a stroke, I have put this consortium together to make sure we synergize all the medical research going on in Illinois, " Kirk said.