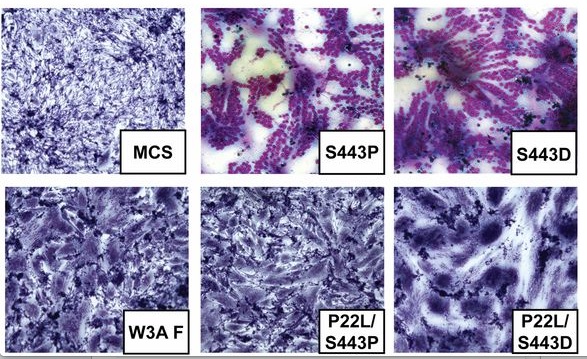 Northwestern Medicine scientists have discovered a crucial element underlying how certain proteins known as fusion proteins on the surface of enveloped viruses such as measles and mumps undergo a refolding process that allows the virus to enter host cells.
According to the study, published in the Proceedings of the National Academy of Sciences, this structural change in fusion proteins could be used as a target for antiviral therapies.
While many of the larger changes that occur in the refolding pathway are already understood, the scientists sought to learn more about the lesser-known dynamic energy landscape of the fusion proteins as they alter their shape.
"We were interested in modulating the energy requirements for fusion protein refolding and whether differing energy requirements could alter the structure or folding pathways of fusion proteins. Then we could use this information to find targets for structure based drug design," said first author Albert Song, a recent Weinberg College of Arts and Sciences graduate who worked with senior author Robert Lamb, PhD, professor of Microbiology-Immunology at Feinberg and of Molecular Biosciences at Weinberg.
Song used a type of computer simulation called molecular dynamics to study the physical movements of molecules that occur during the fusion proteins' structural changes in the enveloped virus parainfluenza virus 5. He mutated components of the fusion proteins to alter their stability, and those mutations allowed Song to detect a pocket in the fusion protein structure that may be able to be used as a target for future drugs.
"It is difficult to visualize what is going on inside cells, and using molecular dynamics techniques we can visualize small time scales necessary for viral infection," Song said. "Through these mutant constructs, we identified an early step in the refolding process for these fusion proteins."
Song studied molecular dynamics under the mentorship of Matteo Dal Peraro, PhD, associate professor at the École Polytechnique Fédérale de Lausanne in Switzerland.
Taylor Poor, '16 MD, '14 PhD, internal medicine resident in Feinberg's Physician Scientist Training Program, was also an author of the study.
This research was funded by the ThinkSwiss Research Fellowship, EPFL Summer Research Program, National Institutes of Health Training Programs Cell and Molecular Basis of Disease Grant T32-GM008061, Viral Replication Grant T32-AI-060523, Northwestern University's Medical Scientist Training Program Grant T32-GM008152 and National Institutes of Health Grants AI-23173 and GM-61050.