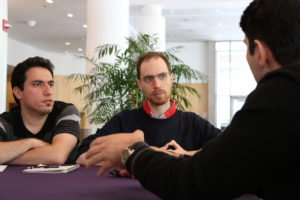 The first Biomedical Data Science Day provided an opportunity for research collaboration and networking for faculty, staff and students from Northwestern University, Northwestern Memorial Healthcare, Ann and Robert H. Lurie Children's Hospital of Chicago and the Rehabilitation Institute of Chicago.
"The day is really about building awareness and excitement about what is possible in biomedical informatics and data science," said Justin Starren, MD, PhD, chief of the Division of Health and Biomedical Informatics in the Department of Preventive Medicine and director of the Center for Data Science and Informatics in the Northwestern University of Clinical and Translational Sciences Institute. "We encouraged attendees to reach out to each other to learn about and take new approaches to their research."
Hosted by the CDSI on June 10, the event was well attended with over 160 participants. It included presentations on data science activities at Feinberg, a networking lunch, breakout sessions and a keynote lecture, to facilitate the application of data science to clinical and biomedical research.
"The presentations were fantastic and gave us a better understanding of what's happening across Feinberg," said Joseph Paris, associate director for research computing at Northwestern University Information Technology. "It was a great way to learn about what people are doing."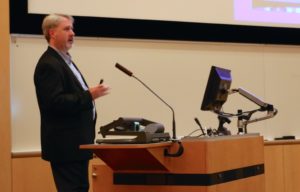 A variety of topics were presented and discussed throughout the day including genomics, proteomics, natural language processing and text mining, statistics and social data, networks and health.
"During the short presentations, it was interesting to learn about the computational methods that scientists are applying to different data sets," said Elizabeth Bartom, PhD, assistant professor of Biochemistry and Molecular Genetics.
Keynote speaker Jason Moore, PhD, director of the Institute for Biomedical Informatics at the Perelman School of Medicine at the University of Pennsylvania, discussed his research using artificial intelligence to solve problems in genomics.
"It's an exciting time to be a data scientist: Right now is the golden era of biomedical informatics," said Moore, who also discussed the process of creating artificial intelligence systems, the applications of artificial intelligence in medicine and the future of data scientists.
"Data scientists can integrate knowledge across disciplines, which will lead them to ask more impactful questions, and they will become leaders of projects," he said.