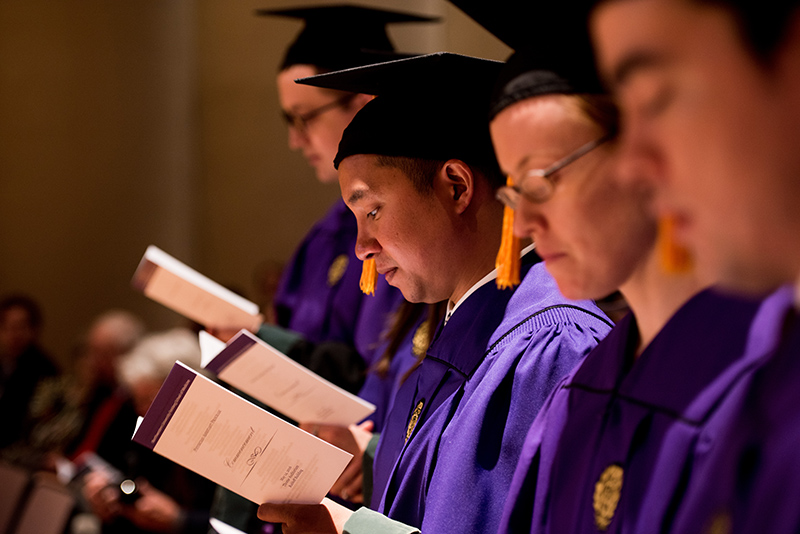 Twenty-nine members of the Physician Assistant Class of 2016 received their Master of Medical Science degrees and celebrated with peers, family and faculty at their graduation ceremony on Saturday, May 14.
"It feels great to be graduating," said John Adamson, '16 MMS. "This has been one of the hardest things that I have done in my life. It is so fulfilling to see how far we have all come as a class."
Adamson is looking forward to using his education to help others and will start working at a community health center in Rockford, IL, this summer.
"Our education has given us the tools to make a huge difference in the world. We just have to go out there and apply what we've learned," he said.
At the start of the ceremony, Diane B. Wayne, MD, vice dean for Education, congratulated the fifth graduating class of PA students at Feinberg and shared her thoughts on the meaning of professionalism.
"Professionals put the needs of their patients first, above personal and financial considerations. You must always remind yourselves, the best way to serve yourself is to serve others," Wayne said. "It is a great privilege to have the ability and responsibility to provide care for patients in their time of greatest need. Meeting professional challenges may not always be easy, but doing so will give you the satisfaction of being a professional in the very best sense of that word. I am confident that each of you has the requisite skills and knowledge to do so."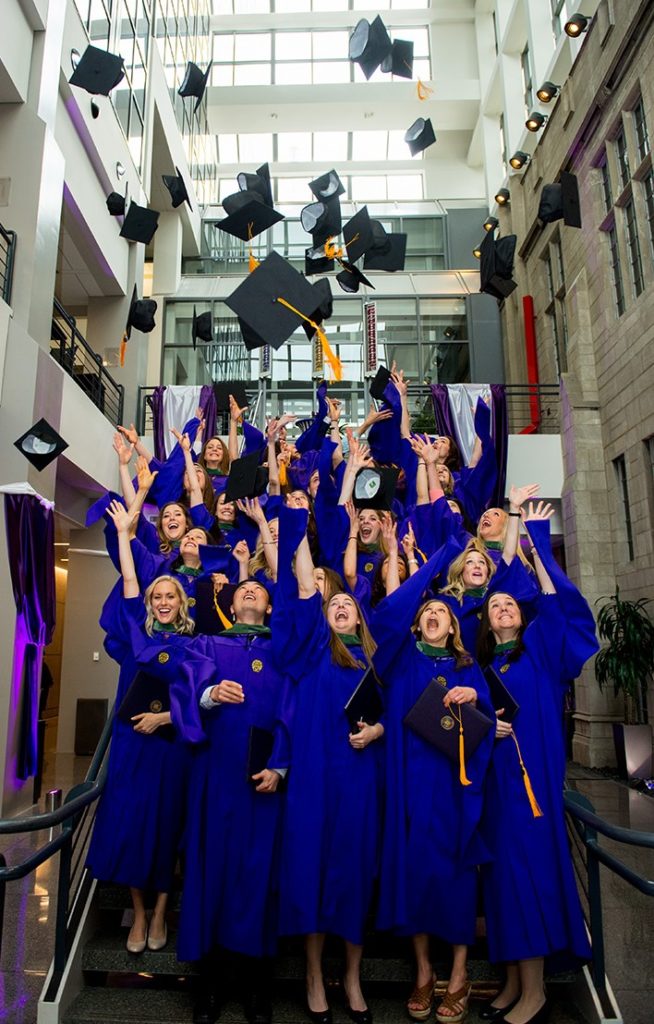 Justine Strand de Oliveira, DrPH, PA-C, DFAAPA, vice chair for education and professor in the Duke University Physician Assistant Program, gave the commencement address, sharing her experiences as a physician assistant, a history of the profession and advice.
"As PAs we can make a difference patient by patient," Strand de Oliveira said. "You can eliminate waste by not repeating tests that have already been done … learn quality improvement and make yourselves indispensible in your practice."
During the commencement, Michael MacLean, MS, PA-C, director of the PA Program, and Kristine Healy, MPH, PA-C, assistant professor of Medical Education, presented Abigail Peters, '16 MMS, with a physician assistant program award for her academic achievements.
Physician assistant graduates also recited an oath, received diplomas and listened to peer Lauran DeCeault, '16 MMS, give the Class of 2016 message.
"Define your own meaning in your work and what it means for you to practice medicine as a physician assistant," DeCeault said. "I wish you fulfilling careers and everlasting relationships."
The ceremony concluded with a reception.
"Although I am going to miss my classmates who have been on this journey with me, I'm excited that I'll be able to finally call myself a PA and start working as an integral part of the healthcare team," said Russell Avellana, '16 MMS. "I'm looking forward to applying what I have learned through my clinical training here at Feinberg."
When choosing where to do her PA education, Claire Hughes, '16 MMS, was drawn to Feinberg's emphasis on evidence-based medicine and small group learning.
"Problem-based learning provided me with the toolset to be able to work within the greater medicine team," Hughes said. "These skills will be invaluable for the remainder of my career."
Hughes accepted a position at Fairview Health Services in St. Paul, MN.
"If the past two years have taught me anything, it's that I will never have all the answers when it comes to medicine," she said. "This is part of what I love about this career, and I'm excited to be able to continuing learning."