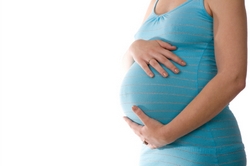 Being overweight or obese during pregnancy has long been associated with having larger babies, but the specific factors that explain the causality of this link have not been clear. Now, a study involving Northwestern Medicine scientists suggests that genetic factors associated with elevated body mass index (BMI) and higher blood sugar levels in mothers cause babies to be born heavier.
The findings, published in the Journal of the American Medical Association (JAMA), have the potential to help healthcare providers develop interventions to control the health risks associated with higher birth weight.
"The most profound result of the study is genetic evidence for a causal relationship between a mother's glucose levels during pregnancy and the birth weight of her offspring," said co-author M. Geoffrey Hayes, PhD, assistant professor of Medicine in the Division of Endocrinology.
Observational research has already shown that having diabetes prior to pregnancy, or developing it during pregnancy, is connected to higher birth weights. Heavier babies are exposed to health risks not only at the time of birth (such as premature delivery, birth injury and intensive neonatal care) but also later in adulthood (obesity, diabetes and cardiovascular disease).
"This study holds promise for reducing these risks through interventions during pregnancy to maintain normal glucose levels, particularly in those women who possess genetic risk variants for elevated BMI and elevated glucose levels," said Hayes, who worked with fellow Northwestern co-authors Michael Nodzenski, Denise Scholtens, PhD, associate professor of Preventive Medicine in the Division of Biostatistics, and William Lowe, Jr, MD, vice dean of academic affairs and professor of Medicine in Endocrinology.
The team examined genetic variants previously associated with obesity-related factors – including BMI, blood sugar, lipid levels and blood pressure – in mothers and compared those factors to their babies' birth weights while conducting Northwestern's Hyperglycemia and Adverse Pregnancy Outcome (HAPO) study, led by Boyd Metzger, MD, professor emeritus of Medicine in the Endocrinology.
The results of this work were combined with 17 other studies from around the world that are part of the Early Growth Genetics (EGG) consortium, creating a sample of more than 30,000 women and their babies to analyze.
In addition to demonstrating a causal relationship between elevated BMI, higher blood blood sugar levels and heavier babies, the study showed that having higher blood pressure during pregnancy can cause babies to be born smaller, a situation also associated with health risks.
In ongoing research, the HAPO team continues to collaborate with members of the EGG to explore the genetic basis of glucose metabolism during pregnancy and how it affects birth outcomes. The group is also studying how glucose metabolism in utero affects glucose metabolism and obesity in children later in life. Results of this HAPO follow-up study are forthcoming.
This research, led by investigators from the University of Exeter and University of Bristol in the U.K., was supported by the Wellcome Trust, Royal Society, UK Medical Research Council, US National Institutes of Health, European Research Council and the Diabetes Research and Wellness Foundation.