View a selection of photos from Alumni Weekend 2016.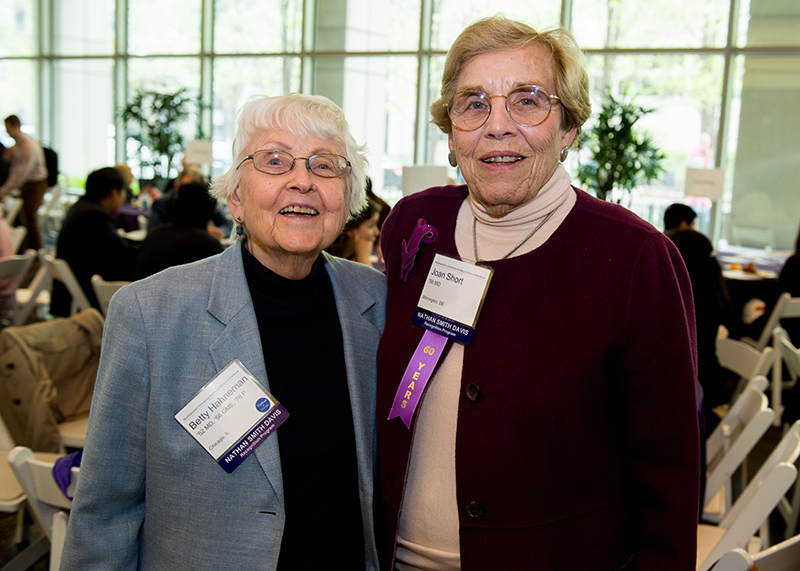 Joan Short, '56 MD, traveled to Chicago last week to celebrate the 60-year anniversary of her graduation from medical school, when she was one of just seven women in a class of about 130 students.
"There were very few opportunities for women in those days," she recalled. "Getting an education here afforded me the opportunity to live abroad and to do all the exciting things I've done in my life."
Short went on to practice pediatric neurology all over the world, including 10 years in Saudi Arabia and time in Haiti, Vietnam, Australia and Romania.
"But Chicago is still one of my favorite cities," she said, admitting that she doesn't recognize much of Feinberg's campus these days. "They've torn down hospitals, built new ones. Everything is new."
Short was one of more than 400 alumni and guests who participated in Alumni Weekend April 29 and 30 to reunite with old classmates, share memories and catch up on the latest happenings at the medical school.
One of the most exciting parts of coming back to campus for Short, who now lives in Wilmington, Delaware, was seeing her longtime friend and former roommate Betty Hahneman, '52 MD, '56 GME. Hahneman was an adjunct associate professor of Preventive Medicine at Feinberg and helped develop the medical school's Program in Public Health.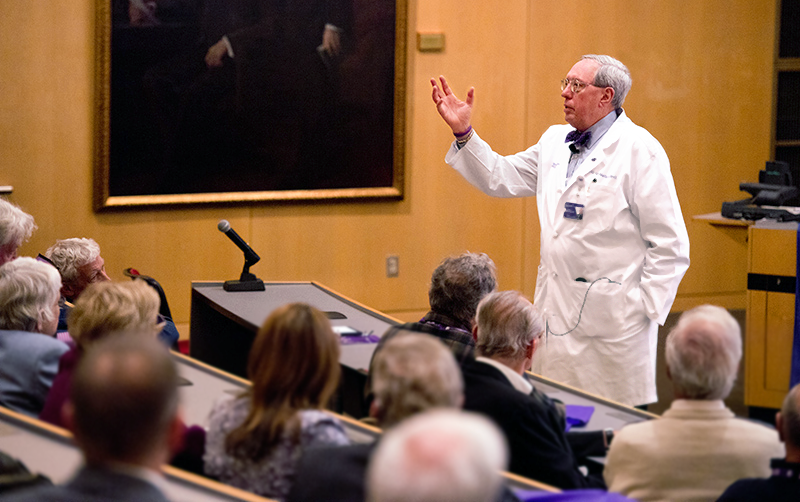 Over two days, Alumni Weekend attendees took part in dozens of events, including continuing medical education, walking tours of the campus, a mentoring lunch with current medical students, forums led by Feinberg faculty, class dinners and more.
On Friday morning, Michael B. Scott, '71 MD, a urologist in Pasadena, Florida, caught up with classmate Bill Barnhart, '71 MD, a retired geriatric medicine specialist from Rockford, IL. While looking at old class photos, they reminisced about playing ping-pong in the dorms of Abbott Hall and doing anatomy labs in the Searle building.
"Everything I learned here, I've carried on in my career," Scott said. "My professors were very instrumental in my development, especially my mentor, V.J. O'Conor, who shepherded me into urology."
Later that day, Eric G. Neilson, MD, vice president for Medical Affairs and Lewis Landsberg Dean, delivered an update on the medical school and shared his vision for the future of Northwestern Medicine.
"This is a wonderful school, and you being alumni is part of the reason it's so good," he said.
Neilson discussed Feinberg's increasing national rankings and medical student profile, its expanding campus and research enterprise, and the school's initiative to strengthen diversity and inclusion programs.
"I view diversity as a way of tracking metrics about who we are, and I view inclusion as our culture – how we are making sure everyone feels like they have a place and a role in what we're doing, not only as a medical center but in our approach to healthcare and our approach to science," he said.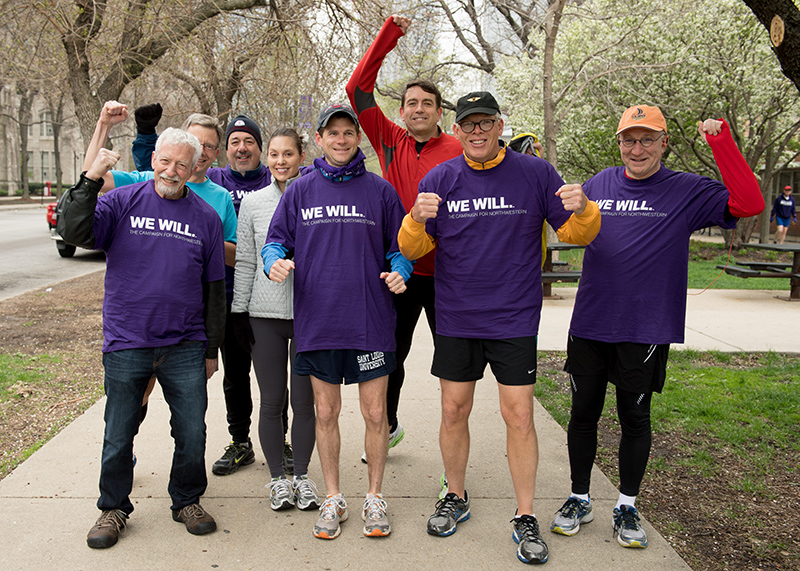 Barbara Gosink, '66 MD, who attended the Dean's update, traveled from San Diego for her 50-year reunion.
"It's very nostalgic to be here, to see old friends and to see how the school has changed," she said, sitting beside her husband, fellow alumnus Leonard Gosink, '65 MD, '71 GME.
"It's nice to look at the lake, to laugh about how small tuition was back then," he said. "It cost $1,100 when I started here."
In the evening, attendees gathered for a celebration that included dinner, dancing and a photo booth. They saluted 26 members of the class of 1966 commemorating the 50-year anniversary of their graduation, and then Michael Parmacek, '81 MD, '87 GME, was presented with the Distinguished Alumni Award.
"It's great to be home," said Parmacek, who is now the Frank Wister Thomas Professor of Medicine and chair of Medicine at the University of Pennsylvania Perelman School of Medicine.
He described Northwestern as not only the school where he received a medical education, but also as the place where he began a research career as a cardiology fellow and where he learned the importance of high-quality clinical care.
"My training at Northwestern set the foundation and core values that formed the pathway for my career," he said.