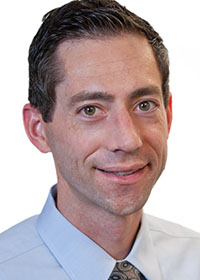 A team of scientists that includes Northwestern Medicine investigator Grant Barish, MD, has demonstrated a new, focused approach to genomic analysis in a study that dissected inflammatory gene expression in immune cells. The findings were published in the journal Cell.
"Cells respond to environmental signals by precisely controlling the timing and magnitude of gene expression, but the mechanisms that underlie this coordination still remain poorly understood," said Dr. Barish, an assistant professor of Medicine in the Division of Endocrinology, and a co-author of the research.
"Instead of taking the typical approach, looking at large numbers of gene expression changes or genomic binding sites using minimal expression or binding thresholds, as done for most analyses in the current 'genomic era,' this study used stringent cutoffs to classify genes and DNA binding events," he explained.
Applying these strict criteria to analyze early gene expression and binding of transcription factors along the genome, the scientists were able to more specifically define mechanisms controlling gene expression.
"The study obtained evidence for an underlying logic through which the prototypic factor controlling inflammatory gene expression, known as NF-kB, regulates distinct sets of genes by binding to promoter versus enhancer regions, which are different kinds of DNA gene regulatory sites," said Dr. Barish, who is also a member of the Robert H. Lurie Comprehensive Cancer Center of Northwestern University.
He collaborated with study leader Stephen Smale, PhD, from the University of California, Los Angeles, by obtaining datasets that show how NF-kB binds to DNA after macrophages are exposed to inflammatory stimuli.
In future research, Dr. Barish's lab will use the new method to explore gene regulation by other transcription factors in different tissues.
This study was supported by National Institutes of Health grants R01GM086372, P50AR063030, T32CA009120 and T32GM008042 and by the China Scholarship Council and Whitcome pre-doctoral training program.