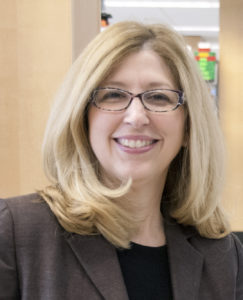 Northwestern University has established a Master of Science in Reproductive Science and Medicine. The 18-month, full-time degree program will provide training in reproductive science focusing on mammalian reproductive biology and medicine with an emphasis on applications to human health.
"There is no other program like this in the United States," said Elizabeth Sefton, PhD, director of graduate studies for the new program. "We really want to see the students receive a fundamental background in reproductive science and understand how that information applies to humans. We are really hoping to spark more interest in the reproductive sciences."
This is also the first time Northwestern will offer graduate-level courses in reproductive science. They will also be open to students enrolled in other Northwestern graduate programs.
Along with Sefton, Teresa Woodruff, PhD, director of the Women's Health Research Institute, chief of Reproductive Science and Medicine in the Department of Obstetrics and Gynecology and the Thomas J. Watkins Memorial Professor of Obstetrics and Gynecology, will manage the new degree program.
The program has been designed to provide relevant training to a spectrum of students, including recent undergraduate students, residents, clinical fellows and embryologists.
The curriculum will include a rigorous foundation of reproductive science coursework, hands-on laboratory instruction, seminars and independent thesis research in addition to professional development opportunities. Students will develop scientific writing, presentation and networking skills to enhance professional success when they graduate.
Course topics will cover human reproductive development, reproductive endocrinology, fertility management and human reproductive health and disease. Outside of core courses, students will have the opportunity to create areas of individual specialization by taking electives in areas such as genetics and molecular biology, epidemiology, anthropology and gender studies.
The program will also offer practical experience with state-of-the-art techniques in reproductive health and regenerative medicine, such as micromanipulation, microinjection and follicle culture. They will also have the opportunity to interact and train with clinical, basic and translational science leaders in the field of reproductive science.
While a majority of the program's courses and activities will be located on the Chicago campus, the program also offers student opportunities on the Evanston campus and in partnership with the Stanley Manne Children's Research Institute, affiliated with the Ann & Robert H. Lurie Children's Hospital of Chicago.
Program graduates will be prepared for research and technical positions with academic, clinical and pharmaceutical laboratories. Students will also have a strong foundation for further training in graduate and medical degree programs.
The Center for Reproductive Science (CRS) will serve as the administrative home of the new program. The CRS is a long-standing academic and research center at Northwestern University serving to develop a community of reproductive scientists and provide member support through collaborative grants, networking events, data clubs, seminars and trainee professional development activities.
"Our hope is the students will be able to pair what they are learning didactically in a classroom with what they learn in the laboratory," said Francesca Duncan, PhD, incoming executive director of CRS. Duncan will teach in the program and also integrate master's students as trainees in CRS. "Our goal is to have a very well-rounded program where you are not just being lectured at, but you are participating and learning how to participate in the reproductive science community."
Applications are now open, and the deadline is July 1, 2016. Classes begin September 2016. Applicants should use the online TGS application.
For more information, visit: https://www.woodrufflab.org/ms-rsm or email repro-masters@northwestern.edu.