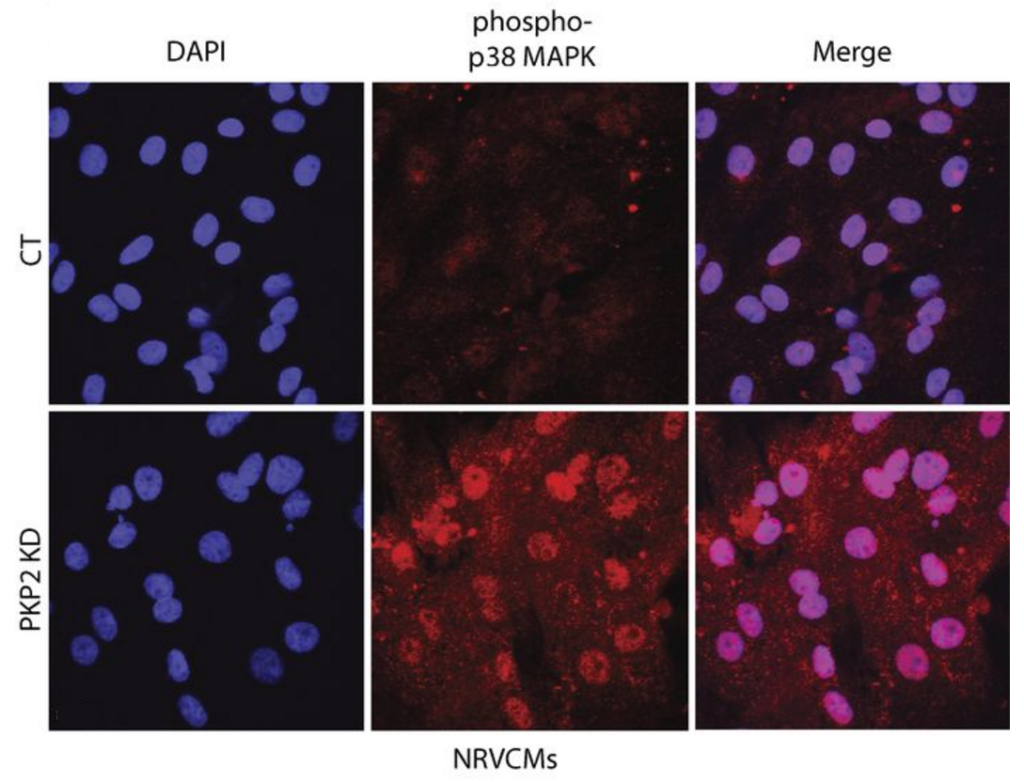 A Northwestern Medicine study has shown that losing a component of the desmosome – part of a group of proteins responsible for attaching cells together – activates genes that lead to the buildup of fibrous scar tissue seen in cardiac disease arrhythmogenic cardiomyopathy. The findings were published in the Journal of Cell Biology.
A genetic condition that can cause sudden death in young people, arrhythmogenic cardiomyopathy occurs when healthy heart tissue is damaged and replaced by fibrous scar and fat tissue, interfering with the heart's ability to beat. Mutations in desmosomes have been heavily linked to the disease.
"In our paper, we describe how loss of the desmosomal protein Plakophilin-2 disrupts normal attachment between heart cells," said co-first author Chen Kam, a fifth-year doctoral student in the Walter S. and Lucienne Driskill Graduate Program (DGP). "This loss of attachment triggers damage signals that result in production of the proteins involved in buildup of fibrous tissue that forms scars."
Prior to this study, little was known about the signaling that leads to fibrous tissue and damage in the heart muscle in arrhythmogenic cardiomyopathy. Now scientists know that Plakophilin-2 has a role coordinating intracellular signaling pathways, in addition to its job maintaining the stability of tissues by regulating cell-cell adhesion.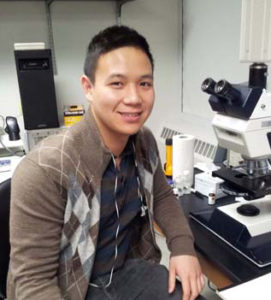 Kam conducted the study with co-first author Adi Dubash, PhD, a former postdoctoral fellow in the lab of senior author Kathleen Green, PhD, Joseph L. Mayberry, Sr., Professor of Pathology and Toxicology in the Departments of Pathology and Dermatology.
The scientists were able to reverse the signaling that prompts profibrotic gene expression in vitro by restoring another desmosome protein, Desmoplakin, which is depleted when Plakophilin-2 is lost.
"Understanding the signals that lead to formation of scar tissue has implications beyond studying just cardiac disease, as the formation of scar tissue is a detrimental effect in many different diseases, such as skin disease and even cancer," Kam said. "This knowledge will allow us to design and test drugs that can block these signals, providing an important new therapeutic angle to treat the detrimental effects of fibrous tissue buildup in different diseases."
This study was supported by National Institutes of Health grants R01 AR041836, AR43380, CA122151, HL106632 and GM057691; the J.L. Mayberry Endowment; the Fondation Leducq Transatlantic Network; American Heart Association postdoctoral fellowship 11POST7380001 and predoctoral fellowship 15PRE25560138; and a National Science Foundation Graduate Research Fellowship.